CMA Fest
Nashville, Tenn.
June 5-8, 2008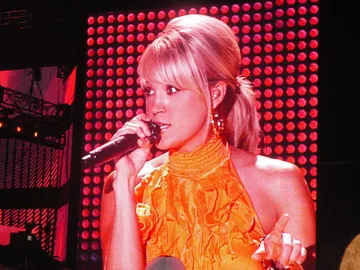 The Deal: The Country Music Association Festival took over Nashville last week the way NASCARnival takes over Charlotte. Just about every country music star performed at some point over the weekend; it was the Bonnaroo of country music. Meanwhile, The Nashville Convention Center was like a career fair
for striving country artists and a country fair for country music fans. There were redneck games like fake logging and oil drilling, karaoke and long lines of autograph seekers trying to get a sharpie scribble from their favorite artist. As for the strip of Nashville during the CMA Fest...remember Speed Street? Kinda like that, but sans the turkey leg stands serving cheesecake on a stick.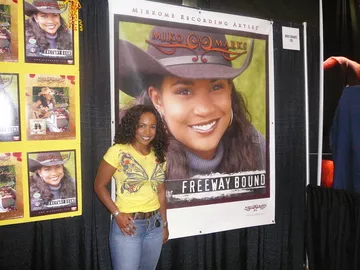 The Good: Country music is becoming an Equal Opportunity Employer and adding some diversity to their charts. Cason Point: Miko Marks, an up and coming African American female country artist that can strum a guitar like the best of them.
Meanwhile, mainstream artists like Jewel and Jessica Simpson are crossing over. Jewel has always had a folk-acoustic sound and Jessica Simpson may have rocked the hell out of some daisy dukes, yet I wouldn't necessarily consider Simpson's twangy transition a good thing. Her first single kinda sucks and I'm not looking forward to when it ends up on 96.9 The Kat's radio rotation. She basically just picked up a fiddle, maintaining the same pop sound.
But Jewel on the other hand is highly welcomed into the country music genre. Either it's her rodeo riding boyfriend, or her popular new single "Stronger Woman."
My favorite lyric: "From now on I'm gonna be, the kind of woman I'd want my daughter to be."
The Bad: There were too many concerts to go to them all. I got exhausted just reading the performance schedules. I was incapable of cloning myself, but I attended as many shows as I could.
Taylor Swift, who I kept accidentally calling Taylor Dayne for some reason (damn I'm old) stood me up. I got all excited about Taylor Swift's street performance in front of Ryman Auditorium, but I stood there for a good thirty minutes (she was an hour late going on) in hundred degree heat and just said screw it. Taylor Swift might be hot, but it was too hot! People were throwing water bottles out into the crowd and someone got hit in the head.
The Verdict: With performances going on all day everyday and in every corner of Nashville, the main attraction was the outdoor concerts on the Vault Stage at L.P. Field. There I finally got to see Taylor Swift… introduce Faith Hill.
Each night there was a roster of performers that would put an All-Star team to shame.
Thursday night it was BFFs Kellie Pickler and Taylor Swift, Jewel, Montgomery Gentry and Sugarland. Friday night's line-up (which I was able to attend) included Jack Ingram who was better performing unplugged at Losers. Lady Antebellum whose first single "Love Don't Live Here Anymore" is about to blow them up — they're bomb.com. Miranda Lambert was next with all of her angry songs. American Idol Carrie Underwood trumped her Charlotte performance by sticking to her hits as opposed to attempting rock covers. There was also Josh Turner, a surprise performance by Dancing with the Stars winner Julianne Hough, and a surprise appearance by the man who made the mullet mainstream and Hannah Montana's daddy Billy Ray Cyrus.
Faith Hill proved that she's still the queen of the hill, and the concert concluded with another surprise performance by the country thunder from down under, Keith Urban. Each artist only performed their most popular songs, making it perhaps the best concert I've ever been to.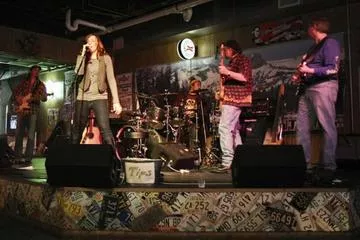 The following night's line-up included Trace Adkins, Little Big Town, Alan Jackson, Rodney Atkins, Craig Morgan, and Kenny Rogers. I know what you're thinking… how can they follow Friday night with those acts? I wouldn't know, I was so unimpressed with the line-up I didn't even go. Instead, I went to see Mia Jones and the No Luv Band, my hometown honky tonk house band that now plays regularly at downtown Nashville's trailer park honky tonk, Paradise Park. They were too big for a small town, and they're the next big thing. Mia has a Jennifer Garner look and a Jennifer Nettles sound. See for yourself...
And now, for my rendition of the US Weekly for Country Music….. I don't even like gossiping, but it's my journalistic duty to report all my findings from going undercover in the country music scene.
• Carrie Underwood's been dating Keith Urban's really hot assistant, Ryan, but she's been blowing him off… poor guy.
• John Rich of Big & Rich is the town jerk, while Terry Bradshaw's daughter, Rachael Bradshaw, is the town drunk and a skank biscuit, as is the girl that Keith Urban cheated on Nicole Kidman with.
• Jo Dee Messina is making a comeback with a new single, "Over It," but that didn't stop her from getting snubbed by a Phoenix radio station for a Taylor Swift interview.
• And just like every time I go to Nashville, I randomly bump into Josh McCready (Mindy McCready's brother)…. Proving that like Charlotte, Nashville is too small.