They say, "Get in the Game!" but the EA Sports launch party for the 2009 NASCAR video game at Whisky River last night was not easy to get into.
My friend, Larken, who is like the mayor of Uptown Charlotte called me and asked me if I could get him a ticket because his favorite band, P.O.D., was performing and he'd exhausted all his resources. Even the owner of BMG couldn't get him in. I didn't know there was a private party going on (perhaps why it was private), let alone have a ticket.
Lucky for Larken, I happened to have met someone on a production I worked on with Dale Earnhardt Jr. that works within PR for JR Motorsports that knows I write for Creative Loafing. I just sent him a text and I was in like Flynn.
This party was the NASCAR equivalent to the Super Bowl parties I went to in Arizona. EA Sports had spotlights illuminating the EpiCentre and a red carpet that, for some reason, NEXTEL series driver David Stremme was standing on the other side of. Jeff Gordon was monopolizing the red carpet — apparently he was the main attraction.
The crowd consisted of drivers, sporting professionals and a lot of out-of-towners in town for the NASCARnival….but not the ones staying in the motor homes up in Concord.
Since it was a production just to get into the party, we definitely didn't have the green bands for V.I.P.
So, we set up the EA Sports game information folders around the bar, making a "folder fort" and told everyone that was our special V.I.P section. Not laughing? Guess you had to have been there.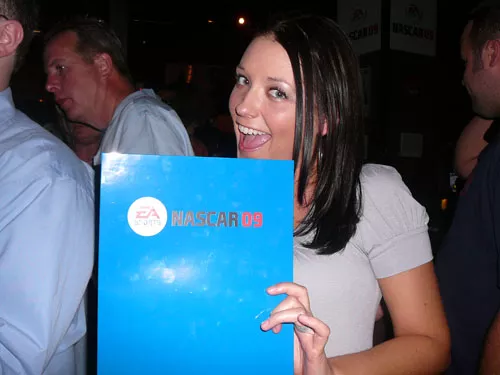 I attempted to play the video game, but I was terrible. And I do mean terrible. I couldn't even make it a lap without wrecking, and I kept driving off the track and ending up in the pits. What's most embarrassing were the instant re-plays that reiterated how much I suck and the FOX Sports cameraman capturing the moment.
Larken has decided I am a hazard to take out to crowded bars. When there's a song I like playing, the drum beat in my head goes to my hips and I start dancing like I have rhythm tourettes. My arms go flailing, hair tossing, hips gyrating out of control. I could injure someone… like the guy who works with Jeff Gordan whom I almost knocked out with an unintentional body slam. Oops!
Note, it was the Whisky River playlist I was dancing to, not to be confused with the heavy metal of P.O.D that made me want to bang my head against the wall. I have yet to figure out why Larken loves them so much, but different strokes for different folks, right?
The SPEED reporter on site doing on-camera interviews was wearing a tuxedo shirt paired with Bermuda shorts. It kinda made me want to watch him.
They opened the party up to the public at 11 p.m. and everyone lived happily ever after.
Whisky River has really proved themselves as the new "IT" venue for hosting private parties, concerts and for just having a good time in.
To see the pics log on to www.qcafterdark.com. And no, I didn't take any pics of P.O.D or Jeff Gordan…. I didn't want to seem like a groupie.