Tim McGraw
May 16, 2008
Verizon Wireless Amphitheatre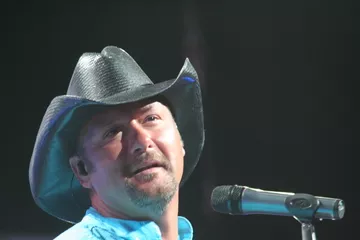 The Deal: Tim McGraw's "Live Your Voice Tour" co-staring Jason Aldean (a mini-me Tim McGraw) made a pit stop at Verizon Wireless Amphitheatre the night before the NASCAR All-Star Race. Which made it convenient for the race fans camped out at Lowe's Motor Speedway, and made the concert like a race.
The Good: Tim McGraw and Jason Aldean's songs — all of them. In addition to the tasty audio, Aldean is hunky and McGraw has been hitting the gym. Perhaps that's why the crowd consisted of a lot of short skirts and cowboy boots.
McGraw gave us a sneak peak at his new album, performing songs off it, including "Southern Boys." That's great and all, especially that he has a new album coming out, but at a country concert we want to sing off key to songs we know the lyrics to. Even little kids were singing and babies were bouncing along to his country classics.
The Bad: The glittery jeans Tim McGraw wore on stage went out of style in the '80s. Verizon Wireless needs to put some more porty-potties in the parking lots for tailgaters, because the woods surrounding the parking lots become VERY public bathrooms. Guys were watering the plants and girls with copping squats in every direction. It was so bad there was a puddle of piss behind a dumpster. Don't ask me why I know that…. Meanwhile, one of the attendants working at the Amphitheatre was in serious need of a hug; he was unwarrantedly being such a douche bag to fans.
The Verdict: The concert at the Amphitheatre was better than last year's concert at the arena featuring Faith Hill. Or, I just had better seats to this one. I think Tim and I even made eye contact at one point.