Shooter Jennings
May 15, 2008
Visulite Theatre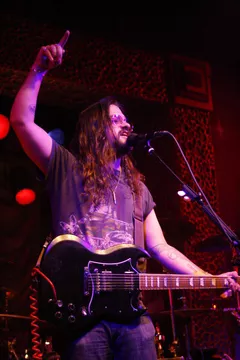 The Deal: Son of Waylon Jennings showcases his outlaw style.
The Good: Jennings hit the stage and kicked off the show with a handful of his best songs — "This Ol Wheel" and "Gone to Carolina" among them. Jennings changed instruments for just about every song as he rifled through songs from all three albums. The night's highlight was a shredding, extended jam version of "Daddy's Farm" that capped off the encore.
The Bad: I was surprised that Jennings didn't play his cover of "Walk of Life." I expected a bigger crowd, not to say that the Visulite was empty by any means... I also expected bigger sing-alongs. Last time I caught Jennings, at a show in Winston-Salem, the place went nuts for "4th of July." This time, it seemed like most didn't know the words.
The Verdict: A great show of rock and country music.
Setlist
This Ol Wheel
Electric Rodeo
Gone to Carolina
Tangled Up Roses
Old Friend
4th of July
Solid Country Gold
Slow Train
Last Time I Let You Down
She Lives in Color
Bad Magik
Higher
Tennessee Waltz
Manifest No. 1
Blood From a Stone
Steady at the Wheel
The Wolf
Little White Lines
Encore
Living in a Dream (?)
Daddy's Farm