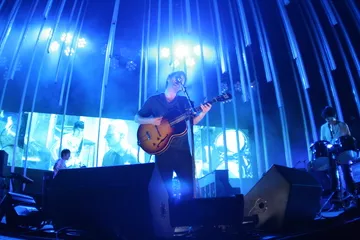 Radiohead
May 9, 2008
Verizon Wireless Amphitheatre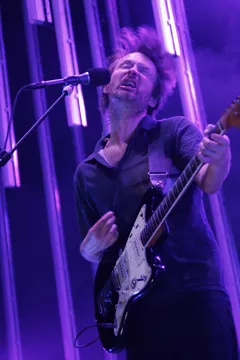 The Deal: Radiohead performs for two-hour, In Rainbows-focused set.
The Good: If you're a fan of the new album, you'll be in heaven on this tour as the band is performing nearly every song from In Rainbows. They're also tossing in a bit of the older stuff and simply putting on one helluva show. The stage is set up with long light tubes that almost resemble rain leading to one of the best light and visual shows I've seen since Pink Floyd — the peak was during "Planet Telex" in the encore. Thom Yorke appeared to hit full stride on stage during "Myxomatosis" as he flailed about — knocking over his microphone stand. He was all over the place on "Idioteque" before settling down behind the keyboard on "Morning Bell." He also made his way behind a smaller, second drum kit for "Bangers & Mash." The entire band remained basically still as Yorke swayed, twitched and rocked about. Two encores were offered, the highlight coming in the second one with "Paranoid Android." Yorke introduced it by saying, "This is a nasty little bastard, this one... Hope you like it." Those in the sold-out crowd loved every minute.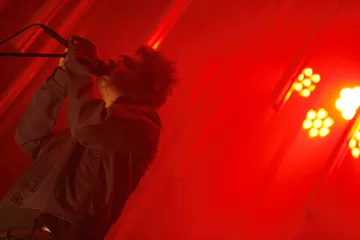 The Bad: Looking online, Bristow, Va., on May 11 got the best setlist so far with the addition of fan favorites "Karma Police" and "Fake Plastic Trees."
The Verdict: The band sounded great, appeared to have a blast on stage and showed why so many people see them as the alt-rock kings of the moment.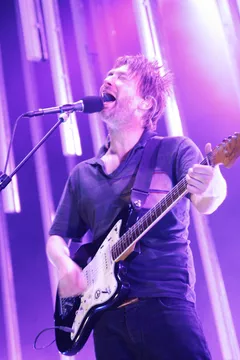 Setlist
All I Need
There There
Airbag
15 Step
Nude
Sail To The Moon
Weird Fishes/Arpeggi
Myxomatosis
Idioteque
Morning Bell
Videotape
Optimistic
Where I End and You Begin
You And Whose Army?
Everything In Its Right Place
Bangers and Mash
Bodysnatchers
Encore 1
Go Slowly
Talk Show Host
Exit Music (for a film)
Planet Telex
House of Cards
Encore 2
Paranoid Android
Reckoner