Kid Rock
May 3, 2008
Verizon Wireless Amphitheatre
The Deal: Detroit's Kid Rock gets Queen City rockin' for nearly three hours.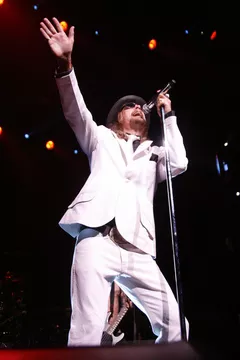 The Good: From start to finish, Kid Rock — who dressed in white, black or a combination of both all night — not only appeared to be having a blast, but his energy level was high and consistent. He rolled through songs from the new album while mixing in plenty of the old. The new fit right in with the old and the audience sang along to every word. Fans ate up every moment of Rev. Run and the two's performances of classic Run DMC songs. A solid rock show from start to finish — I'm not sure why he gets such a bad rap (pardon the pun). He showed that, aside from being a great entertainer, he wants to be in this for the long haul and not just a quick paycheck. He also uses riffs — "American Bad Ass" taking from Metallica and "All Summer Long" from Skynyrd — in ways that separate them from the original song and make them something new and fresh (try doing that to "Gold Digger," Kanye!)
The Bad: One of Rock's buddies came out to warm up the crowd...for about 20 minutes...before another 10 minute delay. That's why there are opening acts. Kid Rock was on stage for roughly two-and-a-half hours — the intermission seemed to kill a little bit of the action. He would have been better off playing straight through. His time on the turntables showed off his skills, but, like his "chats" with Peter Wolf and Rev. Run, seemed a little too scripted at times.
The Verdict: Better than I expected. Kid Rock's current tour has been getting great reviews all around...and they're deserved.
Set list
Rock N Roll Jesus
Welcome 2 the Party
Love Stinks (Peter Wolf)
You Never Met a Motherfucker Quite Like Me
American Bad Ass
Lowlife
Cocky
All Summer Long
Amen
Roll On
Cowboy/You Didn't Even Call Me By My Name
Half Your Age
Only God Knows Why
Motown Medley
>Centerfold
Intermission
Rock the Party
The Way It Is (Rev. Run)
?? (Rev. Run)
Tricky (Rev. Run)
Illin' (Rev. Run)
?? (Rev. Run
King of Rock (Rev. Run)
Walk This Way (Rev. Run)
Picture
Kid Rock on Turntables
So Hott
Bawitdaba