Story and photos by Lynn Farris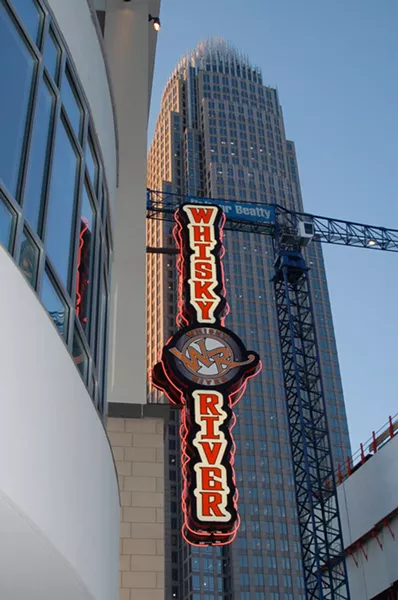 Tuesday night NASCAR superstar Dale Earnhardt Jr. invited the media to come and check out his new club, Whisky River in Center City's new EpiCentre development. Dressed down in jeans and an O.A.R. tee Earnhardt Jr. fielded questions about the club, racing of course and... American Idol? Yep, after admitting that he doesn't watch Fox News Edge or Idol a local Fox news reporter still asked Junior if he thought the next American Idol should be an American? "Well (long pause), I think they should be a citizen," Earnhardt Jr. replied.
Still digging for some sort of scoop (or grasping for really anything at this point, the choice is yours), Mr. Fox News went on to explain the controversy surrounding the recently ousted Aussie, Michael Johns. Junior's response: "Are they bringing foreigners over to be on American Idol?"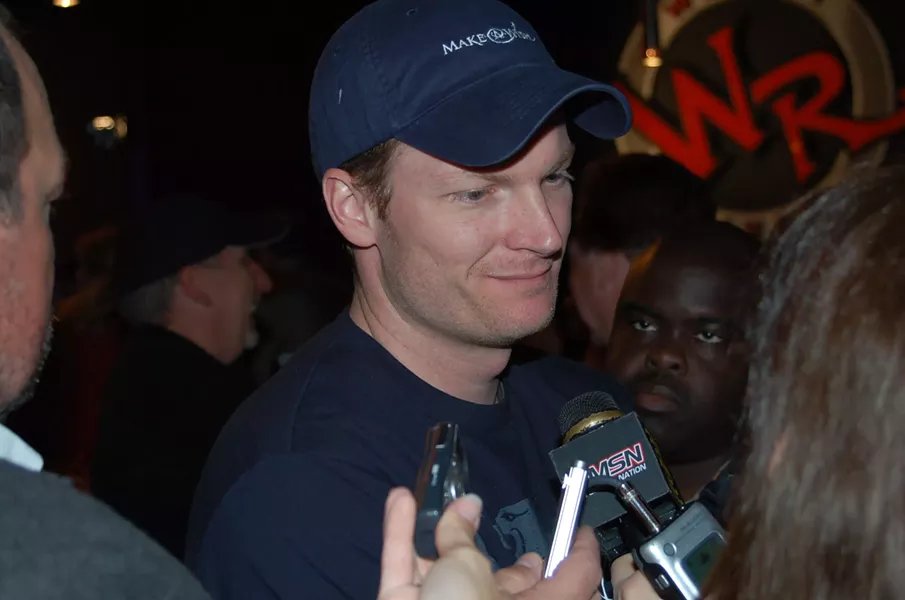 And if that isn't random enough for ya, try this one: Witty member of the media to Earnhardt Jr., "Is it true that designated drivers only turn left?" A polite and patient Earnhardt Jr. replied, "Uh, I dunno…hopefully if they're the designated driver they know how to turn both ways."
Other items that might actually be of interest to Earnhardt Jr. fans: You'll likely find the driver hanging out at his club on Tuesday nights and in one of the four VIP booths located behind the large bar on the dance floor. He'll be in the one with the orange couch sipping on his favorite adult beverage: Vodka with AMP. (Note: Earnhardt Jr. drives the No. 88 Mountain Dew AMP/National Guard Chevrolet.) Foo Fighters is the band he'd most like to see play his club and he really digs Citizen Cope and hopes to get him in sometime soon. He kept a tight lip regarding his musical guest for his exclusive VIP party on Wednesday however, but from the hint he did provide ("the guy that's coming here likes to watch airplanes") we're putting our money on country crooner Gary Allan.
Most importantly, why do we at CL like Earnhardt Jr.? Because he's one laid back mofo who likes to take care of his patrons people!
"Having three bars [within the club] was very important to me. Being able to be four feet away from a drink at all times is important. I'm not saying we want people guzzling liquor all day but if you're 30 feet away from the bar and there's a packed dance floor in front of you – that's not a fun time." You are preaching to the choir brother.