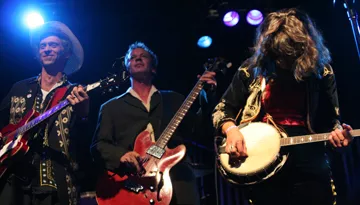 Squirrel Nut Zippers w/ Firecracker Jazz Band, The Old Ceremony
Neighborhood Theatre
Oct. 25, 2007
The Deal: A fine mix of old and new as Squirrel Nut Zippers continue reunion tour.
The Good: Firecracker Jazz Band kicked off the night with a fantastic set of music from the '20s and '30s. While SNZ trumpeter Je Widenhouse is the frontman, drummer Mike Gray is fun to watch as he hammers away with smiles and eyebrow lifts. Chapel Hill's The Old Ceremony brought a modern flair to the evening with a set of indie rock that was spiced up by a cello and violin. Mellow, yet energetic, they're a band to keep an eye on. Squirrel Nut Zippers came out with smiles and seemed to truly enjoy the performance. It may be a handful of years since they were playing together regularly, but the band was in fine form. Jimbo Mathus has brought a good bit of his honky tonk guitar style into the mix and Katherine Whalen's vocals sounded as good as ever. It was a hit-heavy 22-song set that lasted for about an hour and a half and was fun for every minute.
The Bad: No one (well, one guy for two minutes) got up to dance during Firecracker Jazz Band. As Widenhouse noticed, "This music's for drinking and dancing. You've got the first part going...." At least they got up for the second act and headliner.
The Verdict: Hopefully, the shows or an album will continue after this year.
SNZ Setlist:
Club Limbo
Memphis X
Grandad
It Ain't You
Wash Jones
Drivin' Me Crazy
Danny D
Fat Cat
Prince Nez
La Grippe
Put a Lid On It
My Drag
Lowdown Man
Do What
Bad Business Man
Hell
Stephen Foster
You, You, You
Kid
Minor Swing
Bufungoo
It's Over