It's the day three - the last day - here at Echo Project.
The day started off with Man Man. Now, I couldn't tell you anything about the band before Sunday, but now I'll say this - energy.
The band members play a plethora of instruments while jumping up and down, hitting objects with drumsticks...it's a sight to see.
You would think that all the combination of so many things going on at once would make for organized noise, but it was actually entertaining.
Michael Franti and Spearhead hit the mainstage and got a huge crowd dancing.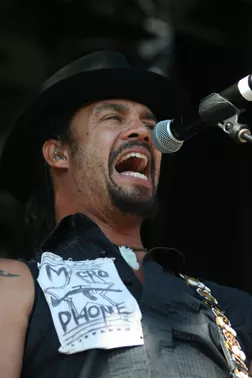 His mix of reggae and hip-hop with a message was well-received and he later hit a side tent to show his documentary "I know I'm not alone" and perform a few songs acoustically after a q&a session.
Spoon hit the Lunar Stage around 3:30 with some powerful indie rock. It's another one of those bands that didn't impress me with their album, but their live sound was better.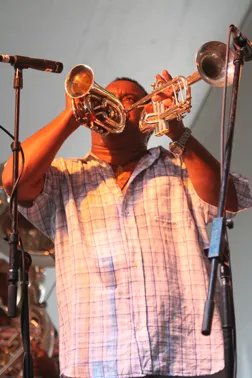 The funky jazz stylings of Dirty Dozen Brass Band were up next on the Eclipse Stage. It was the first time I'd ever seen a guy play two trumpets at once...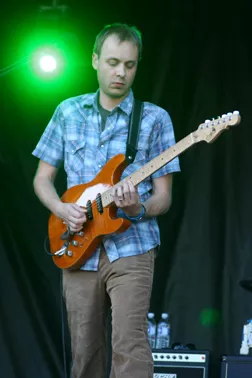 Jam band du jour Umphrey's McGee was next on the main stage and, I'm sorry to say it, but I thought they looked like they were straight out of the IT department.
The instrumentally heavy set had everyone up and dancing.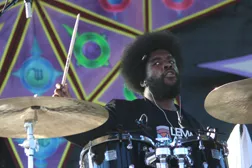 They may have been running late, but when The Roots hit the stage, everyone forgot. Funky, soulful, rocking....I enjoyed this set more than their performance at Bonnaroo. Maybe it was the smaller stage and closer feel, but simply put - damn, those boys can play!!!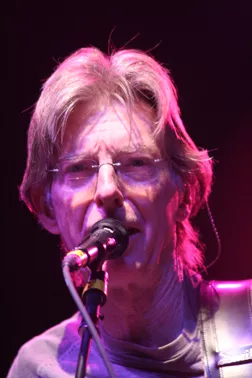 The night was capped off by two sets of Phil Lesh and Friends.
Another delayed start (by 30 minutes) as the band opened with "Friend of the Devil" leading into "Pride of Cucamunga" then "Loose Lucy."
The full setlist for Lesh:
SET 1
Friend of the Devil
Pride of Cucamunga
Loose Lucy
Deep Elem Blues
Tell Me Mama, Tell Me Right
The Night They Drove Old Dixie Down
Althea
Alabama Getaway
SET 2
Shakedown Street
Casey Jones
Midnight Rider
New Speedway Boogie
Loan Me a Dime
Fire on the Mountain
China Cat Sunflower
St. Stephen >
Franklin's Tower
Donor Rap
Encore
A Hard Rain's A Gonna Fall