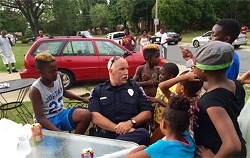 Several children gather around a police officer during a community event. (Courtesy of City of Charlotte)
Tuesday, August 7 may seem like another weeknight to stay in, catch up on your shows and do your best to ignore and avoid interaction with your neighbors as much as possible. But the city of Charlotte with CLT250 want you to rethink your plans.
From 6 p.m. to 8 p.m. Charlotte is celebrating another installment of the annual National Night Out event, a city-wide neighborhood experience that demonstrates the community's intolerance for crime. It's also a way for neighborhoods to enhance their relationship not only among residents, but also with police departments in order to create a safer community.
Charlotte has participated in this national event for 25 of the 35 years it's been running. For one night across the city, over 70 registered events such as cookouts, block parties, porch sit-ins and ice cream socials, will build community togetherness and neighborhood camaraderie while also promoting police-community partnerships.
Because this year is also Charlotte's 250-year anniversary, CLT250, an organization formed to celebrate the city's past, present and future, is participating in tandem with the city to promote this campaign of neighborhood friendliness.
The Charlotte-Mecklenburg Police Department is committed to having an officer at every event that is registered with the city. Through this participation, sheriff-elect Garry McFadden hopes to connect with the community and reunite with people that they don't get to see during the year for a neutral event.
"Reconnect, reschedule and reunite," Fadden stated. "I look forward to it. I look forward to the candid conversations. It's not political. For some people it is, but for me it's not political."
Although the National Night Out event is only officially held once a year, McFadden hopes the community can come together more often than that for a night of fun and what he describes as "a city-wide picnic."
McFadden said that he hopes that the community will begin fostering and cultivating connections on a continuous basis, and in the near future, there should a monthly community event much like National Night Out.
"To me, it's a great opportunity, and we need more opportunities like that," he stated.
To help support National Night Out, CMPD also invites residents to leave their porch light on from 7 p.m. to 10 p.m. as a symbol of alertness and awareness, according to the city's community letter.