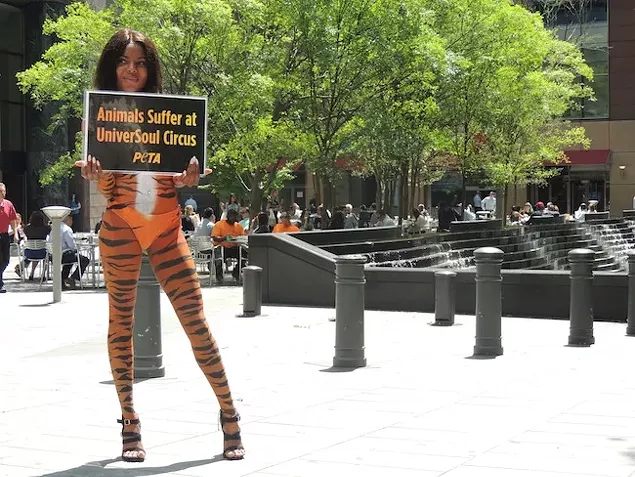 Samantha Paraison stood in front of the Bank of America Coroporate Center during lunchtime today to protest the arrival of the UniverSoul Circus. (Photo by Ryan Pitkin)
If you walked through the intersection of Trade and Tryon streets in uptown Charlotte during your lunch break today, you may have heard the booming voice of the "Jesus Saves" guy and thought it was just like any other day. But if you glanced at the eastern corner of the intersection in front of the Bank of America Corporate Center, you saw something way out of the ordinary: a nearly nude women painted up to look like a tiger.
The woman was a volunteer with People for the Ethical Treatment of Animals, and was in town to protest the opening night of the UniverSoul Circus, a touring circus that will be in town through May 20. A press release from PETA noted that UniverSoul leases the tigers it uses in its shows from Mitchel Kalmanson, who has been cited by the federal government for failing to provide animals with basic veterinary care, depriving them of the opportunity to exercise, and confining them to foul-smelling, maggot-infested trucks.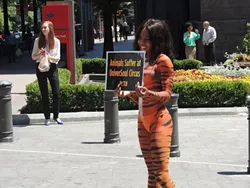 Paraison said the painting process took about three hours.
The painted woman in Center City today was Samantha Paraison of Miami. She said she volunteered to tour with PETA because she's a vegan and believes in the cause. Paraison and Mysti Lee, assistant campaigner with PETA, have been showing up in the lead-up to UniverSoul opening nights for months. Paraison said the only time the pair ran into trouble was in Columbia, South Carolina, where police told her she had to put some clothes on or leave the area. Today, Paraison wore nothing but high heels, a bikini bottom, pasties over her nipples and body paint.
Paraison said the pair began the painting process at 8 a.m. this morning and didn't finish until nearly 11 a.m. They took to the busy intersection at noon, at which time Lee handed out literature to curious passersby while Paraison stood holding a sign that read, "Animals Suffer at UniverSoul Circus."
Lee said she wants to make people aware that animal cruelty in the circus is still happening, despite the fact that Ringling Bros. shut down their "Greatest Show on Earth" last May.
"A lot of people focused on Ringling Bros., and once Ringling Bros. shut down, they think that animals aren't still being abused in the circus," Lee said. "UniverSoul has a lengthy record of animal abuse, and we're hoping that UniverSoul ends its animal acts but continues the show, unlike Ringling Bros., which shut down."