Earlier this week, a
Charlotte Agenda
article caused some debate around town when it announced the upcoming opening of a new bar in Dilworth. What's the fuss? Its owner Jackie McHugh, who recently moved here from New York, plans to name it Milestone.
Though the
Agenda
article failed to mention it, Charlotte already has a bar called The Milestone. Perhaps you've heard of it: world famous, been here since 1969, Nirvana played there, historic local icon…?
You may be wondering why this dude would want to brand his new bar with the same name as one of the city's most beloved establishments, simultaneously confusing and pissing off potential patrons before the doors even open. The answer: it's a tribute to his 11-month old son, Miles, who gives zero fux about your precious punk rock mecca.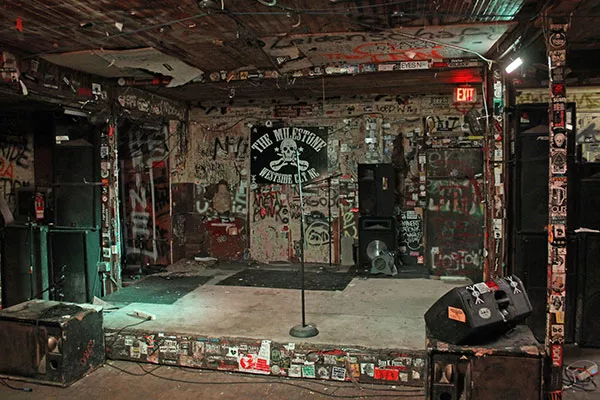 The one true Milestone. Photo by Daniel Coston.
Here at
Creative Loafing
, we can appreciate Mr. McHugh's dedication to his son, but we can't get behind the name. We've come up with other suggestions -- all of which are a better idea:
Smiles
This name is hitting on several levels. Here's a word that incorporates Miles' name, conveys the happy feeling customers can expect to have when they visit, and potentially lends itself to a cool Irish tagline (Something about "When Irish eyes are smiling…").
Daddy's Pub
Like the fictional "Paddy's Pub" from It's Always Sunny in Philadelphia – only this one is a tribute to being a dad. Bonus: It's likely to become the go-to meeting place for old rich guys and the hot young gold-diggers who "love" them.
The Dilhole
A watering hole in Dilworth? It begs for this name.
CBGB
Because if you're going to steal the name of an iconic punk club, make it one from the city you just left, not the one you're setting up shop in.
O'Blivious
It's a name that says "Around here we're Irish. Also, we have no idea how to Google a name before claiming it as our own."
Mr. McHugh, you are free to use any of these. We don't expect a consultant fee, public acknowledgement or even a free beer (although that would be nice). We consider it a public service.
Oh and by the way, welcome to Charlotte!