A man who allegedly destroyed an art installation supporting Black Lives Matter and Equality NC in October is still walking the streets, despite the fact that two warrants were issued against him by the Charlotte-Mecklenburg Police Department in October.
According to local artist Mark Doepker, he was followed on foot one day in Uptown by John Schmidt, owner of Midtown Search Group LLC, and when Schmidt caught up with him he began to yell intimidating things at him, including stating that he had a problem with the "N**gers Matter" sign above his car. The sign he was referring to was a spinning cube that showed support for the Black Lives Matter movement. Doepker says Schmidt then began trying to remove the installation. He was eventually successful in doing so, and police apparently witnessed the man break the sculpture off from the car and smash it on the ground.
Since the incident, CMPD has signed two warrants against Schmidt for destruction of property and assault, although he has not yet been arrested.
In this clip from last night's WCCB newscast
, reporter Courtney Francisco confronts Schmidt in front of his business, but he refuses to talk. Police say they are yet to find Schmidt, but Doepker tells
Creative Loafing
he has been calling to tell them his whereabouts and check up on efforts to arrest him for the past week.
Doepker says the installation was recovered and fixed up enough to where it will be displayed at an upcoming UNC Charlotte exhibit about protests and activism in Charlotte.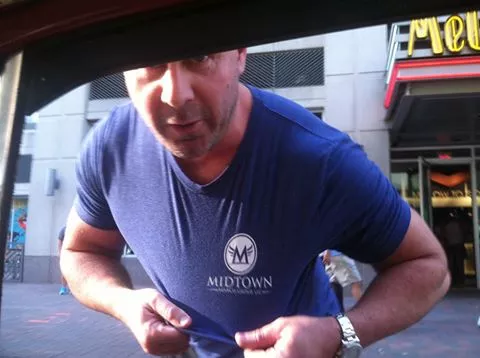 A photo Mark Doepker took of John Schmidt before Schmidt allegedly vandalized an installation supporting Black Lives Matter that was placed above his car.
—————
A 15-year-old boy died last night of injuries from a shooting in east Charlotte on Sunday afternoon. Zavier Ellis was pronounced dead last night at Carolinas Medical Center. He was found suffering from a gunshot wound on Sherington Way, off Albemarle Road near Mint Hill, at around 2:41 p.m. on Sunday afternoon. No arrests have yet been made in the case.
—————
Police are asking the public for help in identifying two men who they say robbed a Family Dollar on E. Sugar Creek Road last night, shooting an employee in the process. Police say the two men entered the store at around 6 p.m. Police responding to an armed robbery call at the location found an employee suffering from a gunshot wound. Police ask that anyone with information about the robbery or the suspects pictured below call Crime Stoppers at 704-334-1600.