Mayor Jennifer Roberts and CMPD Chief Kerr Putney held another press conference this morning following a night of peaceful protests that ended in violence and destruction of property in Uptown.
Following that press conference, leaders with the North Carolina and Charlotte NAACP and other area clergy members held a press conference emphasizing the fact that a large majority of protesters on site last night were peaceful, calling on media to speak with those on the ground who have been organizing locally for years [which CL has done and plans to continue to do today].
At this press conference, leaders such as NC NAACP President Rev. William Barber stressed the diversity among peaceful protesters who now work with the Black Lives Matter movement and other similar organizations as a sign that the crisis, and the movement to fight against it, is growing.
While we were not able to transcribe that conference as we did the press conference quoted below, it can be watched
in its entirety here
.
At the Government Center, Putney and Roberts answered questions from reporters regarding the body camera footage of Keith Scott's shooting, which sparked protests over the last two nights; a lack of preparation for last night's protests; and whether law enforcement is ready for what could happen tonight following the declaration of a state of emergency late last night, which has brought troops from the National Guard and State Highway Patrol into the city.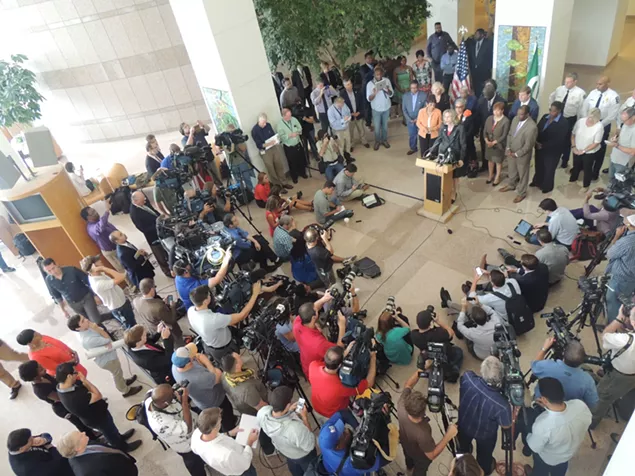 Ryan Pitkin
Mayor Roberts addresses national and local media this morning at the Charlotte-Mecklenburg Government Center.
The following are direct quotes from the press conference:
On the shooting of a protester in front of the Omni Hotel, reports of which as an act f violence between two protesters have been disputed by eyewitnesses, who believe an officer fired on the victim
Kerr Putney:
At about 8:30 [p.m.] we had officers who responded to N. College Street and E. Trade Street for an assault with a deadly weapon call. One person was located with an apparent gunshot wound and he was located there in the Omni Hotel. Right now, that shooting victim is in critical condition. Due to concerns around security, the victim was evacuated by our Bearcat; our SWAT armored personnel carrier. We couldn't get Medic in at the time because of the size of the crowd. The victim was then transferred to Medic and was transported to CMC Main as I said with life-threatening injuries.
At that point, because of the size of the crowd, we deployed gas and that would have been at about 8:43 p.m. The reason I say I'm not defending a position is, the shooting that took place, there's a lot of information about who did that shooting. We're reviewing video and we're assessing our people who were there as well because an allegation was made that one of our officers might have been involved. As I said before guys ,we're here to seek the truth so we're investigating that to find the truth, the absolute truth, as best the evidence can show us.
On plans and strategy in the city today and tonight
Putney:
We have a full complement of our civil emergency unit (CEU) ready to continue working to prevent violent crime, assaultive behavior and property crime as well. We have our officers assigned to foot patrol, bike patrol, the Enduro, dirtbikes, as well as patrolling in our mobile CEU vans. You will see a heavy uniformed presence, obviously. Our aviation unit will continue to be our eyes on the sky and give us an aerial view that we couldn't have otherwise. We continue to use our real-time crime center to give us a technological advantage with roughly 1,000 cameras that help protect our cities.
As I said before, the National Guard and SHP will help us with infrastructure. They'll help provide protection for our buildings so that we can avoid further damage. This allows us and my CMPD resources to focus on the people who are committing crimes; who are damaging property and assaulting our people. Despite this great commitment by state and local resources, we still need to lean on our greatest partners, our strongest asset, and that is our community. We ask that you continue to let us know when you see things that are happening that are inappropriate and when you see crimes occur. We appreciate that people are posting things that they see. Because I can tell you, we use those opportunities to fully investigate all crimes and all allegations relative to what goes on in a chaotic scene.
On why a state of emergency wasn't called earlier in the day, so as to have more resources available
Jennifer Roberts:
We were in conversation. I was in conversation with the governor early in the morning. During the day, the center city was peaceful. During the day, we had indication of peaceful protests. We saw some peaceful protests. We are a team here in Charlotte. I rely on my experts to give me the appropriate advice at the time for the appropriate resources that will be needed. I was in constant contact with the chief — chief of police, the fire chief, Medic, all the folks who are first responders. We were in constant contact. We made the decision collaboratively when those resources were needed at the appropriate time.
On when or if the city plans to release the body cam footage of Keith Scott's shooting
Putney:
When are we going to release it? Ultimately, our practice has been not to release, but to allow for the party who feels they've been mistreated in any way to see that. A request has come our way to do just that and we're going to honor that request. But there are other things that are going on too about — just to be quite frank with you — whether there's going to be an outside investigation. At that point, it would halt what we're doing moving forward as far as releasing anything. Right now what we're going to do is honor the request that has been made with the family, because it's still in my purview to do so, but beyond that it'll be much more collaborative.
There's a difference between disclosure — allowing someone to see it, and that would be the party that feels they've been aggrieved — and released would be to the masses and that's what I'm not going to do.
What I can tell you that I saw and I was very clear when I talked about this before, is the video does not give me absolute definitive visual evidence that would confirm that a person is pointing the gun. I did not see that in the videos that I reviewed. What I can tell you though is that when taken in the totality of all the other evidence, it supports what we've heard and the version of the truth that we gave about the circumstances that happened that led to the death of Mr. Scott.
25 slides
On whether the CMPD would release it if they felt it would quell the potential for violence
Putney:
I can tell you this, as I said yesterday, there's your truth, my truth and the truth. Some people have already made up their mind what happened. We've given multiple facts and there will be an update later this afternoon about more additional information we're getting. But that still doesn't change the mindset and the perspective of some who want to break the law and tear down our city. So if there is compelling info that I think helps, we'll show it, but again I'm going to be very intentional about protecting the integrity of the investigation, and in so doing, I'm not going to release the video.
We release it when we believe it is a compelling reason, but I'm not going to jeopardize the investigation. Right now, even though we're investigating we probably won't be long-term because a request has also been made that an objective party, the SBI (State Bureau of Investigations), move forward with the investigation. So we're not going to release anything that would be on somebody else to release.
On how Putney can square his calls for transparency with his refusal to release the footage
Putney:
I never said full transparency. I said transparency and transparency is in the eye of the beholder. I can tell you the party right now who really is my priority in honoring that request is the people who really are the victims of the shooting. So what I'm going to do is honor that request and I'll tell you, if you think I say we should display a victim's worst day for public consumption, that is not the transparency I'm speaking of.
On the potential for a curfew in the city
Putney:
This designation allows for that. I don't intend to use it unless it becomes an issue and we need to clear the streets sooner. It depends on what we encounter. I can't tell you a definitive time. It's going to depend on what we see and use that to better manage and allow for public safety.
Reporter:
Why not just say everyone has to be off the streets at 8 p.m.?
Putney:
We've done that in the past to when we saw the need. Right now we don't see the need to shut the city down at a specific hour.
Reporter:
After two nights of violence?
Putney:
Yes ma'am, my answer doesn't change. We don't see a need to definitively shut the city down at a specific hour because we can't anticipate. What we do know is we have the resources now to protect infrastructure and to be a lot more proactive in arresting people who commit criminal acts.
On what's being done to prevent any more violence or destruction of property
Roberts:
The resources that will be deployed [Note: Putney had stated at an earlier times that "several hundred more people" would be on the ground protecting infrastructure], the change in strategy and the continued collaboration with the community that we are determined. The safety of our citizens is our highest priority. We can look at experience, we can't predict what will happen. There are many conversations going on in our community and again I applaud our community leaders. There are many efforts to reach out to the folks who are angry to get them to stand down. Even today while we're speaking, I know of meetings that are ongoing right now where great leaders who have the trust and faith of their congregations and their communities and neighborhoods are having tough conversations and saying violence is not the answer.
Every situation is volatile and we will do as much as we can to ensure that safety. We cant guarantee not knowing what instance will happen, what groups will be gathered, but we have every confidence that we are going to put the resources in place that are required and needed And it is my sincere hope, I reach out to the comm. I ask for continued convo, all those leaders who have reached out to me personally, you are amazing in the message that you are carrying about nonviolence and I have faith that we will continue to progress.