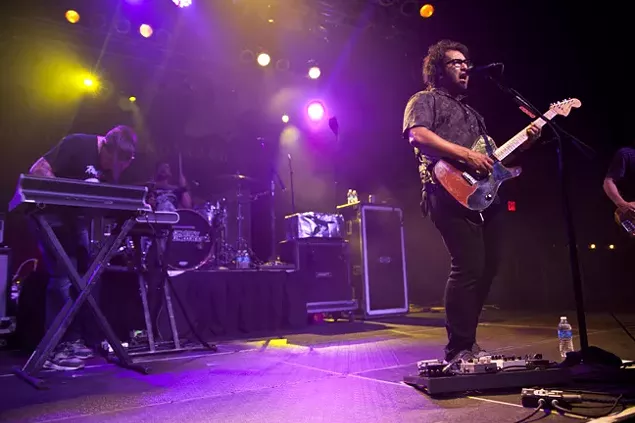 It was a bittersweet moment for Motion City Soundtrack fans in Charlotte on Wednesday as the band took the Fillmore Charlotte stage for one last performance.
This tour, appropriately titled "So Long, Farewell," marks the end of an era for a generation that came up on the Vans Warped Tour in its prime. Energy was high, but slowly dwindled by night's end as the crowd realized the group that defined them from their tweens onward was really gone for good.
Motion City Soundtrack made a name for themselves nearly 20 years ago thanks to thought-provoking pop-punk songs that somehow manage to be upbeat while sparking a dialogue on mental health. The band consists of singer and guitarist Justin Pierre, guitarist Joshua Cain, keyboardist Jesse Johnson, bassist Matthew Taylor and drummer Tony Thaxton. They released their official debut "I Am the Movie" in 2003 on Epitaph Records and have been releasing and touring nonstop ever since.
Until now, that is. Fans across the world were heartbroken to hear that the 2016 tour would be their last.
After sets by openers Great Big Pile of Leaves and Roswell Kid, Motion City Soundtrack hit the stage and charged into "Back to the Beat," an impressive fast-paced jam that furiously set the tone for the rest of the evening. The group raged through their extensive catalogue of songs, playing fan favorites back-to-back without pausing or missing a single note. These guys have been performing together for two decades, after all. By this point, their live performance is a well-oiled machine.
The entire 90-minute show was really just for their beloved fans. Pierre rarely stopped to chat between sets ("I'm trying to get better about it," he told the crowd sheepishly), but when he did, it was to profusely thank every person in the room for sticking with them til the end. "I hope you feel lots of feelings about feelings," he quipped.
They've always had a way of bringing their music to life on previous tours, but perhaps the sound resonated so much more on Wednesday night because they group knew it was the final curtain call. Each song seemed driven by a manic energy, the band feeding off of the audience and the audience responding in kind. The Fillmore, maybe half full at the start of the show, practically shook as Motion City Soundtrack's devoted fans screamed the words back to their heroes. Now that's some serious band love.
They ended their regular set with "Everything is Alright," possibly the most upbeat song ever written about having an anxiety attack. The crowd screamed the words back to them, negating the need for Pierre's amazing vocals (he happily chimed in anyways). After the demands of the crowd took hold, they returned for a three song encore, the very last time Charlotte got to see them perform together as a group. Every fan knew how special this moment was, dancing ferociously and begging for more before the inevitable conclusion.
Motion City Soundtrack ended up playing an impressive 22-song set that spanned six studio albums. It was like a greatest hits concert from a band in its heyday. If you missed it, you missed a historic moment in the life of a band that defined a generation.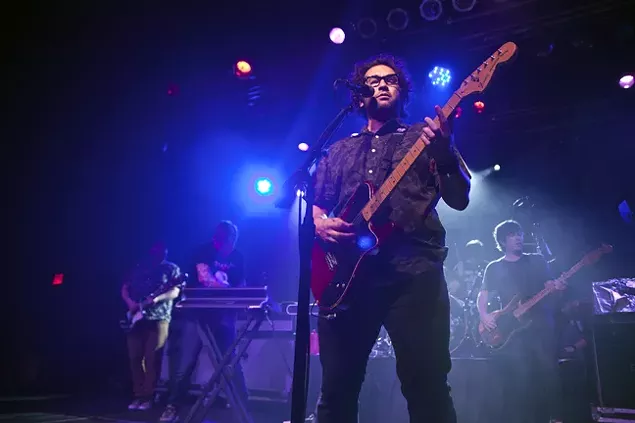 Setlist
1. Back to the Beat
2. Cambridge
3. Capital H
4. Her Words Destroyed My Planet
5. True Romance
6. It Had to Be You
7. Make Out Kids
8. Time Turned Fragile
9. L.G. FUAD
10. Last Night
11. My Favorite Accident
12. This Is For Real
13. Attractive Today
14. Broken Heart
15. Better Open the Door
16. When "You're" Around
17. Hold Me Down
18. A Lifeless Ordinary (Need a Little Help)
19. Everything is Alright
Encore
20. Anything At All
21. Even If It Kills Me
22. The Future Freaks Me Out