About 100 people showed up at Moore Place this morning to celebrate the opening of 35 units there that will house the chronically homeless. When Moore Place opened three years ago,
Creative Loafing
wrote in depth about it as a part of
a larger feature about the chronically homeless in Charlotte
. At this morning's press conference, Dale Mullinex, executive director of Urban Ministry Center, also announced that the Housing First Charlotte-Mecklenburg coalition, comprised of 27 housing organizations in the Charlotte area, are launching a campaign to raise $12 million to build a new complex similar to Moore Place. (Ryan Pitkin, CL)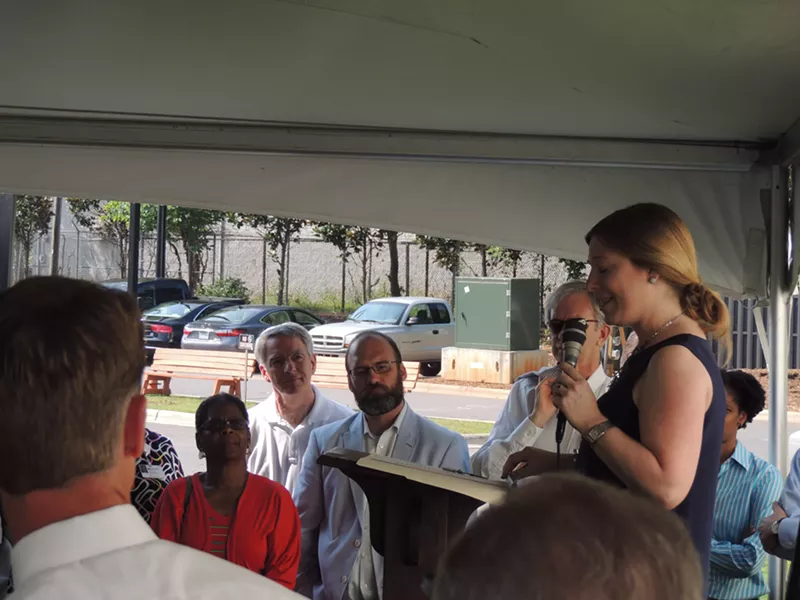 Photo by Ryan Pitkin
Caroline Chambre, director of Moore Place, addresses the crowd at a press conference celebrating the opening of 35 more units for the chronically homeless.
Nearly 900 east Charlotte homes remain without power this morning following
overnight power outages caused by fallen trees
. The first reports of cut power came at 7:30 p.m. Tuesday night, and continued into the early morning hours as the number of homes without power grew to more than 2,300. Residents on N Sharon Amity Road and Central Avenue were among those affected. (WBTV Staff)
CMPD detectives yesterday arrested three juvenile suspects in connection with a spree of armed robberies that took place in the early hours of Monday morning. Early Tuesday morning, police located two 15-year-old boys driving a car matching the suspect vehicle description. A brief foot chase ensued before the boys were apprehended. They were charged with seven counts of armed robbery with a dangerous weapon and seven counts of conspiracy to commit robbery with a dangerous weapon. Last night, police arrested an additional 13-year-old suspect for his role in the robberies. All three suspects have been transported to the Cabarrus Regional Juvenile Detention Center. (Ryan Pitkin, CL)
A Veterans Administration hospital police officer was arrested Tuesday and charged with
using water from a Rowan County fire hydrant to grow 11 marijuana plants
in an undisclosed "wooded area." Rowan County officials arrested Thomas Daniel Gaskins, 33, at his Salisbury home, where they discovered a closet that had been converted into a grow room but did not appear to have been used for manufacturing marijuana. He is being held on $10,000 bond. (WSOC Staff)