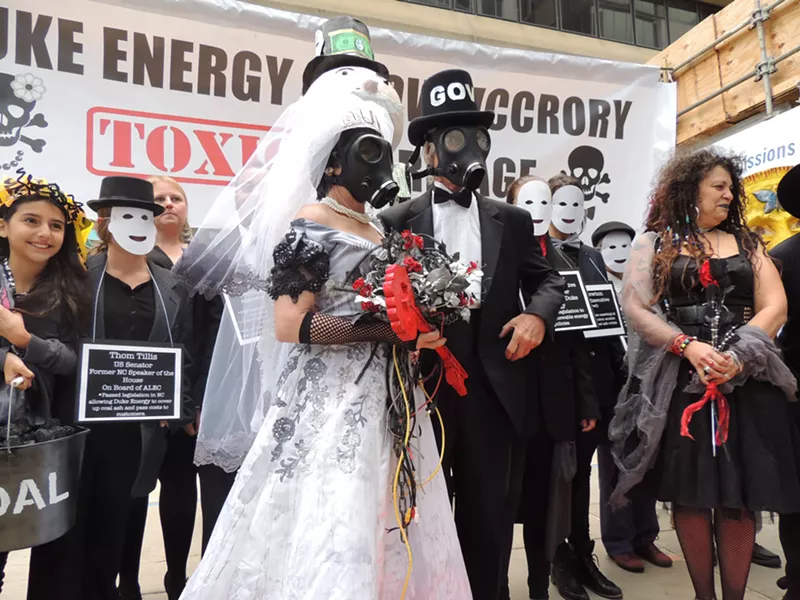 Environmentalists performed a bit of street theater in front of the annual Duke Energy shareholder's meeting in Uptown this morning, staging a wedding for the "toxic marriage" of Duke CEO Lynn Good and Gov. Pat McCrory. Other actorvists — yes, we just made that word up — played "dishonorable guests" at the wedding, the list being made up of government employees and appointees who have played a role in Duke's coal ash crisis and passed legislation that helps Duke monopolize the solar energy industry in the region. After the ceremony, the Good and McCrory characters swapped a key to the entire state for a large bundle of money. Said Danielle Hilton, a local activist who came to watch the wedding, "This may be the most romantic thing either of them have ever been a part of, after all the fucking they've been doing to others." (Ryan Pitkin)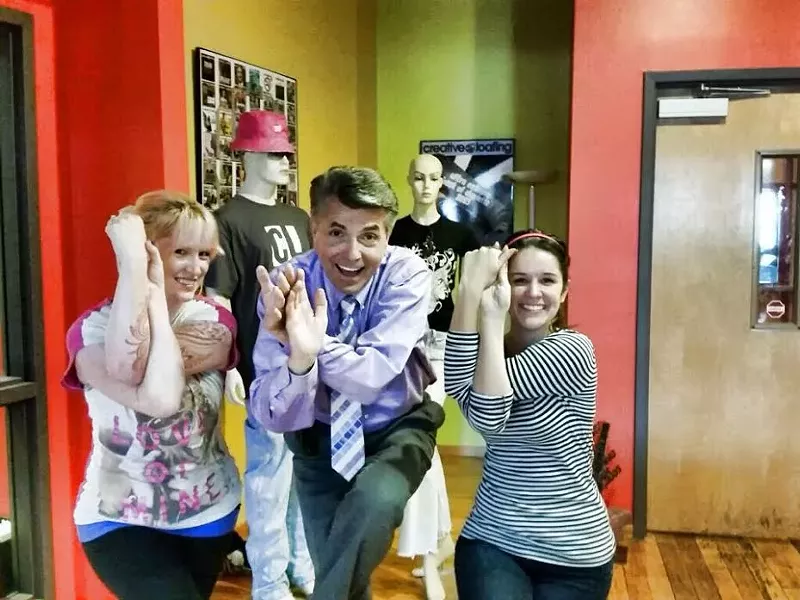 Larry Sprinkle learns a basic yoga move with some staff members while stopping by the CL offices in late 2014.
Creative Loafing favorite — and perennial Best Meteorologist winner in CL's annual Best of Charlotte issue — Larry Sprinkle reportedly suffered serious injuries in a car accident on I-485 last night. According to
this report from WCNC
, he phoned the newsroom this morning and said he would be OK. Other outlets have reported that Sprinkle rear-ended a pickup truck and became pinned in his vehicle, suffering broken bones in the process. He is currently in the hospital and the CL staff wishes him the best.
Three teens were arrested for breaking into a home in southeast Charlotte after being caught in the act breaking into a home yesterday afternoon. Police say a neighbor heard glass break and saw three males flee from a nearby home on Knickerbocker Drive. The neighbor called 911 while obtaining video footage of the suspects. They were caught soon thereafter. Police arrested 18-year-old Emanuel Escobar, 16-year-old Elias Cruz and a 13-year-old juvenile and charged them with injury to personal property and felony breaking and entering. Nothing was stolen during the incident, and it's believed the teens had only entered a screened-in porch and broken a rear window of the home before fleeing. (Ryan Pitkin)
Gov. Pat McCrory has gone further into denial in response to a letter from the U.S. Department of Justice
sent to him yesterday stating that House Bill 2 is in violation of the U.S. Civil Rights Act
and Title IX, putting billions in federal education funding at risk. The DOJ has given McCrory until Monday to confirm that the state will not implement HB2. McCrory and other lawmakers responsible for the bill have gone on record stating that they believe the letter was politically motivated, with both McCrory and House Speaker Tim Moore calling it "overreach" by the federal government. (Jim Morril, Charlotte Observer) Editor's Note: It's unclear whether either man sees the irony in those statements after calling a special session to cancel out an ordinance approved by the Charlotte City Council while also taking away the right of municipalities to pass any similar laws regarding equal rights or minimum wage.