About 50 anti-HB2 protesters rallied and marched to the center of Uptown last night, shutting down the intersection of Trade and Tryon streets for well over an hour to call for the repeal of HB2 and denounce the treatment of transgender people — especially trans people of color — in North Carolina.
Ryan Pitkin
Protesters begin their march.
The protest, organized by the Charlotte Queer and Trans People of Color Collective, began with a march from First Ward Park at about 6:40 p.m. When they reached Tryon Street while marching down Trade Street, protesters slowly began to block the streets on all four sides by standing at the crosswalks.  Police took several minutes to respond, and when they did arrive, officers redirected traffic and made no efforts to arrest or move the protesters standing in the crosswalks or the three protesters who had chained their hands together and sat down in the middle of the intersection.
Ryan Pitkin
Three people of color locked themselves together and sat in the middle of the intersection while a diverse group of protesters formed a wall around all four sides.
The three protesters in the street — Ashley Williams, Gloria Merriweather and AJ Williams — all have long histories of protests with Black Lives Matter, Moral Mondays and other movements within Charlotte and North Carolina in recent years.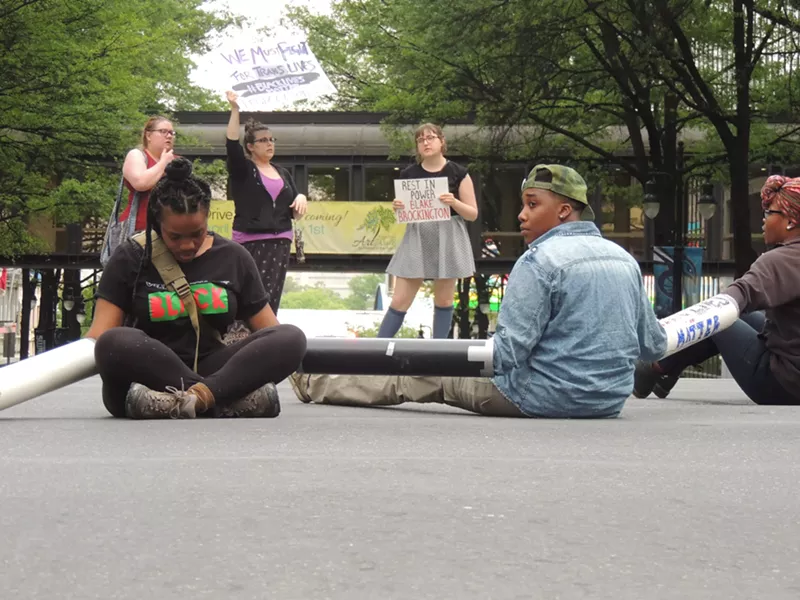 Ryan Pitkin
Ashley Williams (left), AJ Williams (center) and Gloria Merriweather sat in the intersection for about an hour and a half.
"We're here now to take up space," Merriweather announced over a loudspeaker at one point during the protest. "The state is attacking the humanity of queer and trans people statewide."
Ryan Pitkin
Danielle Hilton addresses the group of protesters during the shutdown.
At one point, protesters held a moment of silence in memory of Blake Brockington, a transgender man from Charlotte who took his own life in March 2015. Brockington made headlines when he won homecoming king at East Mecklenburg High School in 2014. He fought for trans rights in the community in a number of different ways. 
At around 7:50 p.m. on Wednesday night, police announced over their own loudspeaker that protesters would have 20 minutes to leave the area or be subject to arrest. The protesters complied and marched peacefully back to First Ward Park, where they spoke shortly about future actions — like a planned shutdown outside of the North Carolina General Assembly on April 25 when the state legislature reconvenes — before disbanding.
Ryan Pitkin
The group marched peacefully back to First Ward Park just after 8 p.m. and rallied before heading home.
After the march, Merriweather spoke with
CL
about why it was important for people of color to organize an anti-HB2 event in which the vulnerability of their experience was focused on.
"Queer folks of color in Charlotte have been showing up to other rallies, and other rallies have participated in erasure of the trans, queer P.O.C. experience, which is why it's very important that we speak on that," Merriweather said. "Blake Brockington was directly affected by the antidiscrimination ordinance debate last year. HB2 came back into the [North Carolina] House [of Representatives] on the one-year-anniversary of his death. That is fucking heinous. That is disgusting. Queer and trans folks of color coming together is about us raising our voices and demanding to be seen. It has to do with maintaining visibility so we can continue to live."