Following two weeks in which businesses across the country released statements denouncing the non-inclusive nature of
the recently passed House Bill 2
(HB2), today looks to be the day when the state legislature begins to see concrete consequences for its actions.
Just two weeks ago, Governor Pat McCrory joined executives with PayPal to announce that the online payment company would be opening a new global operations center in Charlotte, bringing more than 400 jobs to the area.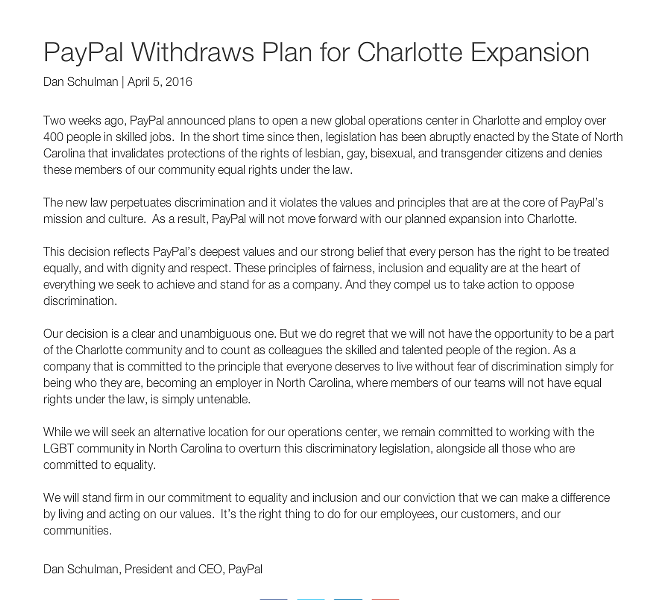 Statement from Dan Schulman, president and CEO of PayPal
Today, PayPal President and CEO Dan Schulman
released a statement
canceling those plans as a result of the passing of HB2.
"Our decision is a clear and unambiguous one," Schulman wrote. "But we do regret that we will not have the opportunity to be a part of the Charlotte community and to count as colleagues the skilled and talented people of the region. As a company that is committed to the principle that everyone deserves to live without fear of discrimination simply for being who they are, becoming an employer in North Carolina, where members of our teams will not have equal rights under the law, is simply untenable."
He then promised to continue to work with North Carolina's LGBT population to help overturn HB2 while looking for a new location for PayPal to call home.
About two hours later, Charlotte area employer Red Ventures followed suit, with CEO and co-founder Ric Elias tweeting out a copy of an open letter to McCrory just before noon stating that he will "seriously reconsider" adding 500 jobs to Charlotte in 2016, as was the plan, with thousands more coming after that.
Red Ventures is headquartered just over the state border in Fort Mill, but has plans to expand its recently built offices in the University area.
In his letter, Elias recalls a recent conversation he had with the Governor about Elias' decision to support Attorney General Roy Cooper in the North Carolina gubernatorial race. He highlights the way in which the state legislature quickly passed the bill just a matter of hours after it was made public.
"As a former supporter I have always been open and honest with you, but as a citizen of North Carolina I am unable in good conscience to sit idly by and watch while our democracy is manipulated," Elias wrote.
McCrory has not yet responded publicly to the news that his signing of HB2 will result directly in the loss of at least 400 and possible thousands of high-skill jobs in North Carolina, but he did tweet at noon that he would be making a "big announcement" soon at Ragsdale High School in Jamestown, a small town near Greensboro.
Creative Loafing
will continue to update this story as it progresses.