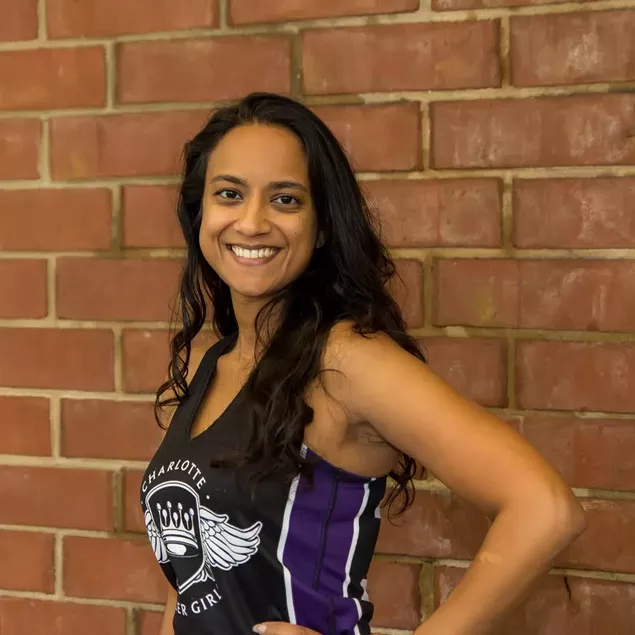 Photo courtesy of Charlotte Roller Girls
Manisha Parekh joined the Roller Girls in 2014.
For Manisha Parekh, a member of the local Charlotte Roller Girls roller derby team, being on an episode of Jeopardy has been a lifelong dream. Tonight, that dream becomes a reality.
Parekh, known on the track as Not So Sari, has been watching Jeopardy for as long as she can remember. Growing up in Baton Rouge, Louisiana, she participated in every quiz bowl through middle and high school.
But tonight, at 7 p.m. on WCNC, she'll go pro. That's when an episode (and hopefully more) that she taped in January will air.
"This was a lifelong bucket list item dream. I knew the odds were slim. It was a dream of mine and I just didn't think it would ever happen," Parekh said before the show airs. "This has been a day of trepidation, of excitement and a whole bunch of feelings wrapped up into one."
The process took about three years from the moment she decided to make a legit stab at being on the show. She first tried the online test in January 2013, but didn't do well enough to receive a call. When a new test was released a year later, she was able to try again. She soon received a call to attend an in-person audition in Raleigh, and made her way there in March 2014.
"When I finished there they were clear in telling us, 'Don't call us, we'll call you,'" she said.
Then the waiting game began. Parekh was told she had been entered into a pool of potential contestants that would remain open for 18 months. She tried to keep it in the back of her mind while going about her normal life in Charlotte. She joined the Roller Girls in September 2014, but was just "fresh meat" during last season and took some time to learn the game. In December 2015, she passed final assessments and will be on the track with the team this year. 
"Last night was her first scrimmage, but you can tell she is picking up the game quickly and will be an awesome addition to the team," said Liz McLaughlin, an All Star Jammer with the Roller Girls known as Total Lizaster. "We are all excited to see her compete tonight on Jeopardy and on the track this season."
Through all of her work, Parekh knew an important deadline was approaching fast. 
"When October (2015) rolled around, I figured, that's 18 months, I guess I won't be on," she said.
Then, in the last few days of October, she got a call asking her to fly to Culver City for taping over Thanksgiving weekend. An unplanned surgery for Alex Trebek pushed the taping back to January, giving Parekh more time to study up. She spent the next two months reading trivia books, taking online tests and having her kids quiz her on a daily basis. Looking back, she didn't even need to. 
Photo courtesy of Manisha Parekh
"All of those things I studied, I don't think any of it helped me one bit," Parekh said, laughing. "It was just stuff I picked up along the way."
While on set, Parekh didn't get to do much speaking with Trebek, although he had a certain interest in her roller derby talent when he finally did approach her.
"At the end of the show when you see him standing in front of the podiums with all three contestants, he asked me to teach him how to do a Derby Whip," she said, referring to the move in which one teammate slings another ahead. "He was very specific that he wanted to give a Derby Whip rather than receive one. So I put my hands right on his arm and I showed him the right way to do it."
If not in the same physical way they do on the track, Not So Sari's teammates will have her back tonight at a viewing party at Fox & Hound at Northlake Mall. She and the other Roller Girls invite any fans or potential fans to join them.
"We're just going to watch and have fun. The seasons kicks off on March 5 so this is a great chance to get together and hang out with fans and do something that you wouldn't typically think about when you think about a Roller Girl," she said.
As might be expected in a sport filled exclusively with badass women, Parekh has experienced her share of quick judgments and misperceptions, and hopes tonight's Jeopardy appearance can help dispel all of that.
"I think there's a stereotype that roller derby is not a real sport, but there's so much strategy and you really have to be on your mental game to do well in it," said Parekh, a psychologist by day. "Another stereotype is that we're not well-educated women. We have a couple PhDs on team. We have nurses and teachers. Hopefully, this will change some of the stereotypes."
McLaughlin agrees, and said she can't wait to see how the new addition uses her head come
March 5 at the Grady Cole Center
.
"Roller derby is such a cool sport because it brings together so many different types of people," McLaughlin said. "From teachers to artists to web developers to lawyers to journalists and even doctors like Manisha."
Creative Loafing
couldn't get a hint out of Parekh regarding how she did or whether she moved on to the next day (Television secret: It's not really the next day. They tape five episodes in a row and change clothes in between.) We'll just have to watch and cheer like the rest of you, hoping to see her on our TVs through the week.
And even if she loses and hip checks whomever wins, we will Not Be so Sari to see that, either.