"Today we MOURN, Tomorrow we Organize" was written on the back windshield of an SUV driving about 15 miles per hour down Brookshire Freeway. It was Friday night in the midst of rush hour, and the SUV was at the back of a pack of 10 cars moving ever-so-slowly down the highway into the city, to the chagrin of a long line of motorists behind them.
The procession, dubbed "Funeral Friday" by organizers, marked the beginning of a rejuvenated effort by activists with Charlotte's Black Lives Matter movement to push for police reform in the wake of the mistrial of Randall Kerrick, announced on August 21, and the following announcement by North Carolina Attorney General Roy Cooper that there would be no retrial.
Leading up to the funeral procession, which ended with a rally of about 70 people at Marshall Park joining together in song and giving impassioned speeches about their past experiences and goals moving forward, Rev. LeRoy Dunlap stood in front of his church, Redemption Church Ministries, watching a group of activists paint their cars with slogans.
"Basically, what we're talking about is that for a whole lot of us, justice is dead, and it needs to be mourned," Dunlap said. "So we'll mourn for a while and then we'll organize to see if we can resurrect it."
Dunlap said Funeral Friday was the beginning of actions that will continue to put pressure on city leadership to regulate the police and answer for the unequal treatment of black people by law enforcement.
"Not all of the actions are going to be like this. There are actions we are going to do legislatively and politically," Dunlap said. "We're talking about going to city council, meeting with them, going to meet with the police chief and talk about some regulations that can be pushed through, things of that nature."
An example of reform Dunlap says he'd like to see is more specific rules for dashboard cameras in police vehicles and body cameras worn by officers. He said it is unacceptable that Kerrick's dash cam was turned off during the shooting.
"There needs to be regulations put in place that say an officer can't turn off his dash cam or body cam, because that's the whole purpose of it. The result of them doing that ought to be immediate termination," he said. "We're not against police or the government, we just want everybody to get equal treatment."
Before leaving to participate in Funeral Friday, Dunlap said he knew people would be upset about being slowed down in traffic for a short time, but the point was to get them talking about it so the dialogue can continue.
"The conversation needs to be continued. They will start questioning and people will talk," Dunlap said "There are people who were against the movement until we talked, and they said, 'OK, you're right, that is incorrect the way justice is being meted out.' The conversation is crucial. There's a lot of times that people hate something because they don't understand, so we need to make sure the dialogue continues."
Photo by Ryan Pitkin
Activists prepare to leave their rallying point to carry out Funeral Friday.
The group of activists participating in Funeral Friday before meeting with those at the park was a diverse group of white and black people of all ages, some of which have been active with Black Lives Matter for some time, some were new. A group of young, mostly white Davidson College students participated, many of whom volunteering to drive lead vehicles.
"I think that's very important because one of the things it's indicative of is that we aren't the only ones who know that it's wrong. Anyone who looks at it with a rational eye will see that what's going on is not right," Dunlap said. "This is the perfect example that it's not a black movement; it's a right or wrong movement.
"People misunderstand Black Lives Matter, so we've adapted to say, 'All lives matter when black lives matter,' because as it is right now, it seems like black lives don't matter. There's no culpability, they can kill us with impunity."
At the rally following Funeral Friday, local activist Danielle Hilton led the group in chants, songs and speeches, passing a megaphone around to anyone who wanted to speak, and many did.
One such speaker was Paris Bey, a cousin of Janisha Fonville, shot and killed by a CMPD officer in February. Bey spoke to the crowd about her frustration with police, who she feels are being put in situations they aren't ready for. She said her cousin, who was shot after police said they believed she was trying to attack an officer with a knife, was too far away from officers to be any threat.
"They hire scared-ass cops or cops with PTSD and then put them in neighborhoods where they are not welcome," Bey told the crowd. "I'm tired of dealing with it. I'm tired of coming to these rallies. It's not because I don't want to be here, it's because I want change."
After the rally, Bey said she has been getting worn down with attending rallies and feeling like she's not getting through to anyone.
"If you would've caught me a few weeks ago, I would have been super positive but right now I'm not," Bey said. "I'm getting worn down. I'm over crying. I'm just over it. I want justice. I can keep on saying it and keep on saying it but it just needs to happen."
Despite her frustrations, Bey said she was uplifted by the positivity of the rally on Friday evening.
"I think it was very positive. I loved the unity that we have out here tonight: black people, white people, Asian," she said. "We all come together. If people can go stand in line for a pair of Jordans, then come out here and show support to the community. We all gotta live here."
The following photos were taken by Grant Baldwin during Friday's actions

Activists lead a "funeral procession" on Brookshire Freeway, driving about 10 to 15 miles per hour to slow down traffic.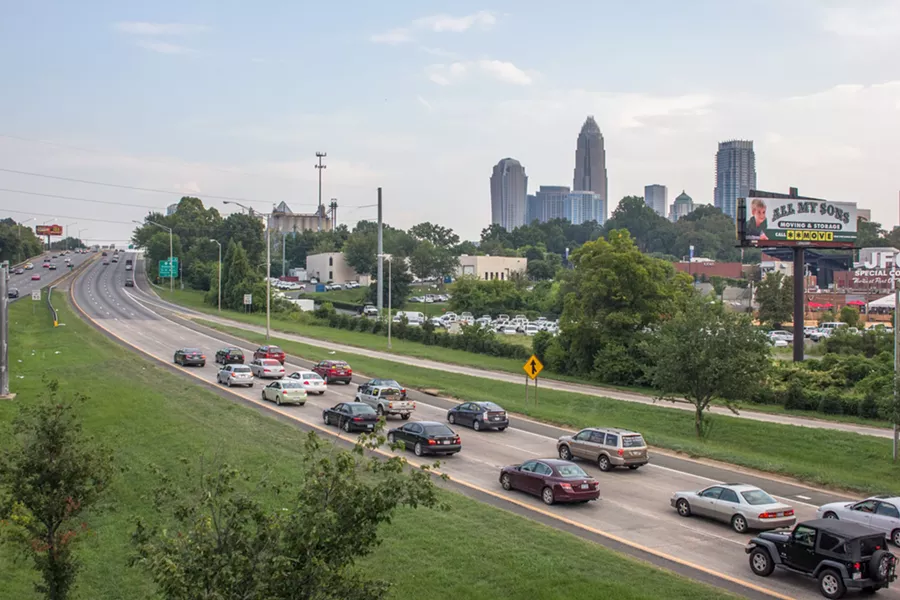 Cars with painted Black Lives Matter slogans lead Funeral Friday onto the I-277 loop.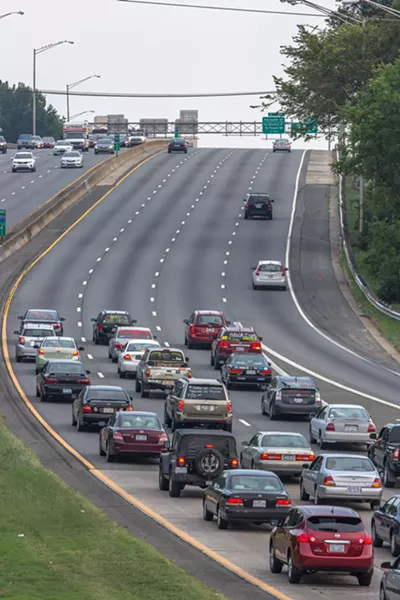 Cars with painted Black Lives Matter slogans lead Funeral Friday onto the I-277 loop.
Activist Kassandra Ottley speaks to a television news camera.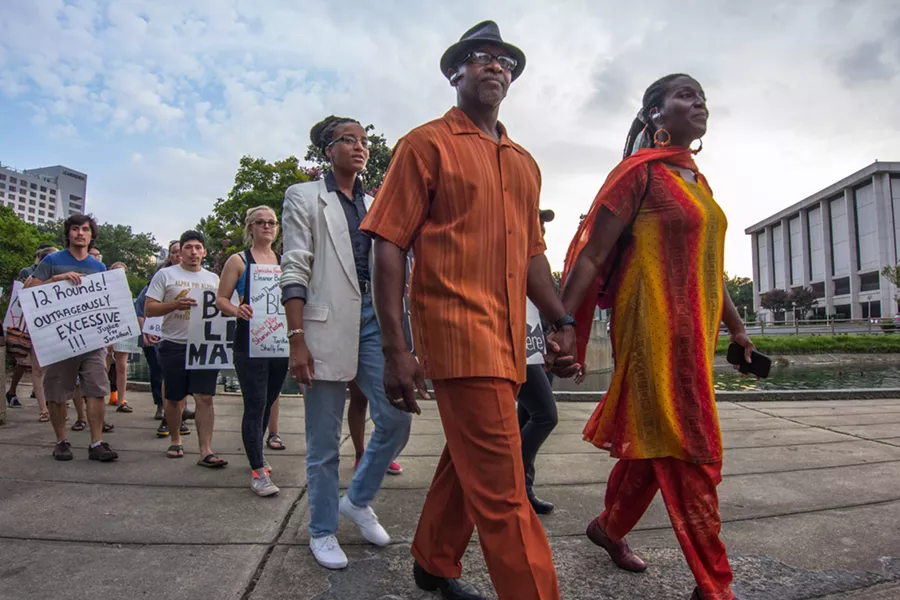 Rev. LeRoy Dunlap and his wife, Theresa McCormick-Dunlap, lead activists to a rally at Marshall Park.
Paris Bey addresses activists gathered at Marshall Park to support the Black Lives Matter movement.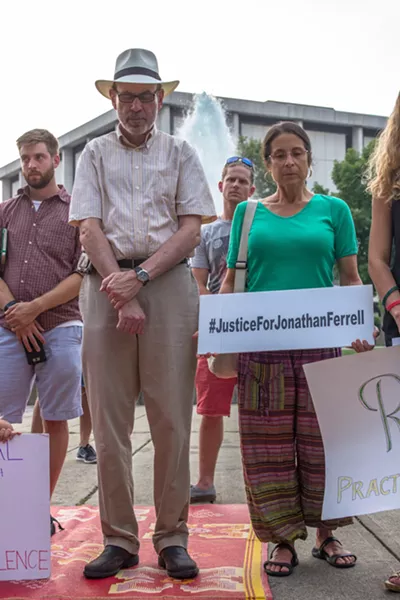 Activists gather at Marshall Park to support the Black Lives Matter movement.
Activists gather at Marshall Park to support the Black Lives Matter movement.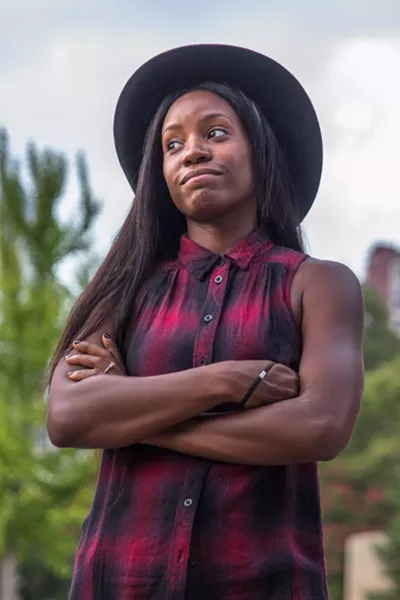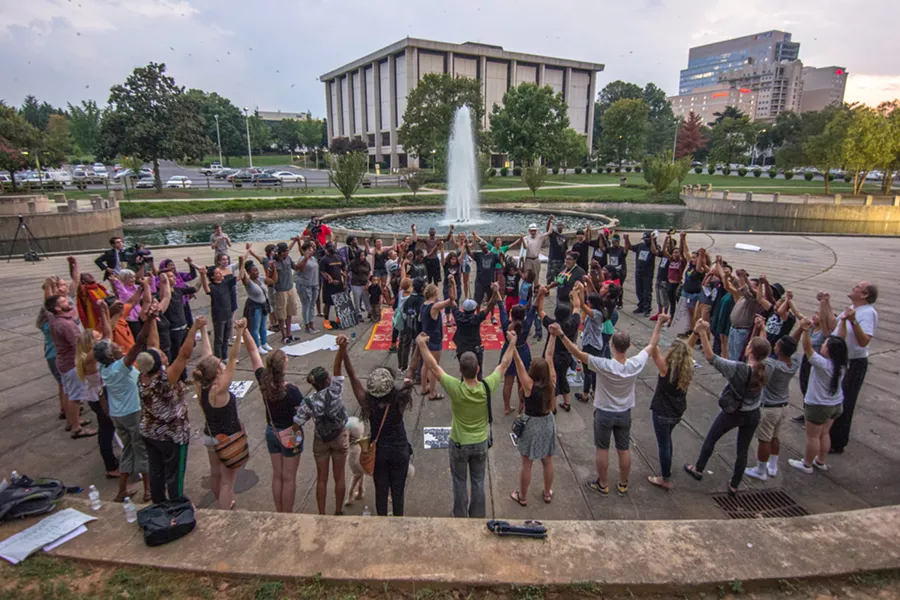 Activists gather at Marshall Park to support the Black Lives Matter movement.