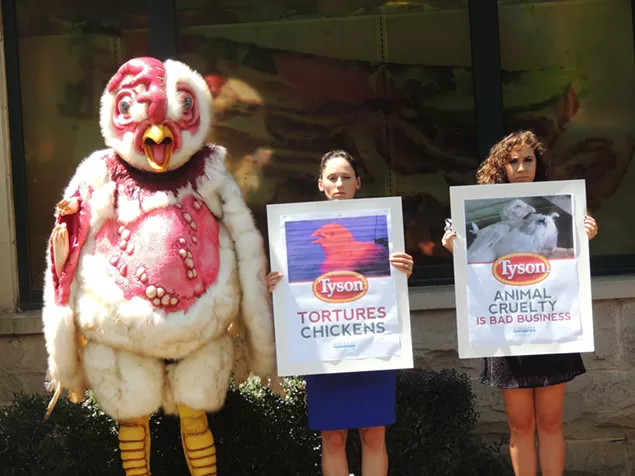 Ryan Pitkin
Abby the Abused Chicken was designed in a Hollywood special-effects studio and is now touring the southeast looking for help.
A group of about 15 local advocates for the humane treatment of animals joined representatives of Mercy for Animals and a super-disturbing mascot named Abby the Abused Chicken in front of the 6th Street Harris Teeter in Uptown Charlotte on Tuesday afternoon.
The group stood silently on 6th Street holding signs with messages such as "Tyson Tortures Chickens" in an effort to urge Tyson Foods, the largest meat producer in the world, to adopt more humane policies in its poultry plants. The tour of southeastern groceries follows the recent release of a video that shows workers mistreating chickens kept in crude conditions before being sent to American plates.
Tyson representatives said the video was "difficult to watch" but "lacks proper context," claiming that at the time it was shot – between March and May – chickens in the factory were suffering through respiratory illness and treatment of these birds in the video is not typical. 
"We want to assure you that animal well-being is a top priority for us. We do not tolerate improper animal treatment and take claims of animal abuse very seriously. We have programs and policies in place to protect the health and well-being of all our animals," Worth Sparkman, spokesperson for Tyson Foods, said. 
The Harris Teeter in Charlotte was the first of nine stops on the tour of nine towns including Raleigh; Asheville; Memphis, Tennessee; and Springdale, Arkansas, where Tyson Foods is headquartered. The video was shot in a facility in Dagsboro, Delaware.
"We're going to these different grocery stores to send a message to Tyson that it's time to adopt a comprehensive and meaningful animal welfare policy," Jeni Haines, national campaign coordinator with Mercy For Animals, said. "So we're asking them to make some on-farm improvements to reduce suffering at facilities and also asking them to switch to less cruel killing systems that reduce suffering involved with the shackle, electrocution and scalding method they are currently using."
The temperature remained in the 90s as the silent protesters stood throughout the lunch rush. Organizers have found different ways to keep the man in the Abby costume, which is a seven-foot-tall bird with a sliced neck, a broken arm and boils on its bare belly (which often happens to birds left to lay in their own urine and waste) cool during previous tours, Haines said.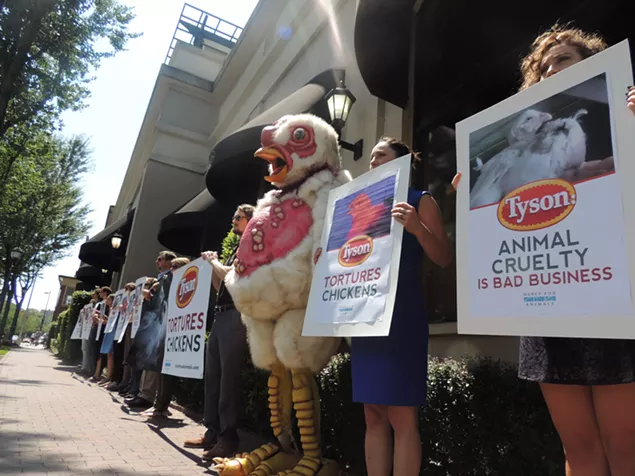 Ryan Pitkin
Protesters stood silently in front of Harris Teeter through the lunch hour.
The heat was not the only concern for some protesters, as one woman hid her face behind her sign when a television camera showed up. She told fellow activists she had called out of work to join the cause.
Local business owner Rick Solan said the cause was important enough for him to take a couple hours off and join his fellow animal advocates, even with one of his employees out sick and a heavily booked day.
"I'm against factory farming and the horrific torture farm animals suffer just so we can eat inexpensive meat," Solan said. "I took time off from work today hoping to open a few people's eyes to what factory farming is."
He said he thought the message was well-received by some people who walked by and thanked the activists, some of them beeping their horns. Two college students from nearby Johnson & Wales University came and joined the protesters after hearing about it from friends who had passed the protest earlier.
"Obviously it's not going to get through to everybody, but if it's just one person who tries to get more information then that line person tries to tell other people, there can be a snowball effect."
Peter Barker, who works on nearby Church Street, said he thinks it's effective to meet people as they walk in to a grocery store to remind them of how some of that food gets made.
"You're aware of it a little bit, but a silent protest at the entrance, that helps," Barker said, looking at the brown bag he just left the store with. "There's no chicken in this bag."
Haines said that members of Mercy for Animals are hoping for a meeting with Tyson representatives when they visit Springdale on Friday.
"People are tremendously supportive of this campaign," Haines said. "Nobody supports animal abuse and nobody believes animals should be tortured before reaching the dinner table. Sadly, Tyson has done nothing to protect animals from torture so they are still crowded by the hundreds of thousands into these sheds, beaten by workers and made to endure a cruel killing system. It's egregious torture and abuse that needs to stop."