Up in St. Paul, Minnesota, I got to see the magic that Lou Bellamy can work when he gets his teeth into an August Wilson script. Working in the corner of a neighborhood school, Bellamy and his Penumbra Theatre company plumbed the darkness and fury of
King Hedley II
in a riveting 2003 production of epic proportions. I never expected to see the likes of that experience here in Charlotte, but Bellamy is the guest director of On Q Performing Arts' current production of
Seven Guitars
, and you can glimpse a good chunk of that magic at Spirit Square.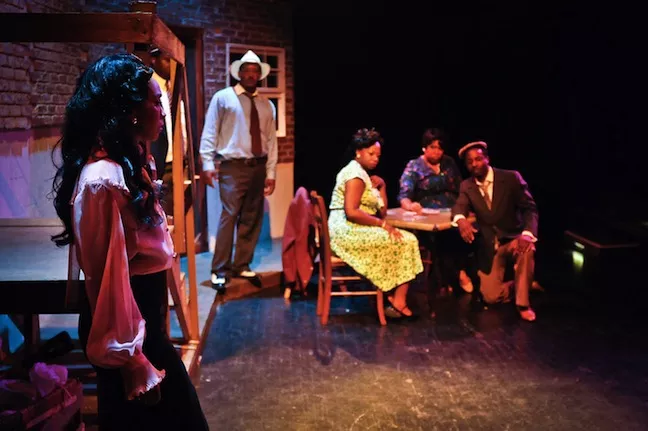 Gena J
Seven Guitars
A couple of the same characters from
Hedley
, set in the 1980s, reappear in
Seven Guitars
as they were in 1948 – and we also get a hefty helping of King Hedley I, a crazed Caribbean peddler mystic who sees angels and butchers chickens. The story centers around Floyd Barton, who has cut a hit record in Chicago that is making him the toast of Pittsburgh, or at least a celeb in the Hill District he hails from.
Sad to say, he didn't get the sort of financial deal in Chicago that might have allowed him to cash in on his celebrity. The famed Savoy Record Company has invited him back to their studios, but Floyd faces some steep obstacles in the way of making that happen. He's done some prison time, so he doesn't have the money to hop on a train. Worse, his electric guitar is in the pawnshop! His drummer, Red Carter, has family ties, and his harmonica player, Canewell, frets over how was treated at the studio during the previous session.
More important than either of these guys is Vera, the woman he left behind because she didn't believe in him enough to come along. He's trying to mend the rift caused by his infidelity, but she's still wary.
Nicholas Johnson, who was so riveting just three months ago as Charlie Parker, is even more powerful now as Floyd, because this musician has a better script behind him and more space to move around in. Bellamy draws the most nuanced and conflicted performance I've seen from LeShea Stukes as Vera, adorned with her usual charisma. Quentin Talley is a married hipster with a wandering eye as Red, so loose and relaxed you wonder how his hat stays on, and Sultan Omar El-Amin sulks with a fresh array of discontents as Canewell.
Hedley is a wild mix of appetites, schemes, and afflictions, getting some of Wilson's tastiest monologues, and Ron McClelland makes a meal of them. Perhaps Wilson intended the thematic emphasis to lie there, but with Baltimore and Ferguson and Zimmerman so infamous in recent years, our attention is drawn more sharply to the laments that Floyd, Canewell, and Red voice about police prejudice, harassment and trumped-up charges. Likely, Wilson would scoff at the idea that racial profiling in New York, Cleveland, Baltimore, etc., is rooted in the civil unrest of the '60s. The whole American game was – and remains – rigged from the black man's perspective.
Hedley
in Minnesota and
Gem of the Ocean
on Broadway remain the darkest-looking stagings of Wilson's work that I've seen, but Bellamy insists on a similar brooding look here with a ramshackle set design by Joseph Fry complemented by Leah Smith's lighting and sound. Well-armed with knives and pistols, Wilson's ladies and gents – with the notable exception of Hedley – are also dressed to kill, thanks to the stylish threads designed by Davita Galloway and Anthony Ingram.
If you want to see how fine On Q can be, don't you dare miss Seven Guitars.