The 17th annual RiverRun International Film Festival is sprinting toward the finish line and, for the fifth year in a row, I'm in Winston-Salem to cover its final few days.
A24
Michael Fassbender (standing) and Kodi Smit-McPhee in Slow West
The fest began Thursday, April 16, with a pair of evening screenings and will conclude Sunday, April 26, with an awards ceremony and one final nighttime showing. Already, there have been approximately 120 screenings — mostly new films but also a few classics (e.g. Shaft, The Wild Bunch) — as well as filmmaker panels, cocktail receptions, and a joint Q&A session with Charles Burnett (Killer of Sheep) and Robert Townsend (Hollywood Shuffle). (On a side note, I was told by a staffer that Townsend has shown himself to be quite the movie aficionado, remaining for the length of the festival and catching as many screenings as humanly possible.) Still to come is a Q&A session with Emmy Award-winning writer-director-producer Stanley Nelson (Freedom Riders), a chat with Heidi Ewing and Rachel Grady (co-directors and producers of the Oscar-nominated documentary Jesus Camp), and over 50 more screenings.
And now, on with the reviewed shows.
SLOW WEST — Not a traditional Western by any stretch of the imagination, Slow West operates in the same manner as such haunting and off-kilter horse operas as Jim Jarmusch's Dead Man and John Hillcoat's The Proposition. Like the Hillcoat flick, it comes from a land Down Under, with New Zealand providing part of the financing for a film that has already nabbed a major award (World Cinema: Dramatic) at this year's Sundance Film Festival. Kodi Smit-McPhee, the teen star of The Road and Let Me In, continues to diversify his portfolio by essaying the role of Jay Cavendish, a Scottish kid who journeys to the post-Civil War West to locate Rose Ross (Caren Pistorius), his one true love and, along with her father (Rory McCann), a fugitive from justice. "It's a miracle you've made it this far," the tenderfoot is told by Silas Selleck (Michael Fassbender), a scoundrel in the Han Solo mold (tough on the outside, soft on the inside). The two strike up a — well, friendship isn't exactly the right word, but Jay does come to realize that he stands a better chance of staying alive if he allows this cigar-chomping cowboy to look after him. Fassbender starred in debuting feature-film writer-director John Maclean's 2009 short piece Man on a Motorcycle, so their relationship probably explains why the actor agreed to take on a role that's comparatively easy and bare-bones after the heavy lifting of Shame and 12 Years a Slave. Yet his charismatic presence is certainly appreciated, as are the beautiful directorial touches that help lift this picture out of the realm of an ordinary oater. Maclean not only fills his film with memorable characters that come and go with the suddenness of a tumbleweed blowing across a dusty street — I especially enjoyed the appearance of a trio of Congolese musicians, as well as Jay's encounter with a Good Samaritan who proves to be anything but — he also finds impish humor in such sights as an axman felled by a tree and an arrow shot through a hand ("Good catch," cracks Silas). It all ends with a spectacularly staged shootout, one which finds Maclean daring to literalize the concept of rubbing salt into a wound.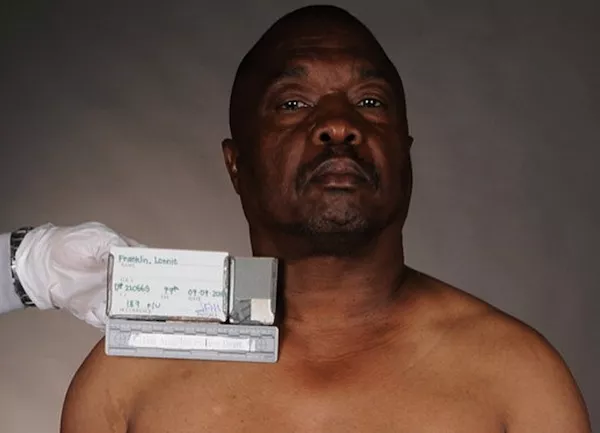 HBO Documentary Films
Lonnie Franklin, the subject of Tales of the Grim Sleeper
TALES OF THE GRIM SLEEPER — Before there was Michael Moore, there was Nick Broomfield. A British documentarian, Broomfield has made a name for himself over the past quarter-century with his confrontational style and insistence on placing himself in his own nonfiction features. Like Moore, Broomfield isn't everyone's cuppa tea, but I've been a fan since catching 1995's Heidi Fleiss: Hollywood Madam and on through Kurt & Courtney, Biggie & Tupac and Aileen: Life and Death of a Serial Killer (alas, I missed his 2011 effort Sarah Palin: You Betcha!, though word is that it only related what everyone but Tea Party dimwits already knew, that she's a heinous, hypocritical opportunist). Tales of the Grim Sleeper is his latest muckraking expose, and with it, he's casting a wider net than merely going after celebrities and other tabloid-fodder types. His focus is Lonnie Franklin, who over the course of 25 years managed to kill scores of women in his South Central L.A. neighborhood. He was finally arrested and charged for committing 10 murders, but the reality is that he was probably responsible for the deaths of at least 100 women. How could such wholesale slaughter continue for an entire quarter-century? That's an easy one to answer: To paraphrase more than one of the residents interviewed by Broomfield, had the first victim been a blue-eyed blonde from Beverly Hills, the crime spree would have been cut short almost immediately. But because Franklin killed black women, and because many of these black women were drug addicts and/or prostitutes, the LAPD couldn't be bothered to investigate. On the contrary, a police spokesperson even stated to one of the neighborhood activists that since it was hookers being eliminated, who cares? Tales of the Grim Sleeper is a potent piece of outrage cinema seeking to operate on two fronts. First, it provides yet another example of the raging misogyny found in every corner of this country, and while the neighborhood women are revealed to be a compassionate and hard-charging bunch (particularly Nana Gyamfi, a lawyer, activist and member of the grassroots organization Black Coalition Fighting Back Serial Murders, and Pam Brooks, a former crack addict who serves as Broomfield's invaluable guide into the South Central hood), most of the men are seen chuckling at Franklin's long-acknowledged perversions even as they tut-tut his slayings. The picture's second purpose is to showcase the incompetence and indifference of a United States police force toward African-Americans, but because Broomfield was never able to land interviews with anybody on that side of the fence, the end result isn't forceful as it should be on that front, and viewers will probably be stirred to anger and action more by the recent real-life videos involving racist cops targeting unarmed blacks. Still, Tales of the Grim Sleeper is a disturbing, important documentary, and, as Pam notes, the story isn't over, not with more men out there willing to commit unspeakable acts against women.
(For more information on the RiverRun International Film Festival, go here.)