If you needed any evidence that the 2016 elections campaigning has already begun (before the print is even dry on last week's ledgers), you got it in flashing neon signs yesterday. Locally, you can thank Gov. Pat McCrory, and where the rest of the country is concerned, the Obama administration.
As is typically the case — and in advance of the state and federal recognition today of Veterans Day — both exhibited absolutely no shame in pandering to and using our servicemen and women as backdrops in pursuing their goals. Making patriotic-sounding announcements from a stage wrapped in red, white and blue, while military planes soar overhead, is always worth a few extra votes on Election Day, am I right?
From the White House, President Obama's newly appointed head of the embattled Veterans Administration, Robert McDonald, announced Monday a top-to-bottom overhaul of the agency. This, after many months of headlines in which we learned that those who had risked their lives for our safety have been getting sub-standard health care, or worse, here at home. And in visiting the NC Veterans Home in Salisbury yesterday, McCrory announced the creation of NC4VETS, which he described as a "one-stop shopping" Web and print resource center to help provide vets with the information they need in figuring out what services are available across various agencies. (Pay no attention to the barely muffled guffaws coming from those vets over in the corner; they're just a tad cynical after having been told help was on the way for at least the past four decades now.)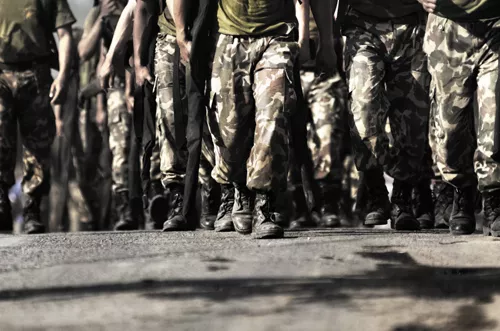 What's most depressing about this, though, is that there is clearly no argument as to the need for significant assistance in fixing broken programs. Both parties accused the other side of having failed our servicemen and women during this past election season. McCrory's explanation of his strategy for this latest effort, though, is a tad confusing as to its focus. In his speech in Salisbury, he pointed out that North Carolina is home to nearly 800,000 veterans and their families, as well as more than 120,000 active duty military, guardsman and reservists. But rather than focus all of the state's resources on making sure that needed assistance programs are running smoothly, with no one falling through the cracks (as has been the case especially concerning health care), McCrory seems to think it's the responsibility of our state government to ensure that the rest of us will somehow benefit from veterans' presence here:
"Veterans come to the state with a can-do spirit that will make North Carolina stronger and improve its quality of life," he said. "The NC4VETS initiative will help us attract and keep more veterans so North Carolina will be more that a duty station. It will be their new home."
OK then. Whatever. On this Veterans Day, we assume that the news you should know is that between a supposed overhaul of services at the federal level, and some recognition that there is a need at the state level, maybe something might be improving. We'll keep an eye out and let you know.
Meanwhile, let me exercise a moment of personal privilege and acknowledge Veterans Day as it should be noted today:
Readers of alternative media like Creative Loafing should know that these weekly papers became popular largely during the social and political upheavals of the '60s and shortly afterward. One of the main issues of those times was, of course, opposition to the Vietnam War, and, as such, papers like this one largely became part of the "anti-war" movement. But along with that, early on, came one of the worst manifestations of those years. Our servicemen and women who fought those battles were treated very poorly when they came home, as if, in doing their duty as they had pledged, they had been the ones to make the controversial decisions to drop the bombs themselves. Instead of being welcomed home, some were called "baby-killers" or "war-mongers," or worse. Later, after that was over, alternative papers like Creative Loafing, and writers like me, still didn't always do their part in correcting that improper treatment.
And so I've made a concerted effort, especially since the confrontations in Afghanistan and Iraq arose, to make sure I do what I can to not only welcome members of the military home, but to ensure they're getting the assistance they need. Too many end up homeless, so depressed they become suicidal or unable to attain the proper medical care for their injuries, which is unforgivable.
When I was living in Washington, D.C., I began visiting the wounded and their families at both Walter Reed Army Hospital and Bethesda Navy Medical Center. I sat with young men and women who might have lost their limbs — and their family members — who were trying to figure out how they were going to adjust, how they were going to cope with what an IED had done to them. I held too many people while they cried for it NOT to have made me open my heart, once and for all.
One of the ways I've tried to help is to create awareness for a nonprofit called Fisher House, which is known as a "Ronald McDonald's House" for the families of our injured service men and women. It allows families to be able to stay with, or near, the veteran as they struggle to recover, sometimes over many months or years.
I've come to know the people who run Fisher House as individuals of the highest integrity, and can tell you without hesitation that your donations go to delivering services, not to high administrative costs. The need is so great, with so many wounded over the past decade-plus, that there are now 64 Fisher Houses on 23 military installations and 24 VA medical centers around the country.
You and I can be cynical and chuckle at the politically expedient maneuverings coming from Washington and Raleigh from now until the next round of elections. But that won't do a lot for the injured. In the end, that's up to us, one small check at a time.
Thanks. And now, back to our normal alternative media muckraking!