After more than a quarter of a century, people are saying it's the end of an era. Not a ton of people, but definitely some. And it said so on Facebook too, so it must be true.
Warren Stiles has been the bar manager and bartender at Elizabeth Billiards on Central Avenue for more than 27 years. On early Saturday morning, he will clock out for the last time, leaving his position at one of Charlotte's most eclectic, and least exclusive, private clubs and going into business for himself just down the road.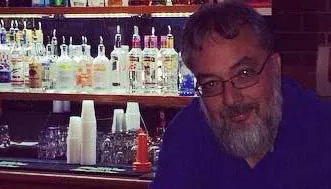 Stiles, who has lived in Plaza Midwood for almost 30 years, seems a little sad to be leaving but definitely has plenty to come in the near future with his own "slightly more exclusive" private club just blocks away. "The freshness of being new and being [on] my own," Stiles says, is what excites him moving forward. "Even though the guy I work for is the best, it's been incredible. He's been the greatest boss/friend I'll probably ever have."
Stiles started his first bartending gig working for Don Burgoon, owner of EB's, just after the club opened its doors on 7th Street 28 years ago. That's when it occupied the small side of what is now completely owned by The Philosopher's Stone. Stiles says that as the Elizabeth neighborhood grew, the bar was a little "too shady" for the new crowd and that's why they made the move to their current home. He laughs just thinking about some of the moments he's witnessed over the years and jokes that they might even be "too shady" for Plaza soon.
It's easy to understand why he always seems to be joking around or laughing with the people around him. He calls many of those he's met at the bar friends, and even met his wife, Ashley, there. That was 22 years ago, and they have now been married for 14 years.
Over the course of one Tuesday night, you can't help but notice at least a half-dozen people calling his name over the sound of the band playing outside. They aren't trying to get his attention for another drink, though. He's on that already. They're calling his name because they want to share another laugh with a good friend, and Stiles accommodates them while still taking care of business.
Heather Meldrich, a regular at EB's for 15 years now, says Stiles has been like a father to her. He's offered her career advice, helped keep her in check over the years and has even bailed her out of trouble once or twice. "He loves to see me but he doesn't want to see me die here," she says with a chuckle. She jokes with her boyfriend that if they ever get a divorce, she gets EB's in the split. "But it's different now," she says. "I could never deprive someone of EB's."
Stiles' new spot, the Midwood Country Club (not to be confused with the actual country club nearby), will open near Veterans Park as soon as he gets all of the paperwork back from the city for their much needed ABC license. He expects to be slingin' drinks no later than Nov. 15. "It's gonna be a country club everyone can afford," Stiles says.