City Council members voted unanimously on Monday night to pass an amendment that defines and eases restrictions on restaurants and bars, including breweries. The vote relieved many such owners in attendance who have been discussing changes to the previous laws with city employees for years.
Over the last year, changes have been made to the language of the amendment, which places more relaxed space-separation requirements between homes and bars that serve alcohol or offer entertainment outdoors after 11 p.m. The most recent changes dropped the minimum separation distance required between bar patios and homes from 400 feet to 100 feet and excluded multiple-family dwellings, such as duplexes and apartment complexes, from the requirements.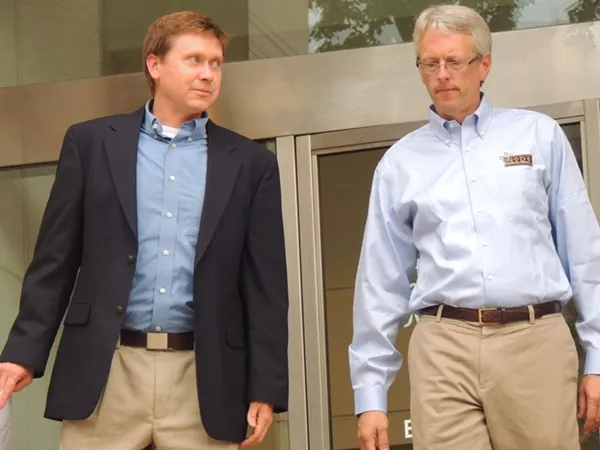 Attorney Russel Fergusson, left, and Todd Ford, co-owner of NoDa Brewery, leaving the City Council meeting Monday night.
The changes, along with the chance for restaurants that are in violation of the rules to file for an exemption, got many bar owners and restaurateurs on board after nearly three years of meetings aimed at fleshing out a new ordinance.
While neighbors' complaints of drunken late-night activity at neighborhood bars in communities like Elizabeth may have spurred the conversations along, the city has long-needed to face the problem with the previous definitions of restaurants, bars, lounges and entertainment. Many bars, such as Kennedy's in Elizabeth or JackBeagle's in NoDa, blurred the lines between a restaurant and bar and relied heavily on doing business on outdoor patios through the night.
As they stood, bar and restaurant ordinances could not be enforced as too many businesses in the city would have been in violation. So as discussions attempting to define these establishments and decide how to keep surrounding neighbors happy dragged on, business owners were stuck in a limbo, unable to expand their businesses or acquire permits until a new amendment could be passed.
"We're going to find that this is a big deal for the City Council, and they took a big step in the right direction tonight," said Todd Ford, co-owner of NoDa Brewery. "I think it's going to do a lot for Charlotte businesses now and moving into the future."
Ford and his wife, who owns the brewery with him, have been trying to expand their business as they are running out of room in their original building. The 100-foot minimum separation requirement means Ford and his wife can continue to search for new places in the city instead of looking elsewhere, an option they contemplated while waiting for new regulations to pass.
"[Moving the business] was certainly a possibility. We knew that could be the only solution," said Ford. "None of us wanted to do that, but if you want to grow your business you need to be able to do that."
Russell Fergusson, a lawyer representing multiple area businesses, said that he wishes the decision could have been made faster but, nevertheless, City Council has now allowed businesses to continue growing.
"Businesses can now plan and make proper investments, the city can now enforce against the bad actors, and businesses in violation of the separation requirements can begin the exemption process," he said.