Part of the reason we can "hear the beat of dancing feet" so clearly up at Duke Family Performance Hall these days is the discreet mics taped to the floor of the stage. What the electronics are subtly amplifying is the admirably drilled ensemble of the Davidson Community Players performing the bodacious production numbers of 42nd Street. All those dancing feet are covered with tap shoes, so the herd is heard in one glorious stampede after another choreographed by Emily Hunter. Getting them so together on such complex routines in no way parallels the sudden overnight success of Peggy Sawyer, the iconic Allentown heroine of this tap-crazy musical.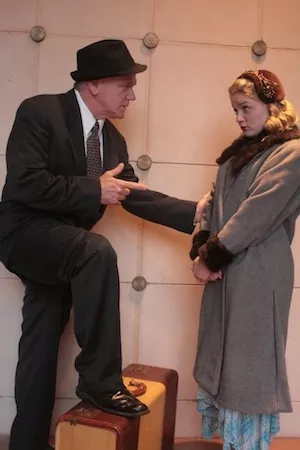 Credit: Davidson Community Players
Kevin Roberge and Sierra Key in 42nd Street
We are talking about keen eyes and ears from Hunter combining with weeks, if not months, of sweat-filled, dedicated workouts by more than 30 tappers - and marvelous to relate, we
are
talking about community theatre. DCP's summer home on the Davidson College campus is a rather large stage to fill, yet director Melissa Ohlman-Roberge and her cast manage to deliver the showbiz bustle and exultation that Harry Warren's music calls for. Anna Sartin's set design hints colorfully at the glitz, and heading a seven-person band from the keyboard, John Smith has the tempos and the dynamics perfectly grooved.
There are faint echoes of Shaw's Pygmalion in the simple storyline. As important as it is to have a Peggy who is bursting with raw talent, it's also crucial to have a charismatic, monomaniacal Julian Marsh pressuring Peggy and molding her into an American idol. We come close enough with Sierra Key as Peggy. She doesn't quite have it all when she walks in - too late - to an audition of Pretty Lady, the show Marsh hopes will make him king of the heap once more on Broadway. Key has exactly what it takes: she can already do it all, but not with the confidence and panache that are the essence of stardom.
Amy Thomson's costume design for Peggy's dramatic finale closes the gap narrowly enough, transforming Key into a grown woman when the merciless spotlight falls on her. Kevin Roberge holds up his end of the magical showbiz alchemy with equal distinction. He isn't a driven, hard-boiled taskmaster by New York standards - or by overblown Hollywood standards - but there is certainly plenty of snap to his commands and his capriciousness. Better yet, Roberge holds an extra dimension in reserve for the urgency we expect from Marsh when his star, Dorothy Brock, breaks her ankle. His desperation - and his charm - really are Hollywood when he must serenade Peggy with the "Lullaby of Broadway."
With a lesser performance than Amy McKay's, you might think of Dorothy as merely a fossilized obstacle in Peggy's way. But in a stunning debut, McKay becomes the model of the diva that Peggy aspires to be. Her brassy voice is the best onstage, she's able to cut her ruthless imperiousness with a sliver of vulnerability, and after passing the baton to Peggy, McKay can deliver her exit line with true New York crustiness as she rolls off into retirement.
There's plenty of quality in the supporting roles, including Gino Pietrantoni as Dorothy's sugar daddy and Ade Herbert as her true love. But the spotlight warms to you more readily in 42nd Street if you can clack a pair of tap shoes. Here is where Lori Anne Sword as the novelty singer and Jeremiah Alsop as the juvenile shine. And after a somewhat awkward star turn in Hair at Theatre Charlotte, it's good to see Kristian Andrewson back in his comfort zone as dance captain Andy Lee.
The only serious warning I can pass along, if you've never witnessed the feverish conclusion, is the symptomatic after-effect of the title tune. With its stomping beat and orgiastic jubilation, Warren's melody and Al Dubin's lyrics are liable to linger unshakably in your head for weeks, along with the echo of those dancing feet.