RALEIGH - In the hours before state Senate leader Phil Berger met with Moral Monday protesters Monday night, the crowd on Raleigh's Halifax Mall was tired from weeks of silence from legislators. But protesters remained resolutely committed to the movement, now in its second summer.
The day's theme was education, and demonstrators were quick to point out the achievements of teachers and teaching assistants, despite crowded, underfunded classrooms.
"The textbook budget is $15 per student for the whole year," Marni Goldshlag, of Durham, said. "What's the use of [teachers] getting a raise if they're going to have to spend all their money on textbooks?
"Thom Tillis, Phil Berger, Gov. McCrory, they're not going to change their minds," she continued. "We're just trying to get enough votes to push them out of office."
Goldshlag was arrested for protesting the state legislature in May 2013 and is still waiting to go to trial.
As demonstrators lined up to march to the General Assembly building for what most believed would be another night of sitting-in followed by arrests - Berger would later invite a few into his office to talk about education - CL stopped some people in the crowd to talk.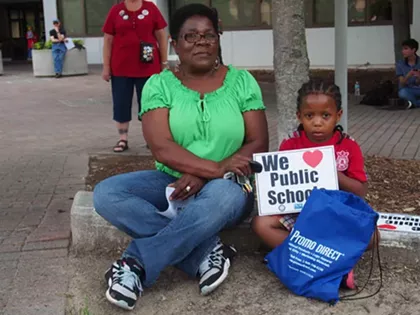 10 slides