Check out reviews for dance and opera performances at Spoleto Festival below. For Part 1 of Spoleto Festival reviews, click here.
Dance
Dorrance Dance: The new age in tap dance began in 1995 when Savion Glover choreographed Bring in 'Da Noise/Bring in 'Da Funk. An undeniable prodigy, Glover could execute even more marvels than he could teach the cast, rightfully becoming a tap superstar. But somewhere between the onset of Bring in 'Da Noise at Belk Theater in 1999 and Glover's third appearance here in 2008, I grew weary of the phenom and his pretensions. Glover seemed to consider himself strictly as a jazz percussionist, and the profundity of what he was saying with his feet now obviated the need to choreograph the movement above his ankles or even to dress up in anything more showy than drab, baggy workout gear.

Photo by Matthew Murphy
Dorrance Dance
So I didn't enter Memminger Auditorium with great enthusiasm at the prospect of seeing the newest tap prodigy, Michelle Dorrance, and her company. I should have, for I discovered that Dorrance isn't a card-carrying member of the new wave. Although she and the other 10 dancers weren't sporting formalwear, Dorrance's choreography for the company's
Delta to Dusk
often evoked the era of Ziegfeld and the tophat-and-tails grace of Fred Astaire. Visually, the work was appealing, and ensembles were impressively locked in together.
But the music - live music - is just as important to Dorrance as it was to George C. Wolfe when he created Bring in 'Da Noise. Just not as deafeningly loud. When the music was pre-recorded, it meshed beautifully with the work of a live band that included two percussionists, two keyboardists, a bassist, and two fine vocalists, Darwin Smith and Claudia Rahardjanoto, who doubled respectively on electric guitar and piano.
So there was no lack of percussive excitement. The beat was intense when Elizabeth Burke did her tap solo to Dave Brubeck's "Blue Rondo a la Turk," Warren Craft embroidered Smith's vocal on Nat King Cole's "Nature Boy," and Dorrance cut loose on "deez & deez," a concoction by the Delta to Dusk band. Even more rousing was a tap duet with Craft and Dorrance to a Squirrel Nut Zippers ditty. Yet these almost seemed like respites from the high voltage of the crackling ensembles, especially the thundering setting for Etta James' version of "St. Louis Blues" and the stampede on the Beatles' "Eleanor Rigby."
If I'd known better, I would have also attended Dorrance's other program, SOUNDspace. Both Delta to Dusk and SOUNDspace repeat during Spoleto's closing weekend. (Through June 8)
Hubbard Street Dance Chicago: You may already be familiar with a versatile dance company that performs works choreographed by Nacho Duato and Jiří Kylián, since they recently made news when they changed their name to Charlotte Ballet. Hubbard's program at TD Arena wasn't a walk down memory lane, since they performed works by these choreographers that Charlotte Ballet (formerly North Carolina Dance Theatre) never performed at Knight Theater.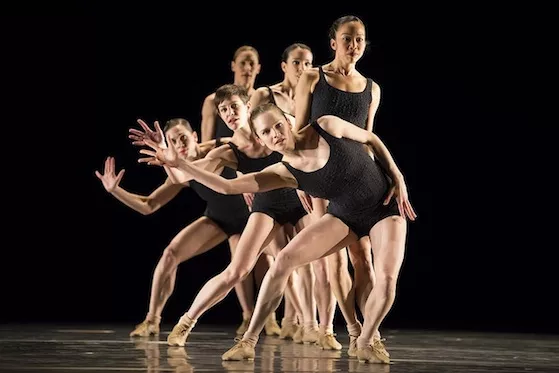 Photo by Todd Rosenberg
Hubbard Street Dance Chicago
These pieces,
Gnawa
by Duato and
Falling Angels
by Kylián, were the best of the four in demonstrating the artistry and technique of the 18-member troupe. Duato's piece was more intense, fueled by music for flute, sitar, tabla, and voice. Another highly entertaining piece, Alejandro Cerrudo's
Pacopepepluto
, could easily be a winner for Charlotte Ballet, packaging a suite of Dean Martin hits in a manner that reminded me of the Twyla Tharp homage to Frank Sinatra that NCDT presented a couple of times in recent years. Cerrudo's setting exuded the sort of vitality and sass that Charlotte's top performing arts group delivers so well.
The program only stumbled with its presentation of William Forsythe's oddball setting to Gavin Bryars' excruciatingly boring Jesus' Blood Never Failed Me Yet. Forsythe's choreography is often at odds with his chosen soundtrack, but the oppressiveness of the repetitive music ultimately triumphed over the five dancers, making their valiant efforts seem more desperate as Bryars' minimalist labors droned on. (Ended on May 25)
Keigwin + Company: Expecting truly edgy work from a New York-based company, I was pretty disappointed with the first two pieces of the K+C debut at Spoleto. Canvas unfolded like a recycling of Paul Taylor at his most jejune, and Seven delivered more of the same with the dancers exchanging their summer wear for more casual attire. Gushing with carefree innocence and set to music by Adam Crystal, Canvas had the K+C men and women flitting around the TD Arena stage without a spark of serious intent, let alone intimacy, until the late in the dance.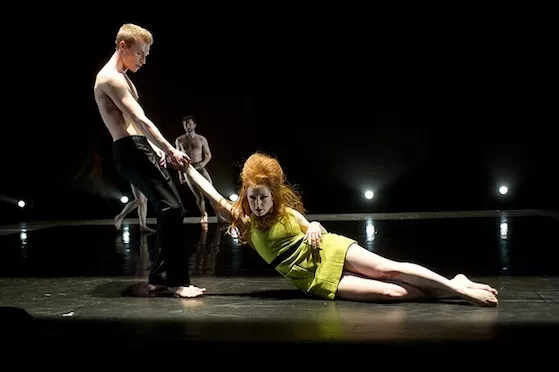 Photo by Christopher Duggan
Keigwin + Company
With music by Steve Reich,
Megalopolis
had the edge that was missing from Larry Keigwin's previous choreographies. Tight-fitting futuristic costumes by Fritz Masten and fluorescent backlighting conceived by Nicole Pearce chimed well with the Reich suite. The more robotic movement Keigwin asked for not only meshed with all these elements, it was more consonant with the lack of connection he imposed upon his dancers.
More of Keigwin's better work rolled out after intermission, beginning with a lively bouquet of Love Songs by Roy Orbison, Aretha Franklin, and Nina Simone. In these half dozen pas de deux, we had the only compelling interaction of the afternoon between the men and the women - an ingredient Keigwin + Company should try more often, since the give-and-take was laced with crowdpleasing humor.
Still, the pièce de résistance was surely the concluding Runaway, which turned the aisles of TD Arena into fashion ramps and created a cool tension between the stiff artificiality of the dancers' movements and the physicality of their stripping off their outerwear as the dance proceeded. Men were barefoot walking down the aisle even when they were otherwise fully-dressed in business suits, but the humor in Masten's costume designs was mostly reserved for the women of this fashion show, whose outfits were bright, unflattering and, except for the colors, as uniform as the menswear. (Ended on May 31)
Opera
El Niño: All of the modern operas at Spoleto this season have been served magnificently, but compared with the raging passions of Leoš Janáček's Kát'a Kabanová or the visual and conceptual onslaught of Michael Nyman's Facing Goya, John Adams' entry at Memminger Auditorium would likely seem tame. Yet the story of the Nativity has an enduring appeal for many people, enough to stage a celebration of it every year, and John Adams' El Niño soars with ambition. Though not particularly religious, the composer has frankly declared, "I wanted to write a Messiah."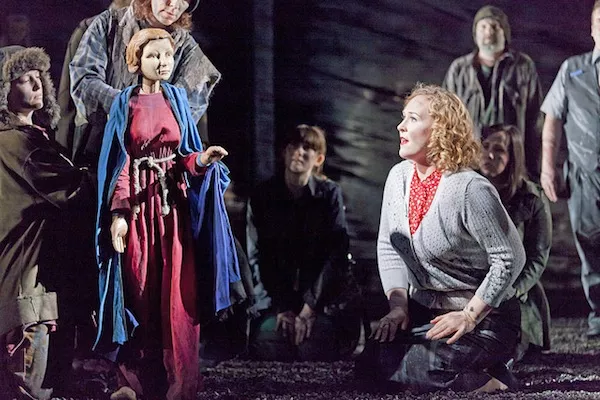 Julia Lynn Photography
El Nino
So he assembled his texts in a fashion reminiscent of Handel's mighty oratorio, aided by Peter Sellars, who was the director of the first staged production in 2000. Sellars guided Adams to enough Latin American source materials that the work ultimately took on its Spanish title. At Spoleto, John La Bouchardière sat in the director's chair and conceived the set design, resulting in a treatment that is more ecclesiastical with a phalanx of arched enclosures and stained-glass windows facing us. Joe Miller and the Spoleto Festival Orchestra were above the action, beautifully rendering the score.
The biblical characters, more often than not, were traditionally dressed puppets brought forth from the archways. Baritone Martin Walters, mezzo-soprano Erica Brookhyser, and soprano Caitlin Lynch sang the major roles as a crew of puppeteers put the figures modestly through their paces. All is not quiet and bright in Adams' retelling, for he begins with the annunciation, reminds us of Joseph's doubts, and brings up that hushed-up episode in Matthew 2:16 where Herod slays all the children of Bethlehem because the newborn king has eluded him. We also follow Jesus and family on their flight to Egypt, leading to a set of miracles narrated in the apocryphal Gospel of Pseudo-Matthew.
Here's where La Bouchardière's use of puppets was best justified. How else do you stage the encounter between the infant Jesus and a pair of dragons? At times, La Bouchardière overdirected his principals, particularly the women, but he made brilliant use of the Westminster Choir even before the first downbeat, and the final miracle was wondrously staged.
Brookhyser and Lynch aren't quite the equals as singers of Dawn Upshaw and the late Lorraine Hunt Lieberson, who originated their roles and can be heard on CD and DVD. But the Spoleto pair were both compelling actors, and Walters was powerfully dramatic in every way. Sporting at least one fake overlarge beard, three countertenors appeared in multiple roles. Conceding that shepherds might have the requisite mildness for these preternaturally high male voices, I have to report that the likelihood struck me as extremely remote that all three of the Kings who visited the holy infant were countertenors. Chalk that up as another new and charming yuletide miracle. (Ended on May 30)
For more Spoleto Festival opera reviews, click here.