Going out in Charlotte doesn't have to be expensive. In fact, to prove that statement, we've compiled a list of cheap things to do in the Q.C. this weekend. These events may vary, but they're all entertaining and they won't break your bank (piggy banks excluded).
Silent Disco at Rooftop 210: Forget how stupid you look dancing to music that only you can hear via wireless headphones. Silent Disco offers an alternative to the usual club scene. Music from DJs Kyle Biddy and Boy Beats World. Free admission. June 6, 8 p.m. Rooftop 210, 210 E. Trade Suite 230B. http://rooftop210.com.
Grand Opening of Texicali Taco & Tequila Bar at NC Music Factory: Alex Myrick and Chef Gene Briggs have teamed up for this new upscale Tex-Mex restaurant. It's located in The Saloon's former location and it's been spruced up, too. Free admission to the restaurant (there is a fee for Fridays at the Factory). June 6, 6 p.m. Texicali Taco & Tequila Bar, 900 NC Music Factory Blvd. www.texicalicharlotte.com.
Grand Opening of Automatic Slims at NC Music Factory: Another grand opening, calls for another party. Come check out this new venue that's concept hails from Miami. It's roomy with music vids projecting along big screens on the walls. June 6, 9 p.m. to 2 a.m. For free admission, visit www.autoslims.com. Automatic Slims, at NC Music Factory, 820 Hamilton St.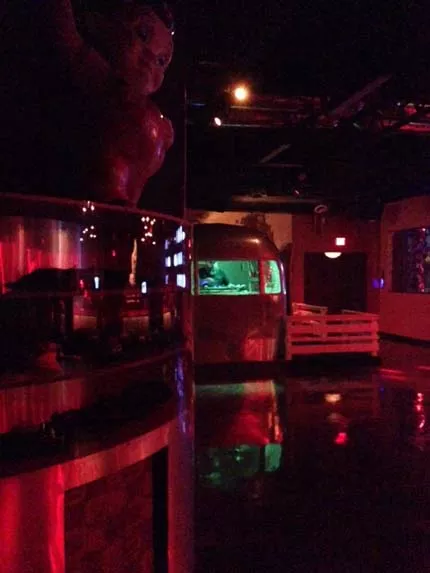 A peek into the newly opened Automatic Slims, which boasts a 1960s Americana pop culture theme
Taste of Charlotte: Entry to this annual outdoor foodie fest is free, but to fully enjoy it you'll need to splurge and purchase some coins to use for sampling grub from participating restaurant vendors. During the fest there's also plenty of entertainment from bands and dance troupes. Free admission ($20 for large cup of 15 coins; smaller options available). June 6-7, 11 a.m. to 11 p.m., June 8, 11 a.m. to 6 p.m. Held outside along Tryon Street, from Martin Luther King Jr. Boulevard to 6th Street. www.tasteofcharlotte.com.
12 Year Anniversary Party at Flying Saucer: Celebrate Flying Saucer's 12 years of operation by stopping in to give them some more biz (the beer list is massive!). The festivities kick off at 11 a.m. and there will be a cookout and live music (from Josh Hamilton from 2 to 5 p.m. and Apple Brothers Duo from 6 to 10 p.m.). There will also be a raffle with the chance to win prizes (including a trip to Asheville for a tour of North Carolina Brewery and a hotel stay). Cheers to another year of brews! Free admission. June 7. Flying Saucer, 9605 N. Tryon St. www.beerknurd.com/stores/charlotte/.
10th Annual Tony Awards Viewing Party at McGlohon Theater:Theater aficionados come together for a live broadcast of the Tony Awards. The viewing party features drinks, snacks and giveaways. While some folks may be unfamiliar with Broadway production peeps, they'll find familiarity in host Hugh Jackman and presenters like Bradley Cooper, Clint Eastwood, Will Ferrell, Carole King, and more. Free admission. Doors open at 7 p.m.; pre-show presentation begins at 7:30 p,m.; Tony Awards screening begins at 8 p.m. McGlohon Theater, 345 N. College St. 704-372-1000. www.blumenthalarts.org.