Editor's note: We recognize how quickly Charlotte has changed over the years, so here's us trying to preserve its story. In this series, local author David Aaron Moore answers reader-submitted questions about unusual, noteworthy or historic people, places and things in Charlotte and the surrounding metro area. Submit inquires to [email protected]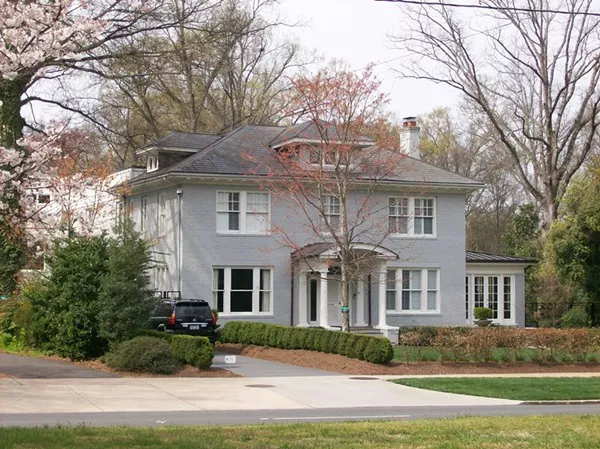 The former Anderson family home still stands in Myers Park, on Queens Road.
Not far from where I grew up in Myers Park, there's a house my parents used to tell me about when I was a kid. According to my mom and dad, a woman was murdered in it, and I was told never go near the place. Do you know anything about the story? William Johnson, Charlotte
With the address and approximate dates you provided, I was able to uncover the sad story you've asked about. Local and regional media of the time tells a story that began in early July of 1949, when a man named Monroe Medlin was fired from his servant's job at the Esley Anderson home.
On the morning of August 1, 1949, he returned to the residence, Medlin later said, to retrieve some personal belongings: a diary, army discharge papers and a scrapbook he had collected while in the service.
He encountered the Anderson's new butler, Wilford Randleman, who told Medlin to leave. Medlin rebuffed Randleman and waited outside with his wife Pauline, hoping for an opportunity to speak with the wife of the home's owner and his former employer. Virginia Anderson, 68, was married to Esley O. Anderson, a wealthy Charlotte businessman who owned the Pyramid Motor Co. Mrs. Anderson was described in newspaper articles as a "fashionable socialite, wealthy matron and clubswoman."
Medlin eventually grew tired of waiting and managed to sneak past Randleman, who was washing dishes in the kitchen. Medlin made his way upstairs, where he found Mrs. Anderson, who reportedly ordered him out of the house as he was attempting to explain why he was there. He didn't budge, so she went to a nearby closet and retrieved her husband's shotgun, aiming it at Medlin.
"I told her I wasn't going to hurt her and to please not shoot me," Medlin later told police. According to Medlin, he attempted to take the rifle away from Mrs. Anderson. They struggled over the gun before she tripped over a rug, which caused the gun to discharge. She was shot just above the heart and died instantly.
Medlin panicked. He took money from Anderson's purse and her car keys, intending to steal her car to escape the Charlotte area as quickly as possible. He also took the rifle and additional ammunition from the closet, for fear he might encounter Randleman downstairs. He then headed to the dining room
At this point, Pauline, who had remained outside waiting for her husband, entered the house through the kitchen. Medlin told his wife what had happened, and she told him that she saw Randleman go to the servants' quarters above the garage. She went upstairs and, while there, stole a jeweled wristwatch from a nightstand.
Monroe Medlin made his way to the servants' quarters, where he picked up a pipe and beat Randleman over the head. Pauline Medlin followed her husband and upon discovering Randleman regaining consciousness, she reportedly slit his throat on both sides.
The two left the scene on foot, Monroe Medlin later told the police. "I lost the keys to Mrs. Anderson's car somewhere in the house."
Less than 30 minutes later, a neighbor contacted police, telling them Randleman was lying in the Anderson's driveway, bleeding and moaning. Alive but in critical condition, he was rushed to the hospital.
Meanwhile, the authorities had discovered the remains of Virginia Shober Anderson sprawled in a pool of her own blood on the house's second level. Detectives arrived, finding fingerprints on the gun left behind on the dining room table and a lampshade. They were later identified as Monroe Medlin's.
Just under 24 hours passed before Medlin was captured. According to police, he confessed everything, including a statement that he slit Randleman's throat with a pocketknife. He later recanted and said that Pauline was responsible for cutting Randleman's throat.
Both Pauline and Monroe were arrested. He was charged with murder; she was charged with being an accessory after the fact. She was not charged with attacking Randleman, despite Monroe Medlin's assertion.
Randleman later regained consciousness and said he had no recollection of his throat being cut. Surprisingly, he survived the ordeal, and later died at the age of 84 in 1990. Esley Anderson Sr. died 11 years after his wife. Still grieving her loss, he was 84.
Pauline was convicted of larceny and sentenced to 10 to 15 years in prison. Monroe was convicted for first-degree murder and was sentenced to die in the gas chamber.
From the pages of Burlington, North Carolina's Daily Times News, dated December 9, 1949, less than three months after Virginia Anderson was found dead:
Warden Joseph P. Crawford said [Medlin] had told him he had made peace with the lord and was ready to go... Medlin struggled violently after inhaling the hydrocyanic gas, and the tube to the stethoscope attached to his chest dropped off. Crawford said, however, that this tube was to record Medlin's breathing and the one recording his heartbeat was undisturbed so that no difficulty was experienced in determining he was dead. It required 11 minutes for the gas to kill Medlin. Medlin was pronounced dead at 10:53 a.m. Twenty-seven people crowded the gas chamber to see Monroe Medlin die. Crawford said that Medlin's wife is in prison serving a sentence for larceny, his mother is in the Goldsboro hospital for the insane and his father died before he was born.
Was Medlin guilty of murdering Virginia Anderson, or was her death an accident, as Medlin insisted? Had he simply been given his personal belongings, could the tragedy have been avoided, or was it a premeditated plot that went horribly wrong? It's difficult, if not impossible, to know the entire truth behind the tragic chain of events. While the story seems to have faded into the past, the former Anderson home still stands, in the heart of Myers Park.
David Aaron Moore is the author of Charlotte: Murder, Mystery and Mayhem. His writings have appeared in numerous publications throughout the U.S. and Canada.