Ted McKeever is the man behind Image's newest miniseries, The Superannuated Man. You've probably seen McKeever's work in several Vertigo series for DC Comics. He also debuted a new Image comic, titled Miniature Jesus, which saw the writer-artist offer a mix of theology and insanity.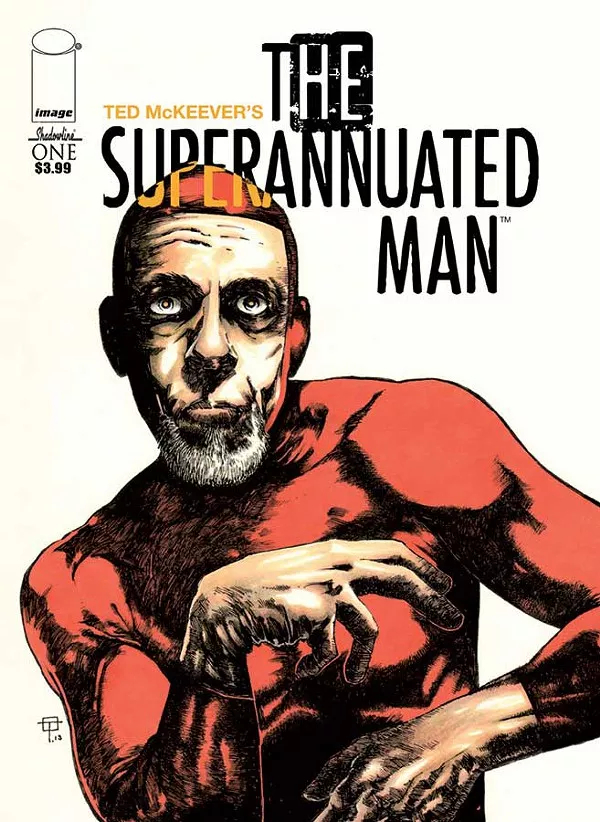 With The Superannuated Man (part of the new Shadowline imprint), we see the small town of Blackwater taken over by mutated animals. Only one man remains, doing what he can to stay alive and avoid the creatures.
Otherwise, look out for Batman 66 Meets Green Hornet, with the fantastic retro DC comic adding more nostalgia to the mix by adding another vigilante to the equation. Let's hope it fares better than the Hornet's 2011 big-screen effort.
Now, on to the other new comics hitting the racks...
DC Comics
ACTION COMICS #32
AQUAMAN AND THE OTHERS #3
BATMAN & ROBIN HC VOL 04 REQUIEM FOR DAMIAN
BATMAN & ROBIN TP VOL 03 DEATH OF THE FAMILY
BATMAN 66 MEETS GREEN HORNET #1
BATMAN ARKHAM ASYLUM LIVING HELL DLX ED HC
BATMAN ETERNAL #9
BATWING #32
BEFORE WATCHMEN MINUTEMEN SILK SPECTRE TP
EARTH 2 #24
FOREVER EVIL #6 2ND PTG
GREEN ARROW #32
GREEN LANTERN #32 (UPRISING)
GREEN LANTERN #32 COMBO PACK (UPRISING)
HARLEY QUINN #1 4TH PTG
HARLEY QUINN #3 2ND PTG
HELLBLAZER TP VOL 08 RAKE AT THE GATES OF HELL
HINTERKIND #8
JUSTICE LEAGUE 3000 #7
LOONEY TUNES #219
NEW 52 FUTURES END #5 (WEEKLY)
STORMWATCH TP VOL 02
STORMWATCH TP VOL 04 RESET
SWAMP THING #32
SWAMP THING TP VOL 04 SEEDER
TINY TITANS RETURN TO THE TREEHOUSE #1
TRINITY OF SIN THE PHANTOM STRANGER #20
VAMPIRE DIARIES #6
WAKE #9
Marvel Comics
ALL NEW X-FACTOR #9
AMAZING X-MEN #8
AMAZING X-MEN ANNUAL #1
AVENGERS WORLD #7 ANMN
BLACK WIDOW #7
CAPTAIN AMERICA #21
CYCLOPS #2
INDESTRUCTIBLE HULK PREM HC VOL 04 HUMANITY BOMB
INHUMANITY HC
IRON FIST LIVING WEAPON #3
IRON MAN #27 ANMN
LOKI AGENT OF ASGARD #5
MAGNETO #5
MILES MORALES ULTIMATE SPIDER-MAN #2
MIRACLEMAN #7
MOON KNIGHT #4
NEW WARRIORS #5
NOVA CLASSIC TP VOL 03
ORIGINAL SIN #3
PAINKILLER JANE 22 BRIDES #1
PUNISHER #6
PUNISHER MAX BY AARON OMNIBUS HC
SUPERIOR FOES OF SPIDER-MAN #12
UNCANNY AVENGERS TP VOL 02 APOCALYPSE TWINS
WOLVERINE AND X-MEN BY JASON AARON OMNIBUS HC
Dark Horse Comics
ANGEL AND FAITH SEASON 10 #3 MAIN CVR
BETTIE PAGE GIRL OF OUR DREAMS SCULPTED METAL PIN
DRAGON AGE LIBRARY ED HC VOL 01
FEAR AGENT TP VOL 03 LAST GOODBYE (2ND ED)
GHOST #4
LOBSTER JOHNSON GET LOBSTER #4
MASS EFFECT FOUNDATION TP VOL 02
MICHAEL AVON OEMINGS VICTORIES #12
NEXUS OMNIBUS TP VOL 05
ROBERT E HOWARDS SAVAGE SWORD #8
TOSHIRO TP
IDW Publishing
GI JOE A REAL AMERICAN HERO #203
GI JOE ORIGINS OMNIBUS TP VOL 01
JUDGE DREDD MEGA CITY TWO #5
MAXX MAXXIMIZED #8
SAMURAI JACK TP VOL 01
TMNT ONGOING #34
TMNT ONGOING TP VOL 08 NORTHAMPTON
X-FILES ART GALLERY #1
Image Comics
68 RULE OF WAR #3 CVR A JONES & FOTOS
68 RULE OF WAR #3 CVR B ZORNOW & FOTOS
BURN THE ORPHANAGE REIGN OF TERROR #2 CVR A GRACE
BURN THE ORPHANAGE REIGN OF TERROR #2 CVR B LENOX
CLONE #17
DARKNESS CLOSE YOUR EYES ONE SHOT
DREAM POLICE #2 CVR A KOTIAN & FARMER
DREAM POLICE #2 CVR B DITTMAN
FIVE GHOSTS #12
FIVE WEAPONS #9
GREAT PACIFIC #15 CVR A MORAZZO
GREAT PACIFIC #15 CVR B ROLSTON
MADAME FRANKENSTEIN #2
MORNING GLORIES TP VOL 07
NAILBITER #1 2ND PTG
NAILBITER #2
ONE HIT WONDER #3
PROTECTORS INC TP VOL 01
RISE O/T MAGI #1 CVR A SILVESTRI
RISE O/T MAGI #1 CVR B SEJIC
RISE O/T MAGI #1 CVR C KESGIN
SPAWN #244
SUPERANNUATED MAN #1
WALKING DEAD SPANISH LANGUAGE ED TP VOL 04
WITCHBLADE #175 CVR A BRAGA
WITCHBLADE #175 CVR B CHRISTOPHER
WITCHBLADE #175 CVR C TURNER