Vaaaa-ROOOOM! That's the sound you'll be hearing all weekend as the NASCAR-mad masses flock to Concord, eager to be mesmerized by the deafening clamor of insanely high horsepower motors and the blurred colors of circling stock cars at the Co-Cola 900. Perhaps preceded by a Tryon Street pit stop for a dip into a sprawling beer blast? Slightly fainter, that sound may also be the mass exodus of culture cultists escaping to Charleston for the cuisine of South Carolina's Port City and the performing arts banquet of the 38th annual Spoleto Festival USA.
The annual rites at Charlotte Motor Speedway are pretty much a one-race pony, so there's little for me to add to your knowledge, especially if you already own a handy set of earplugs. Spoleto Festival varies each year, with fresh offerings of theater, opera, dance, jazz, orchestral music and chamber music - 150 ticketed events crammed into 17 days - so a description must go into a modicum of detail. Aside from this world-class festival, by far the largest in this hemisphere, there's a satellite Piccolo Spoleto featuring local and regional artists. That little baby requires a guidebook if you care to navigate.
Here's a breakdown of Spoleto 2014: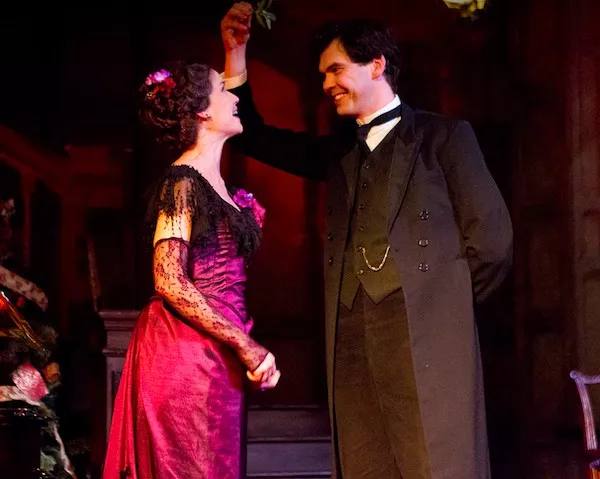 Photo: Pat Redmond
My Cousin Rachel
Theater: The headliner here is an Irish import, Gate Theatre's production of Daphne du Maurier's My Cousin Rachel (May 22-June 8). Anyone familiar with du Maurier's mix of suspense, melodrama and romance in Rebecca will wish to whet his or her curiosity on this new stage adaptation of her 1951 thriller. The ancient ambiance of the beautifully restored Dock Street Theatre will be perfect for this wind-swept Gothic wallow.
The remainder of the theater events will be staged at the Emmett Robinson Theatre on the gorgeous College of Charleston campus. A Brimful of Asha (May 29-June 1) pairs actor/director/writer Ravi Jain with his old-school matchmaking mother. That second-week run is sandwiched between two immersions into what is being called "physical theater" - but you can call it circus - A Simple Space (May 23-27), performed by Gravity & Other Myths, and Finnish aerialist Ilona Jäntti (June 3-8).
Opera: I fell in love with Leoš Janáček's Kát'a Kabanová (May 24-June 6) when I saw the Metropolitan Opera production nearly 10 years ago. Or was it the radiantly charismatic Karita Mattila that I adored in the title role, a tormented, tempestuous and untrue wife of a milquetoast? Betsey Horne makes her U.S. debut at Sottile Theatre.
The other operas are even more modern, yet with more ancient subjects. Michael Nyman's Facing Goya (May 25-June 7) hopscotches three centuries of art history, sprinkling in sci-fi and conspiracy theory, in a 21st century work triggered by a late 19th century discovery that Romantic painter Francisco Goya's body was missing its head when it was exhumed for repatriation in Spain. With El Niño (May 23-30), John Adams retells the story of the Nativity, using the plays of Franciscan monks who spread the story through Latin America - and assorted texts in English, Latin and Spanish.
Photo: Todd Rosenberg Photography
Hubbard Street Dance Chicago
Dance: Consistently the strongest, most provocative lineup at Spoleto, there's no reason to suspect that dance won't reign supreme once again in 2014. Balletomanes who recently took in Charlotte Ballet's recent Othello will be intrigued to learn that Hubbard Street Dance Chicago (May 23-25) will return to Spoleto after a nine-year hiatus armed with a piece by Jĭrí Kylián, Falling Angels. Other familiar names in the dance/music mélange at TD Arena include Nacho Duato and Dean Martin.
Tapping into Larry Keigwin's penchant for high fashion runway choreography, Keigwin + Company (May 30-June 1) invades TD for Spoleto's second weekend, leading with Megalopolis, inspired by the New York club scene. Tap prodigy Michelle Dorrance and her Dorrance Dance troupe (May 31-June 8) will take over Memminger Auditorium for an unusually extensive Charleston debut, offering two programs, SOUNDspace and Delta to Dusk. South African choreographer Gregory Maqoma (June 5-8) delves into his own family heritage in Exit/Exist, inspired by Chief Maqoma, a 19th century chieftain who fought to maintain Xhosa cultural traditions.
Jazz: Two unquestionable jazz divas top the bill. On the heels of her recent I Wanna Be Evil CD, an homage to Eartha Kitt, René Marie (May 26) returns to Spoleto at TD Arena. This time, she comes fortified with ace trombonist Wycliffe Gordon and trumpeter Etienne Charles, who join Marie's core trio led by bodacious pianist Kevin Bales. The name of Charenée Wade (May 23-24) isn't nearly as familiar, but the runner-up to Cécile McLorin Salvant at the 2010 Thelonious Monk Vocal Competition totally blew me away at the Savannah Music Festival, and I'm eager for more, outdoors among the live oaks at Cistern Yard.
Photo: Thiago Meyer
Danilo Brito
Michael Grofsorean only strengthens his credibility with the artists he unearths - or reprises - for the annual Wells Fargo Jazz lineup. This year, he brings back Brazilian mandolinist Danilo Brito (May 25), a sideman in 2010. Also at the Cistern is another South American concoction, the Aca Seca Trio (May 30-31), guitar, piano, percussion and voice. At the Simons Center Recital Hall, in the same building as the Emmett Robinson, saxophonist Häkon Kornstad (June 4-7) explores a variety of reeds while fiddling with some electronics and tossing in some operatic tenor. British pianist Gwilym Simcock (May 25-29) keeps it simpler at the Simons.
Like Savannah, Spoleto has burst out of its classical-jazz box in recent years. Other topnotch folk you can check out at the Cistern are Kat Edmonson (May 29) and the Kruger Brothers (June 6-7). TD Arena hosts Béla Fleck & Abigail Washburn (June 1) and Lucinda Williams (June 4). If you've never enjoyed an excursion to Middleton Place, husband-and-wife duo Shovels & Rope headline the Festival Finale (June 8).
Classical: The marquee attraction remains the mighty lunchtime Bank of America Chamber Music (May 23-June 8), a staggering 33 performances - three devoted to each of 11 programs - featuring some of the finest instrumentalists on the planet, with the occasional vocalist tossed into the mix. Since Geoff Nuttall took over as host, the series has become more forward-leaning without abandoning the violinist's affections for Haydn and Schumann.
But these 11:00 a.m. and 1:00 p.m. dailies are just one of the series you can dive into. When late afternoon rolls around, 5:00 p.m. to be precise, you can go modern with a series of four Music in Time concerts (May 24-June 5) spread across the Festival at the Simons; stay starchy and conservative with the four Intermezzi offerings (May 27-June 3); or immerse yourself in the heavenly choral wash of two Westminster Choir Concerts (May 29-June 6) at two different churches.
Evenings are predominantly operatic for the classical crowd, but there are a couple of opportunities, both at the classy Sottile Theatre, for you to test my contention that the Spoleto Festival USA Orchestra (May 28 and June 3) is the best student outfit around.
Cutting down somewhat on my 2013 intake, I'll be attending a mere 21 performances this year, reporting to our loyal Loafers primarily on theater and dance. My opera and jazz reviews go the highest bidders, Classical Voice North America and JazzTimes, if you wish to keep score. Meanwhile, I think I'll commune with my inner redneck and suck on a PBR before my wife Sue and I slip away. Enjoy the race, NASCAR fans, and don't y'all feel upstaged by Indy!