Sam Perkins sounds frustrated. A few hours before the Catawba Riverkeeper and I talk on the phone Wednesday, Sens. Phil Berger and Tom Apodaca had introduced the long-awaited coal ash bill, the legislation many in North Carolina hoped would lay out assertive steps to finally - after years of frustration, litigation and outcry - deal with the unlined coal ash basins that dot the state and contaminate our groundwater.
"The problem with [the bill] is that it, almost verbatim, is a revival of the proposed settlement that was not only rejected by 5,000 people in comments, it was withdrawn by the state because it was so inadequate," Perkins said.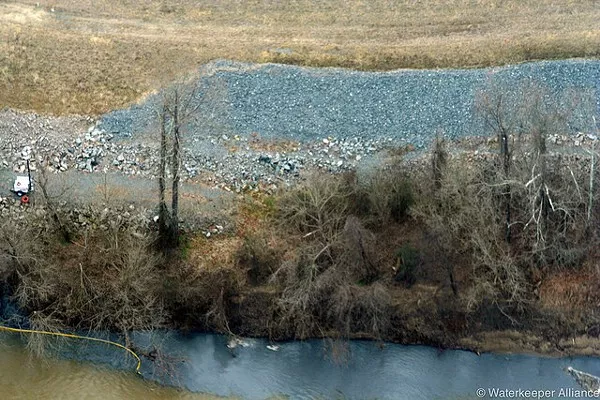 Waterkeeper Alliance Inc. (Flickr)
Coal ash spills into the Dan River.
The settlement to which he refers is the measly $99,000 fine state regulators slapped Duke Energy on the wrist with last year after coal ash basins had been found to be contaminating groundwater. The same settlement the N.C. Department of Environment and Natural Resources asked a judge to throw out - after the Dan River spill - saying it had relied on "bad legal advice" when it agreed to it.
"Like that proposed settlement, [the bill] is a do-nothing plan, and it really just wants to buy more time studying an issue that has already been so well documented that groups not just like us but even the Department of Environment and Natural Resources thought there was enough evidence to file a lawsuit," Perkins said. The bill, for example, calls on utilities to test groundwater around the basins. "If you've got enough evidence to file a lawsuit like that against the largest utility in the country, you don't need any more evidence."
The bill lays out the same closure plans for coal ash basins near four locations: Charlotte's Riverbend Steam Station, Wilmington's Sutton Plant, the Asheville Plant and the Dan River Steam Station. It calls for a plan to be submitted to DENR no later than 60 days after the bill becomes law, should it become law, "and shall include detailed provisions that ensure all ash in the impoundments will be moved to a lined structural fill, a lined landfill, or an alternative disposition approved by Department."
Sounds like a good plan except for one huge loophole: "or an alternative disposition approved by the Department."
The biggest problem with the coal ash basins is all are unlined and seep toxins into groundwater. Under this bill, it would be perfectly legal to allow the basins to exist as is - just with a cap, or the "alternative disposition."
"Because they aren't lined underneath and because they have documented groundwater contamination, putting a [cap on them] is completely insufficient and will do nothing to provide water security nor long-term water quality," Perkins said.
While the bill proposes closure plans for Duke's four most infamous coal ash basins, it ignores perhaps the most troubling: Marshall Steam Station on Lake Norman and Allen Steam Station on Lake Wylie.
"Coal ash sites with better air emission standards or technologies tend to have more toxic substances in the coal ash than other sites because matter is not created not destroyed, and what you remove from the air ends up going into these pond," Perkins said. "Allen and Marshall are also much larger sites."
Lawmakers have argued they cannot take a one-size-fits-all approach to the basins at the 14 Duke Energy-owned plants. There must be studies and careful consideration into how all will be cleaned, they say. No one has argued against careful consideration, but Perkins - and anyone else who, like him, has been paying attention to coal ash before it was cool to pay attention to coal ash - argue against the notion that the basins are, essentially, too large to handle in bulk. All of the basins are unlined, all are near waterways and Duke Energy has no idea what's in them or holding them together. (The company was initially unsure of what kind of pipe had burst and caused the Dan River spill.) Perkins is hopeful that lawmakers will include more assertive language in the bill as the short session plays out.
"'Cause these sites aren't getting any younger."