The 16th annual RiverRun International Film Festival in Winston-Salem may have ended its 10-day run this evening, but we still have four fest titles to wade through. Let's begin, shall we?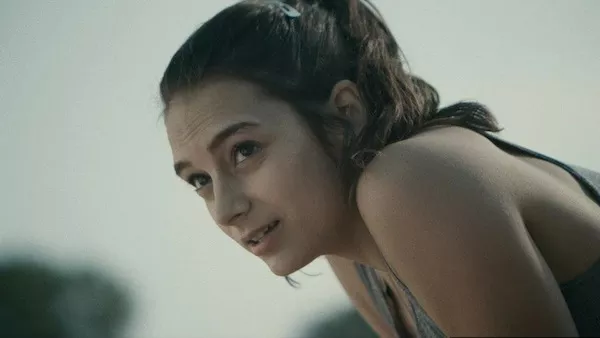 Les Films Séville
Sophie Desmarais in Sarah Prefers to Run
SARAH PREFERS TO RUN - Canadian actress Sophie Desmarais earned a special award at RiverRun for her performance in this film, and she's certainly the best thing about it. She delivers a quietly commanding turn as Sarah Lepage, a young woman who's only interested in life on the track. Unable to afford to continue her athletic endeavors at a university due to financial struggles, she reluctantly agrees with her friend Antoine (Jean-Sebastien Courchesne) that they should get hitched in order to secure available scholarship funds to those who are married. Writer-director Chloe Robichaud has taken a real chance by creating a protagonist more passive than most, yet while this makes Desmarais' character mysterious much of the time, it too often also renders her as simply an uninteresting individual, with very little access to her inner life and what makes her tick, let alone run.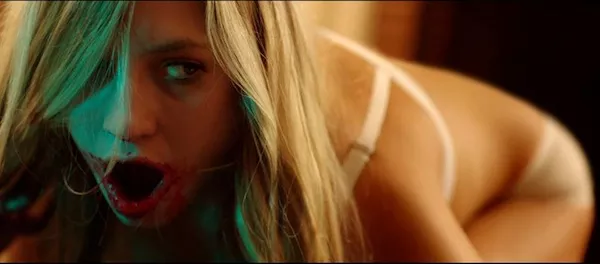 Image Entertainment
Brooke Butler in All Cheerleaders Die
ALL CHEERLEADERS DIE - Screened last month at the Mad Monster Party in Charlotte, this is actually a remake of a 2001 film of the same name. Writer-directors Lucky McKee and Chris Sivertson are responsible for both versions, electing to update their straight-to-video original with this new version that's been making the film festival and convention rounds. I haven't seen the 2001 cut, but based on the evidence here, the movie could stand being filmed a third time. What sounds like a can't-miss premise - Mean Girls as filtered through horror-flick sensibilities - proves to be a disappointment, with a sloppy narrative drive and heavy-handed attempts at humor. Caitlin Stasey stars as Maddy, an alt-grrl who joins the cheerleader squad for mysterious reasons. When an altercation with a star football player (Tom Williamson) and his sycophants ends with the deaths of Maddy and three other girls, it's up to Maddy's wiccan-dabbling friend Leena (Sianoa Smit-McPhee) to bring them all back from the other side to take their revenge - and attend senior year.
Autumn Rose Productions
Dick Miller on the set of Gremlins 2, as seen in That Guy Dick Miller
THAT GUY DICK MILLER - Speaking of the Mad Monster Party, one of the guests at this year's event was the great character actor Dick Miller, who was on hand to sign autographs and pose for pictures. In fact, here's a shot of him at the Charlotte shindig: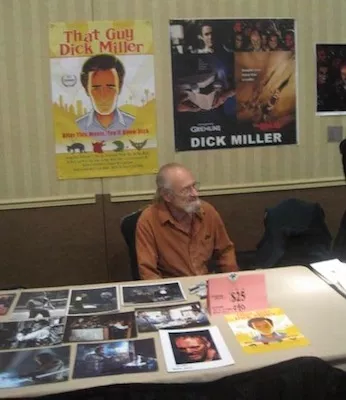 Dick Miller at the 2014 Mad Monster Party
Alas, Miller wasn't at RiverRun, but Elijah Drenner, the director of That Guy Dick Miller, was in attendance to screen the film and hold a post-viewing Q&A session. (Drenner also attended RiverRun in 2011 in support of his documentary American Grindhouse; read that review, and see a photo of Drenner, here). During the Q&A, Drenner revealed that he was frankly surprised that nobody had ever made a film about Miller before, and he has a point. A popular character actor with close to 200 credits to his name, he's been appearing in movies for almost 60 years, sporting a face that everyone recognizes even if they can't place the name. One of the many Hollywood luminaries who got his start making movies for Roger Corman, Miller went on to find continued employment under numerous other filmmakers - this number includes other Corman protegees, among them Joe Dante (who has cast Miller in all of his movies, most notably Gremlins and The Howling) and James Cameron (who cast him as the gun-shop owner in The Terminator). Film buffs will be familiar with much of the material in this entertaining documentary, but the ample film clips are a treat, and there are at least two points of trivia I didn't know: 1) Dick Miller is the "Richard Miller" who's credited as one of the writers of Jerry Lewis' Which Way to the Front? and 2) Miller had a scene opposite Harvey Keitel in Pulp Fiction that was unfortunately deleted (this remains a sore spot for the actor). Even more heartwarming than the film clips and the tributes from directors and fellow actors? The fact that Miller has been married to the same woman (Lainie Miller) for over 50 years.
LOCKE - Adapting such films as The Lion King, Titanic and Ghost for the stage took some mental gymnastics, but if anyone ever elects to do likewise with Locke, the task won't be nearly as taxing. Basically a one-man show set within the confines of a BMW, Locke is the latest from writer-director Steven Knight, whose past credits (both as scripter only) include Eastern Promises and Dirty Pretty Things (for which he earned a Best Original Screenplay nomination). Knight clearly has a knack for coming up with unique angles for his stories, and this one's no exception, with Tom Hardy cast in the central role of Ivan Locke. A Welsh construction manager who has just left his work site late at night, he's driving to London for a reason that I won't reveal here. Suffice it to say, it's a reason that threatens to destroy everything important he has achieved in his life, from his job to his seemingly stable home life with his wife and two sons. As Locke drives as fast as he can (but ever mindful of the speed limit), he spends much of the time on the phone, whether to his spouse (voiced by Ruth Wilson), his second-in-command (Andrew Scott) or various other important people. Locke runs an efficient 85 minutes, and it's a testament to Knight's skills that we feel we learn a lot about the characters in what out of necessity are pretty broad brushstrokes. The contributions of cinematographer Haris Zambarloukos and editor Justine Wright are also invaluable, yet it's Hardy who looks to benefit the most from this. Already an acclaimed actor thanks to the likes of Bronson, Tinker Tailor Soldier Spy and The Dark Knight Rises (where he of course played Bane), his stock should only rise thanks to his tightly controlled performance in this minimalist experience.