UPDATE (Wednesday 7:20 p.m.): Mayor Cannon has resigned.
Mayor Pro Tem Michael Barnes, Vi Lyles and John Autry in the foreground
Some City Council members appeared visibly shaken during a press conference today following the announcement that Mayor Patrick Cannon had been arrested for accepting $48,000 in bribes - cash, airline tickets, a hotel room, and just about anything else a sleazy politician would want in a weekend. If convicted, he could face 20 years in prison.
Mayor Pro Tem Michael Barnes, flanked on his right by Councilwoman Vi Lyles, who looked like she had been crying, and City Manager Ron Carlee on his left, who looked a nervous wreck, said council could not kick Cannon out of his position. He would either have to step down or be convicted of a felony before they could nominate his replacement. (Because in America, even corrupt politicians have choices.)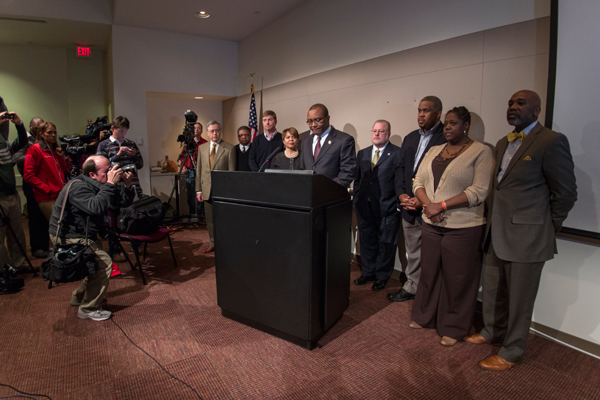 City Council files in to address the media
The following is a transcript of the press conference, edited for brevity and clarity.
Have you spoken to Cannon?
Barnes: I have not.
Carlee: Briefly. I told him I was praying for him and his family. I didn't ask him to resign.
How careful does Council have to be moving forward with new projects?
Barnes: Our history has been to run a clean government. My expectation, and the expectation of my colleagues, is that we continue to do so.
Will the city schedule remain the same?
Barnes: Yes.
Will council look at votes that may have had something to do with the allegations?
Barnes: That's up to the U.S. attorney. The feds are investigating, and we have no control over what they do. We'll cooperate.
This has obviously created a morale issue among city staff. How have you addressed it?
Carlee: It came to a shock to all of the city staff. But city employees who are immediately connected to the mayor's office will fully cooperate with the investigation. We will make sure all records are reserved and turned over.
We operate under a council/manager form of government. The mayor is not the executive. It's illegal for the mayor to give directives of any kind, lawful of unlawful, to city staff. This form of government is about integrity and honesty.
Have any of you encountered evidence that has caused you to question anything in the planning and zoning process?
Barnes: No, but there's a lot going on, so we don't know the details.
How did you find out?
Barnes: I got a call from the city manager's office. I was as stunned and shocked as anybody else.