Shovels & Rope w/ Hurray for the Riff Raff
Visulite Theatre
March 4, 2014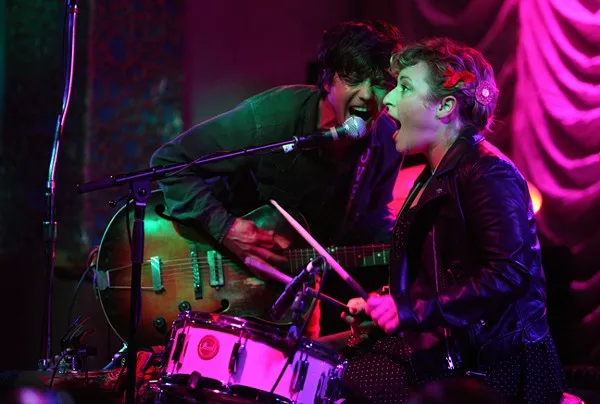 Before launching into one of several buzzing, ramshackle rockers, Carrie Ann Hearst, one half of husband-and-wife duo Shovels and Rope, shared a confession with the sold out Visulite crowd.
"You guys are fucking awesome!" Hearst blurted out. She immediately apologized for cussin', "because of the children in the audience," though none could be seen in the concert hall. Like most of the duo's feints toward respectability, Hearst's apology was delivered with a wink and nod.
Hearst's "shame" was the only thing insincere about the Charleston based pair on this Mardi Gras Tuesday. Whether winding harmonies as pure and righteous as Johnny Cash's and June Carter's, or lurching into the psychobilly tar pit reserved for the Cramps, Hearst and husband Michael Trent were always grounded and emotionally true - as well as occasionally and lovably unhinged.
Much the same could be said for opener Hurray for the Riff Raff. Frontwoman and Riff Raff mastermind Alyndra Lee Segarra may not have swerved all over the highway like Hearst, but she was no less focused, energetic and intense. Opening solo on acoustic guitar, Segarra's warm voice, dusky with a hint of grain, filled the hall as she launched into the rambling, John Prine-styled road ballad "New San Francisco Bay Blues."
Instantly, the crowd was won over. The four piece Riff Raff band, including longtime collaborator and fiddler Yosi Perlstein in addition to drums, dobro and upright bass, came onstage and sailed into the pitch and yaw of Appalachian two-step "Blue Ridge Mountain."
"We're from New Orleans," Segarra said. "Today happens to be Mardi Gras, and we're happy to spend it with you." Her sincerity was underscored by her band's committed and tight-yet-swinging turns through tunes that incorporated Cajun bayou stomp, rolling honky-tonk and swampy surf-rock.
Segarra turned plaintive and sentimental on "Ode to John and Yoko," an emotive pop rocker she called "a fairytale love story." Pointing out that old-timey murder ballads always end with the woman dying, Segarra launched into her passionately feminist rejoinder to said paeans to homicide, "The Body Electric." This political broadside delivered the goods with gentle persuasion rather than of bombast.
Throughout a brisk set that exuded humanity, Segarra and crew scored with the crowd because they didn't try too hard. Instead of pushing a tune, singer and players chose to ride each song like a serpent - as if they were adherents in a voodoo ceremony. By the time Segarra donned a harmonica for "End of the Line," the band was swinging with the snap and swagger of Bob Dylan's Rolling Thunder Review. On set closer "Little Black Star," Segarra nailed the laid back authority of Townes Van Zandt as the band delivered a blistering hoe-down cum rave-up. The captivated crowd was left wanting more - from an artist sure to deliver much in the future.
Shovels & Rope can be every bit as sweet and lowdown as Hurray for the Riff Raff, but just as often they punch the pedal to the metal and burst through the guard rail.
Trading off on guitars and a rattling junkyard drum kit, Hearst and Trent took the stage with the pummeling, southern fried "Keeper." Hearst manned the traps this go-around, leaving wailing harp and grimy guitar to Trent. The audience's energy matched the duo's, as Hearst capped the opener with enthusiastic scat singing, by turns yowling and crystal clear.
With a heartfelt shout out to the opening band, S&R paid further tribute to Segarra & crew by covering Riff Raff's cover of traditional ballad "Little Black Star." Under the influence of Trent's rubbery rockabilly guitar, "Star" evoked the loose limbed recklessness of legendary L.A. punk band X, with Hearst's and Trent's keening harmonies echoing that band's John Doe and Exene Cervenka.
Trent's ratcheting rattlesnake riffing countered Hearst's pensively ticking acoustic guitar on the soaring and obsessive "Are You Ready to Die?" In contrast, the couple turned sweet and plaintive on the Dylanesque, high lonesome shuffle "Boxcar," and plangent and liquid on the chugging, low country groover "Gasoline."
Southern gothic atmosphere clung like tendrils of Spanish moss to the strutting, ominous midnight rambler "Skank Hill Street." Yet S&R's humid southern noir skirted overblown melodramatics. A generous dose of empathy grounded tunes like the soulful 3/4-time ballad "Lay Low."
Black humor and an overripe sense of doom fueled the hazy, Sun Studios miasma of "Bad Luck," a perverse Carl Perkins-styled rocker that morphed into Trent's deranged gypsy jazz death rattle on guitar. Set closer "Hail Hail" was a growling dive-bomber, highlighted by Hearst's tent revival howl.
After brief bows, Hearst and Trent returned for a one-two punch encore. Gorgeous harmonies and delicate contrapuntal guitar unfurled the achingly beautiful balled "Mexico." Yet S&R's finest moment may have been reserved for the capper. Hearst jumped on maniacal cascading keys for a moody cover of Bruce Springsteen's "Johnny 99," as relentless as a slow moving freight train, as black as locomotive smoke.
When Shovels & Rope left the stage a final time, the crowd had been pulled through a wringer. The audience seemed genuinely grateful for such a sweet-yet-dark, rockin' bi-polar experience. Just the thing for Ash Wednesday.