After three years of meetings, the Charlotte Planning Department presented to City Council a final proposal for an amendment that would install new regulations on which bars and restaurants can offer outdoor entertainment past 11 p.m.
On Monday night, Planning Department Director Debra Campbell pitched the proposal, which would require space requirements between businesses with outdoor entertainment and single-family homes. Following Campbell's pitch, Charlotte lawyer Russell Ferguson spoke in favor of the amendment, while Eric Davis and Cynthia Schwartz, who represent neighborhood associations in Dilworth and Elizabeth, spoke against it. Davis and Schwartz both want to postpone the City Council's vote on the subject, scheduled for March 17, until some changes can be made to the proposal.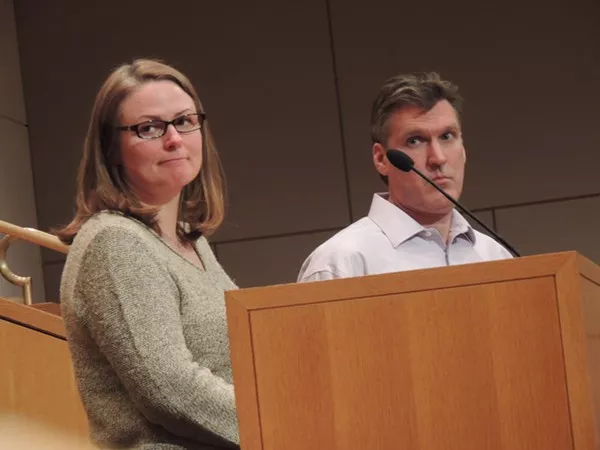 Cynthia Schwartz, co-chairwoman of the Dilworth Community Neighborhood Association, and Eric Davis, president of the Elizabeth Community Association, at Monday's meeting
The department's goal throughout the last three years was to clarify language in a zoning ordinance that hadn't been changed since 1980. It left too many things undefined, such as which establishments qualified as restaurants or nightclubs, and the definition of "entertainment." Monday's proposal still left some City Council members unclear on the details of the proposed changes, while others were hung up on the amendment's language.
Councilwoman Claire Fallon repeatedly returned to the fact that any outdoor entertainment prohibited by the amendment would be banned between 11 p.m. and 6 a.m., which led her to believe that new restaurants that complied with the rules could stay open until 6 a.m. if they pleased. Planning Manager Katrina Young explained to Fallon that a business' operating hours are granted and enforced by an entirely different city department.
Directly after what she called "the grilling," Campbell had some regrets about the way the evening went. "If I fell short tonight, it had to do with explaining to people that all other laws, with the [Alcohol Beverage Control] or the [Charlotte-Mecklenburg Police Department] or others, still exist," she said. "This is just layering on top of those."
Cynthia Schwartz, co-chairwoman of the Dilworth Community Neighborhood Association, spoke to council members about her neighbors' concerns that live music would be allowed all night if a certain business filed for an exemption, permissible under the proposed amendment, or built a buffer, which would allow some businesses to only be 100 feet away from single-family homes.
A noise ordinance was implemented in 2011 and is enforced by the CMPD. This ordinance, which prohibits music of a certain volume past a specific time of night, still stands and is not affected by the text amendment.
In the past three years, Campbell has presided over 11 citizen advisory group meetings in which business owners, neighborhood leaders, hospitality industry employees, lawyers and other community members have met to work out a plan that everyone was comfortable with. She has also brought her staff to 11 neighborhood association meetings around Charlotte to explain what she was trying to accomplish with this amendment.
"I did not know about [the Dilworth Community Neighborhood Association's] concerns and I regret that they feel uncomfortable with it," said Campbell after Monday's meeting. "I have spent a lot of time reaching out beyond those who volunteered to help with this. I do plan to get in touch with those who still show concern."
Campbell remained optimistic that City Council will vote on the amendment on March 17, but Schwartz is hoping to postpone it until she and others can take a closer look at how it will affect their neighborhoods.
"We all like walkable communities, we just don't want to open the floodgates to businesses that will negatively affect our residential neighborhoods," said Schwartz. "I think it's OK to take another month or two."