Get out the cassette tapes and wrap some flannel around your waist: The Pull List is going '90s today with the latest X-Men hardcover from Marvel. X-Men: Phalanx Covenant collects 18 issues associated with the thriller-tinged storyline.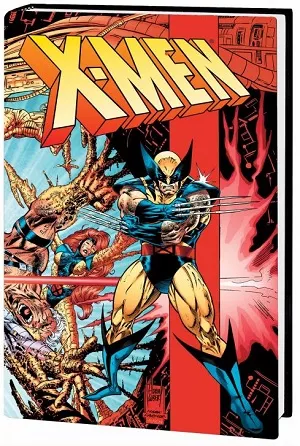 Phalanx Covenant follows humans who use Warlock's techno-organic virus to create monsters out of themselves, targeting the world's mutants. All of the X-teams, X-Men, X-Factor, Excalibur and X-Force included, work together to stop the threat. The collection, running $75, features work from scribes like Scott Lobdell, Chris Cooper, Fabian Nicieza and Todd Dezago. Featured artists include Joe Madureira, Lee Weeks and John Royle.
Phalanx Covenant is a bright spot in the X-Men's long history of events. There was something special about that 1994, all-hands-on-deck approach to handling these complex narratives. Don't forget the partially foil covers.
Now, let's see what else is hitting the shelves this week.
DC Comics
ACTION COMICS #28
BATMAN BLACK & WHITE #6
BATMAN JOKERS DAUGHTER #1
BATWING #28
DC COMICS PRESENTS HARLEY QUINN #1
DEATHSTROKE TP VOL 02 LOBO HUNT (N52)
DETECTIVE COMICS #28
DIAL H TP VOL 02 EXCHANGE (N52)
DMZ DELUXE EDITION HC BOOK 01
EARTH 2 #20
FABLES DELUXE EDITION HC VOL 08
FAIREST #23
FLASH TP VOL 02 ROGUES REVOLUTION (N52)
FOREVER EVIL #5
FOREVER EVIL #5 COMBO PACK
FOREVER EVIL ARKHAM WAR #5
GREEN ARROW #28
GREEN LANTERN RED LANTERNS #28
HINTERKIND #5
JLA TP VOL 04
LOONEY TUNES #217
MOVEMENT #9
RAVAGERS TP VOL 02 HEAVENLY DESTRUCTION (N52)
STORMWATCH #28
STRANGE ADVENTURES TP
SUPERMAN FAMILY ADVENTURES TP VOL 02
SWAMP THING #28
TRILLIUM #6
TRINITY OF SIN THE PHANTOM STRANGER #16 (EVIL)
VAMPIRE DIARIES #2
Marvel Comics
ALL NEW INVADERS #2 ANMN
AVENGERS AI #9 ANMN
BLACK WIDOW #3 ANMN
CAPTAIN AMERICA #16.NOW ANMN
CAPTAIN AMERICA TP LIVING LEGEND
CASTLE TP RICHARD CASTLES STORM SEASON
DEADPOOL BY POSEHN AND DUGGAN HC VOL 01
INFINITY HC
INFINITY TP HEIST HUNT
IRON MAN #21
LOKI AGENT OF ASGARD #1 ANMN
MARVEL KNIGHTS SPIDER-MAN #5
MIGHTY AVENGERS #6
MS MARVEL #1 ANMN
NEW AVENGERS #14
PAINKILLER JANE PRICE OF FREEDOM #4
PUNISHER #1 ANMN
SAVAGE WOLVERINE PREM HC VOL 02 HANDS ON DEAD BODY
STAR LORD ANNIHILATION CONQUEST
SUPERIOR CARNAGE ANNUAL #1
SUPERIOR FOES OF SPIDER-MAN #8
WOLVERINE #1 ANMN
X-MEN #10.NOW ANMN
X-MEN HC PHALANX COVENANT
Dark Horse Comics
1 FOR $1 MASS EFFECT FOUNDATION #1
AVATAR LAST AIRBENDER SEARCH LIBRARY ED HC
AXE COP TP VOL 05 AXE COP GETS MARRIED
BAD BLOOD #2
BALTIMORE CHAPEL OF BONES #2
BLOODHOUND CROWBAR MEDICINE #4
CAPTAIN MIDNIGHT TP VOL 01
CATALYST COMIX #8
CLASSIC MARVEL CHARACTERS X-MEN #4 BEAST
CONAN PHANTOMS O/T BLACK COAST TP
CREEPY ARCHIVES HC VOL 18
EC ARCHIVES VAULT OF HORROR HC VOL 03
FORBIDDEN WORLDS ARCHIVES HC VOL 03
GRIMMS JOURNAL
GRINDHOUSE DOORS OPEN AT MIDNIGHT #5
JUICE SQUEEZERS #2
LOBSTER JOHNSON GET LOBSTER #1
MASS EFFECT FOUNDATION TP VOL 01
MICHAEL AVON OEMINGS VICTORIES #9
OCCULTIST #5
ROBERT E HOWARDS SAVAGE SWORD #7
SHERLOCK HOLMES & VAMPIRES OF LONDON HC
STAR WARS #5 LUCAS DRAFT
STAR WARS LEGACY HC VOL 03
STRAIN FALL TP VOL 01
TERMINATOR SALVATION FINAL BATTLE #3
IDW Publishing
DEADWORLD RESTORATION #3
GATE WAY #2 (FORMERLY PURGATORY)
GI JOE #13
HAUNTED HORROR #9
ILLEGITIMATES #3
INDESTRUCTIBLE #3
JUDGE DREDD CLASSICS #8
JUDGE DREDD MEGA CITY TWO #2
KISS GREATEST HITS TP VOL 05
LOCKE & KEY HC VOL 06 ALPHA & OMEGA
LOCKE & KEY HC VOL 06 ALPHA & OMEGA SERIES SLIPCASE ED
MY LITTLE PONY FRIENDSHIP IS MAGIC #16
MY LITTLE PONY TALES TP VOL 02
POPEYE CLASSICS ONGOING #19
RED LIGHT PROPERTIES GN
SINISTER DEXTER #3
TMNT COLOR CLASSICS SERIES 2 #4
TRANSFORMERS MORE THAN MEETS EYE #26 DARK CYBERTRON PART 8
WRAITH WELCOME TO CHRISTMASLAND #1 2ND PTG
Image Comics
APHRODITE IX #8
APOCALYPSE AL #1 CVR A KOTIAN & FARMER
APOCALYPSE AL #1 CVR B SOOK
ARTIFACTS #34
DRUMHELLAR #4
FIVE GHOSTS #9
INVINCIBLE UNIVERSE #10
LAZARUS #6
MANIFEST DESTINY #1 3RD PTG
MINIMUM WAGE #2
REALITY CHECK TP
SECRET #5
SEX CRIMINALS #1 5TH PTG
SIDEKICK #5 CVR A MANDRAKE & HIFI
SIDEKICK #5 CVR B CAFARO