Arctic Monkeys w/ The Orwells
The Fillmore
Feb. 3, 2014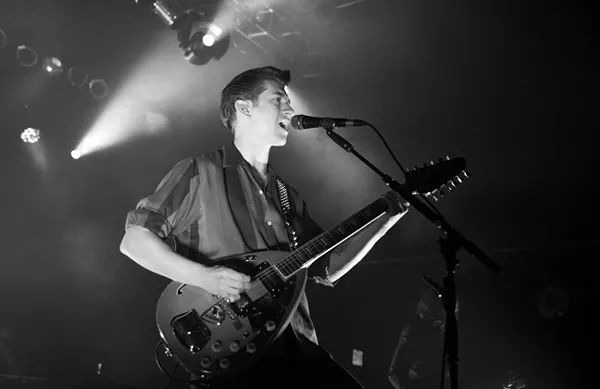 Bathed in purple light, singer Alex Turner slowly swings his hips as he rips the riff to the Arctic Monkeys' latest hit, "Do I Wanna Know?" It's the first song the band plays - not of the encore, but of its entire concert. Why not get its current radio hit out of the way, right?
It might be the English band's first headlining gig in Charlotte, but the members aren't worried about flashy set dressings, lighting or any of the big-time bullshit that so often follows bands to big venues. Play your songs, play them well and get the people behind you 100 percent seemed to be the band's motto on this Monday evening at the Fillmore.
Aside from the occasional Charlotte mention, there wasn't much banter between songs. The rock quartet was too busy rifling through roughly 20 songs during a 90-minute set that heavily showcased its fifth studio album, 2013's AM.
As far as the crowd, there were plenty of sing-alongs, surfing and hands in the air from an audience full of fans who may have missed the Monkeys' last Charlotte appearance, opening for the Black Keys at Bojangles' Coliseum in 2012.
The Monkeys played a good mix of indie rock from all five of their albums - which didn't veer too far from the studio versions of the songs - keeping the pace steady and the audience engaged.
For most in the audience, the Sheffield band could do no wrong. The cheering at the first notes were as loud as the ones when Turner announced its final song would be "505," and as loud as when they returned for a three-song encore. And all of this just hours after being announced as headliners for England's Reading and Leeds Festivals this summer. Not a bad day for fans and band alike.
The night started with a 40-minute set by energetic teenage rockers The Orwells. Fresh off their much talked-about performance on Letterman two weeks ago, singer Mario Cuomo paced around the stage, played with the microphone cord and even ripped his own hair out.
It was a bizarre yet intriguing performance from the Chicago buzz band - fun to watch with some catchy tunes to back it up. Strange behavior will only get you so far though, so it will be interesting to see where the band goes from here and for how long they can sustain interest.
Arctic Monkeys setlist
Do I Wanna Know?
Brianstorm
Dancing Shoes
Evil Twin
Snap Out of It
Crying Lightning
Don't Sit Down 'Cause I've Moved Your Chair
Fireside
She's Thunderstorms
Knee Socks
Why'd You Only Call Me When You're High?
Arabella
Pretty Visitors
I Bet You Look Good on the Dancefloor
I Wanna Be Yours
Fluorescent Adolescent
505
Encore
Cornerstone
One for the Road
R U Mine?