Religious leaders and community organizers from around North Carolina gathered in front of the Charlotte-Mecklenburg Government Center on Monday morning to call for justice for Jonathan Ferrell, the unarmed 24-year-old man CMPD officer Randall Kerrick shot and killed on Sept. 14.
A block away, a second grand jury had convened to decide whether Kerrick would be indicted on voluntary manslaughter. State Attorney General Roy Cooper resubmitted the voluntary manslaughter after a partial grand jury chose not to indict Kerrick last week.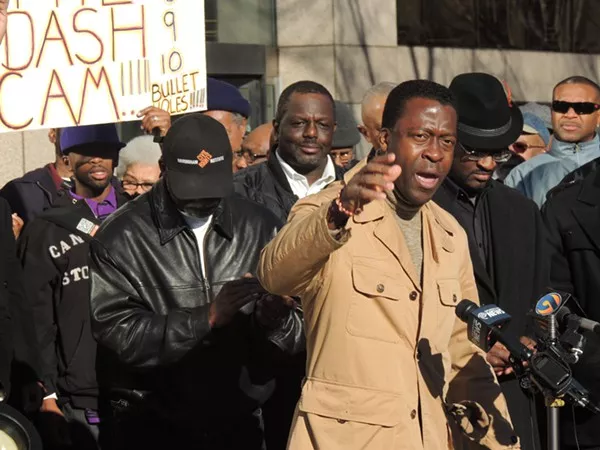 Minister Dwayne Collins addresses the crowd.
Shortly after the group of over 100 people dispersed from the government center to await results of the day's proceedings, a judge denied Kerrick's attorneys' motion to prevent a second grand jury from hearing the case. The attorneys have called the prosecution's move unlawful.
Just before 4 p.m., the second grand jury indicted Kerrick. He will now stand trial for voluntary manslaughter.
After the announcement, John Barnett, a civil rights leader in Charlotte who has worked closely with the Ferrell family in the previous months, was relieved, but he emphasized that the job was not done.
"We are at peace but not at total peace," said Barnett. "This is just a step towards first base, and we still have three more to go." He said he would begin to focus on other officers in the department who despite complaints against them have not been disciplined properly or at all.
While Monday morning's rally focused on Kerrick's case, speakers urged those in attendance to fight against racial injustice. Kerrick is white, and Ferrell was black. Minister Dwayne Collins spoke about past occurrences of CMPD officers using violence against unarmed, black citizens. He brought up names that have been all but forgotten in Charlotte's history, such as Windy Thompson, James Willie Cooper and Carolyn Sue Boechettier - all of whom were killed by police officers in the 1990s.
"Unfortunately, this is nothing novel or new here in Charlotte," said Collins. "We have a level of distrust."
Joseph Guzman, who spoke on Monday, survived 16 bullet wounds from NYPD officers who fired 50 shots in a matter of seconds during an incident in 2006. Guzman's friend was killed.
Guzman spoke about how education and diversity training can help fix problems within the police department.
"You can't take an officer from Ballantyne or Waxhaw and put him in the middle of Beatties Ford Road," said Guzman referring to Kerrick, who joined the force in 2011. "It's a recipe for disaster. They already come there with a fear."
Guzman suggested that the crowd take a step further with acts of peaceful civil disobedience if Kerrick was not indicted on Monday. "Are you guys ready to go the whole way for this man? Are you willing to get arrested if there is no indictment?" he asked, as audience members cheered.
After the indictment was announced, Barnett said, "We are not jumping up and down. We are not celebrating at all because there is still a loss of life."
Uptown resident Tyricah Simpson attended the rally to support Ferrell. She said she worries that the CMPD's behavior toward black citizens has become "consistent" but wishes that a more diverse crowd would have showed up on Monday.
"This doesn't always happen to just minorities," Simpson said. "This affects people, not just black people."

This story incorrectly stated Kerrick would face members of the second grand jury when, in fact, he was not present for their decision.