Fontayne (Yolonda Ross) and Bernice (LisaGay Hamilton) grew up so close they could "go for sisters," but they've been separated by time and circumstance for 20 years. Now reunited as parolee and parole officer, their relationship shifts when the officer seeks her friend's help in rescuing her son from a Tijuana drug cartel.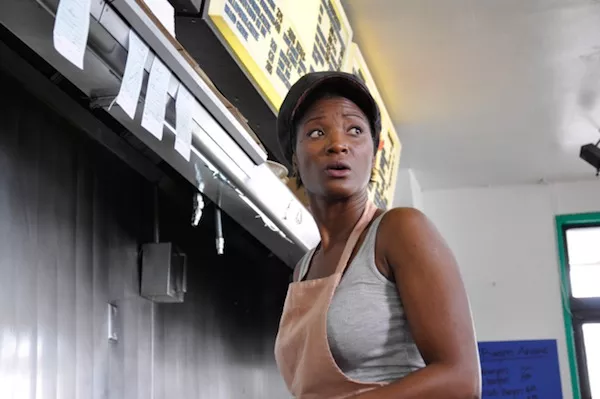 Variance Films
Yolonda Ross in Go for Sisters
Ever since its 2013 SXSW selection, buzz has been building for the indie thriller Go For Sisters, which also stars Edward James Olmos, Harold Perrineau and Isaiah Washington. The film comes to Charlotte for a limited, two-night engagement Jan. 22-23 at Studio Movie Grill in the EpiCentre. Ross, who was just nominated for an Independent Spirit Award for Best Supporting Actress for the film, talks to Creative Loafing about the movie and her upcoming projects.
Creative Loafing: The bond between Fontayne and Bernice feels so real, I have to wonder: Were you and LisaGay Hamilton friends before shooting?
Yolonda Ross: No, she's L.A.-based and I'm New York-based. It was our first time ever meeting and we just clicked personalities. It did feel like Fontayne and Bernice, even though we 're definitely different people. We just respected each other and we both knew what we were getting into with a low-budgeted film. Lots of times, you have to help each other in those situations because there's not a lot of pampering. I enjoyed the whole process of it.
The film was directed by John Sayles [Lone Star, Passion Fish], who is as known for his character-driven plots as he is for wringing films from very tight budgets. Did that add to the onscreen tension?
It definitely did. One of my favorite scenes that shows that is when Bernice and Fontayne are driving through in traffic in TJ, with pedestrians walking down the streets. LisaGaye had to drive and deliver dialogue, and there's a camera in her face the whole time. The frustration in her face and voice is so real. I laugh every time I watch that scene. It's all acting, of course, but it's very real.
Variance Films
Yolonda Ross and LisaGay Hamilton in Go for Sisters
What about this script made you willing to take on the role?
It's led by two African-American women, with a very diverse cast, as are all of John's films. He gives the opportunity for all the characters to be full-fledged human beings with complexity. There were no slaves, no cat fights, just regular stuff. I found it to be very refreshing, though our friendship was such a simple one. Men and women, no matter your race, once you leave school you rarely have the chance to rekindle a friendship, and it's something that a lot of us would like to do, or at least see how it could play out. It was a really beautiful film to show that, because they came from different places and had different life experiences, and each side of them was helping the other. Different sides of the track, the law, but they've become more similar as they've grown older, too.
Fontayne is a newly paroled addict struggling to stay clean. How did you prepare for the role?
Well, I'm not playing a type of person but an actual person, with thoughts and emotions who is dealing with regret. Fontayne is feeling like she's wasted her life and regretting not having what Bernice had growing up, but now as an adult is trying to move forward and past it.
I use music to help solidify my mind, to say what I feel in my body in building characters. So for Fontayne, I listened to Lenny Williams' "Cause I Love You." And that was [Fontayne's] past. Moving forward was Pat Metheney's "Sueno con Mexico." It's not frantic, but you can kind of get lost in thought. I thought about it a lot because in the movie we were driving a lot in the desert, then San Diego, these different places, and she had a lot of time to reflect on her past and future, in the car with Bernice. It made me feel hope for her. Each song made me feel something different. That's how I felt Fontayne would look at things.
You've been nominated for an Independent Spirit Award for Best Supporting Actress for Go For Sisters. Were you surprised at getting nominated?
No, I wasn't surprised. I was happy, thrilled, excited. Out of all the awards shows, the Spirit Awards are my favorite, for what they represent. These are my peers, and the group of people that list is comprised of, being part of it makes sense for me, because it's the kind of film I want to see, the kind of films that matter.
Ross also stars in Afronauts, which premieres this month at Sundance, and her film Breaking Night will be shown at the Hollyshorts festival screening in February. She is in talks for a new dark comedy series on cable that should be announced mid-January.
(Go For Sisters screens at Studio Movie Grill in the EpiCentre, 210 E. Trade St. at 7:30 p.m. Jan. 22 and 23. For info on the screening, call 704-972-1062; for details on the film, go here.)