The state attorney general and the federal government have filed suit against two local used-car dealerships that allegedly offered predatory loans and overpriced vehicles to black customers. According to a statement from the state Justice Department: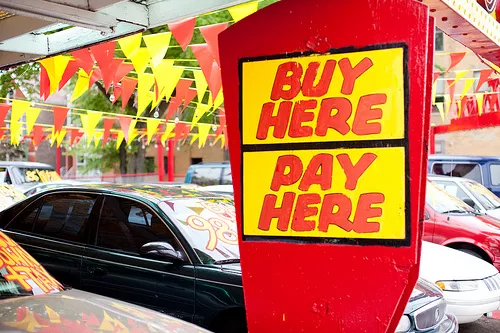 Thomas Hawk (flickr Creative Commons)
The complaint alleges that Auto Fare, Inc., Southeastern Auto Corp. and their owner, Zuhdi A. Saadeh, charged African American customers in Charlotte prices far above market rate for vehicles and signed them up for unfair loans. [State Attorney General Roy] Cooper is asking the court to declare the defendants' actions illegal under North Carolina's Unfair and Deceptive Trade Practices Act, order them stopped and require consumer refunds and penalties.
The state's Consumer Protection Division joined the Civil Rights Division of the U.S. Department of Justice and the U.S. Attorney for the Western District of North Carolina in the suit, filed Monday.
"Intentionally targeting African Americans for contracts with predatory terms because of their race violates fair lending laws," said Acting Assistant Attorney General Jocelyn Samuels for the Civil Rights Division. "By filing this lawsuit, the Justice Department is acting to ensure that subprime dealers in the auto industry provide credit in accordance with the law. The Justice Department will continue to ensure that people have equal access to credit, regardless of race."