Going out in Charlotte doesn't have to be expensive. In fact, to prove that statement, we've compiled a list of cheap things to do in the Q.C. this weekend. These events may vary, but they're all entertaining and $5 or less - so they won't break your bank (piggy banks excluded).
Blumenthal Performing Arts Open Mic It's free to watch or enter (must've registered by Jan. 3) this open mic, featuring music, spoken word and pretty much anything else that may or may not be entertaining. Free admission. Jan. 10, 7:30 p.m. McGlohon Theater, 345 N. College St. 704-372-1000. www.blumenthalarts.org.
Improv Charlotte The local comedy troupe, who usually performs at UpStage on the first Friday of every month, has been bumped to this Jan. 10 performance date. Come out to support these funny people, who also have good hearts - they give proceeds raised from the show to various charities. $5 donation gets you in. Jan. 10, 7:30 p.m. (doors open at 6 p.m.) UpStage, 3306 N. Davidson St., Suite C. 704-430-4821. www.upstagenoda.com.
No Pants Light Rail Ride and Sans Pants Party You don't have to pay anything to drop your pants (wear undies please) for this Charlotte event, inspired the NYC's No Pants Subway Ride. Luckily for your tooshie, temps should be rising to somewhere between 43-57 degrees on Saturday. Stick around for the after party at The Unknown Brewing Company - to feature music, food, booze and more. Free admission. Those wishing to participate in the No Pants Light Rail Ride should meet at the Scaleybark Station on Jan. 11, around 3 p.m. for the 3:22 p.m. departure. Scaleybark Station, 3750 South Blvd. For more information, visit www.cltnopants.com.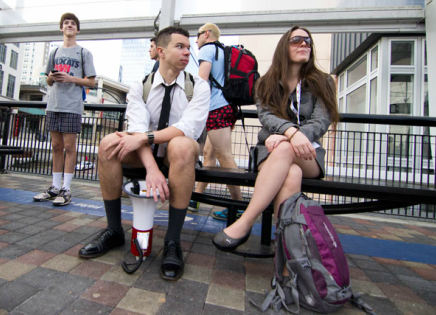 A photo from last year's No Pants Light Rail Ride.
Sunday Funday
This Mint Museum Uptown event offers family-friendly activities, and artist demonstrations. This month's projects are inspired by jewelry and objects from the
Inventing the Modern World: Decorative Arts at the World's Fairs 1851-1939
exhibit. Participants can decorate their own treasure box and/or stained glass window. Baltimore artist Wayne Werner will demonstrate cold-working metals techniques using aluminum.
Activities are free for members and children; $5 for adults. Jan. 12, 1 p.m. to 5 p.m. Mint Museum Uptown, 500 S. Tryon St. 704-337-2000. www.mintmuseum.org
.
Carolina Panthers Playoff Game Tailgate Party The folks over at The Doghouse want Panthers fans to unite in celebrating the team's spot in the playoffs. Drop by before and/or after Panthers take on San Francisco's 49ers and you'll get to mingle will fellow fans. There will also be a DJ and corn hole, in addition to the bar stocked with plenty of drinks available for purchase Can't make it to the game? You can watch via the bar's TV screens. Free admission to the party. Jan. 12, 12 p.m. The Doghouse, 401 W. Morehead St.