Terry Teachout made a valid point earlier this week in the Wall Street Journal when he urged local theater groups to emphasize the intimacy of live theater in their promotional efforts - along with their homegrown artisanal essence. But the far-ranging critic, who perpetually crisscrosses the country to review new productions, went too far when he went on to say, "Live theater is a small-scale, handmade art form."
No, the birth of Western theater was amphitheater-sized in Greece, centuries before similarly structured events became the norm in religious worship, exceeded in seniority only by the ancient Olympic Games. Twice within the space of a week, we were reminded of the special powers of affirmation that such large structured community events can wield. Days after the Panthers squeezed out a heart-stopping victory against the Saints, vaulting Charlotte to the top of the NFC South, The Book of Mormon opened at Belk Theater, exorcising the shame of Charlotte's notorious reception of Angels in America.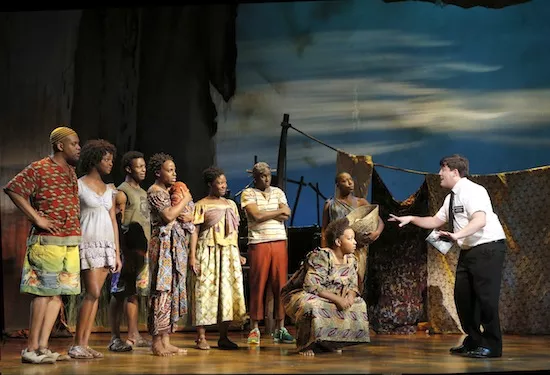 If I had to pinpoint the moment when the collective realization and affirmation struck, it was probably when the first X-rated song, "Hasa Diga Eebowai," unraveled its meaning. The éclat of that "Fuck you, God" punchline seemed to jettison the past, when we had to tread lightly for fear of rousing the mighty bigots, Bible-thumpers, prudes, and homophobes who once threatened Charlotte's cultural scene. We were now officially past all that silliness. As I walked upstairs to the main lobby at intermission, the happy buzz of the audience still in my ears, I was sorely tempted to buy one of those "Hasa Diga Eebowai" tee-shirts from a souvenir stand.
The Book of Mormon pulls off the feat of striking us as elaborate and spectacular while looking slovenly, handmade, and crude. So we find ourselves getting emotionally invested in the three central characters, two Mormon missionaries and a credulous African girl, even as we're viewing them from a satirical distance. Elder Price is the more Romneyesque of the two Mormons, exiled to Uganda when his prayers and conceit had him earmarked for Orlando, and Mark Evans is so stiffly clean-cut in the role that occasionally he had me flashing back to the 2012 Presidential debates. Evans is most impressive in gauging the limited humility Price is capable of after being rebuffed first by the Ugandan villagers and then by their warlord, General Butt-Fucking Naked.
But it's through the grungy, geeky Elder Cunningham that we get the more profound takedown of religion from South Park creators Trey Parker and Matt Stone, who teamed up with Avenue Q renegade Robert Lopez to create the production. Cunningham's exploits in Africa demonstrate that religions succeed best when they explain the world in a way that meets a people's needs. If the Cliff Notes-style version of Mormonism delivered by Price in "All American" isn't sufficiently bizarre as an example, wait till you hear the riffs Cunningham performs on these teachings early in Act 2, peppered with smatterings of Star Trek, Star Wars, and Lord of the Rings. These are mega-geeky, to say the least.
Christopher John O'Neill beautifully traces Cunningham's hilarious arc, starting out blindly devoted to Price and emerging, under pressure, as a Third World prophet. Amid all of Cunningham's changes - subservient doormat, visionary seer, or simply finding intimacy with the African lass - O'Neill remains the down-to-earth slob next door. He's just likable enough for the naïve Nabulungi to fall for him and his distortions, but Samantha Marie Ware also gives her the fire to rally the villagers behind Cunningham without making us question Nabulungi's virginal vulnerability.
Among his multiple roles, Ron Bohmer makes his most vivid impressions as Mormon founder Joseph Smith and the Mission president. These juicy cameos are eclipsed by Grey Henson's work as the angel Moroni and the closeted Elder McKinley. The African supporting roles have far more sinew and realism, Derrick Williams endowing General Naked with sullen menace and Stanley Wayne Mathis, as Nabulungi's father, providing the sardonic zest of the rollicking "Hasa Diga Eebowai" ensemble.
At the old age home in The Producers, we've seen choreography as zany as the Mormon missionary tap dance for "Turn It Off," and we can find precedents for the saturnalia of "Spooky Mormon Hell Dream" in smaller-scale productions of Reefer Madness and Bat Boy: The Musical that our local companies have staged in recent years. Drop the same kind of twists and provocations into a piece about Mormon missionaries coming face-to-face with AIDS in Africa, and you have an edgier, more volatile explosive. Staged at Belk Theater in a subscription that includes Porgy and Bess, Godspell, and Ghost the Musical, and you're setting off a big wicked bang.
I didn't see an empty seat on press night at The Book of Mormon, and you'll be lucky to find one for remaining performances, which continue through Jan. 5.