Sol Driven Train
Visulite Theatre
Dec. 7, 2013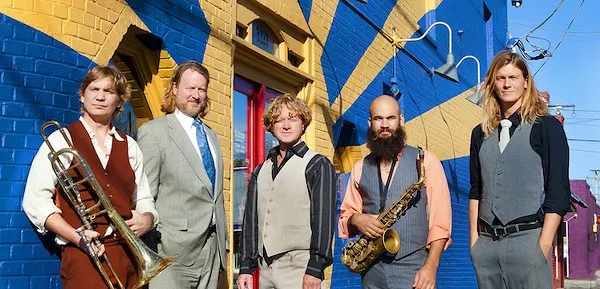 "This is the newlywed here on the tom tom." Sol Driven Train vocalist and guitarist Joel Timmons pointed to bewhiskered and recently married sax man Russell Clarke. "I don't think his bride is here tonight," Timmons told the Visulite's packed house, "Or maybe she's in his beard."
Timmons' good-natured ribbing revealed Soul Driven Train's closeness and camaraderie, which extended beyond the band to the enthusiastic audience, some of whom appeared to have been following the Charleston five piece for quite some time.
Indeed, the Saturday night show which served as a kick-off party for the North Carolina Brewers and Music Festival in May, seemed as much an extended, all-inclusive family picnic as a concert. Before the show, Timmons had sauntered onstage to tune his guitar, chatting amiably with a woman in the crowd. Her watermelon colored knitted cap signified her devotion to a fan favorite, Sol Driven Train's sunny funk sensation "Watermelon."
Fans who came to hear their best-loved tunes got exactly what they wanted, but there was much more to Sol Driven Train's schizophrenic yet smooth mix of Southern roots-rock, Crescent City brass and Afro-Caribbean beats than initially met the eye (and ear).
Despite their jam-band, good-timey origins, and their fondness for Paul Simon-style excursions into African Highlife, Sol Driven Train proved to be the polar opposite of Jimmy Buffet's parrot-headed fluff, the antitheses of Dave Mathews plodding instrumental wankery. Even the band's breeziest travelogues, like the tom cat strutting, Huey Lewis echoing "Fuego! Fuego!" the chugging Paul Simon-ized "Lighthouse" and the calypso-cum-southern-fried-hard-rocker "Coconut" were grounded in lyrical depth: Litanies of hardships overcome underpinned with a Zen-like acceptance of nature's rhythms and whims.
At the opposite end of the Train's good-time express were more overtly serious songs. The 1968 Kent State-style police massacre of civil rights activists was the subject of the alt-Americana rocker "Orangeburg," which was highlighted by the fluid bluesy Allman-esque interplay of Timmons' and trombonist/fret-man Ward Buckheister's twinned guitars.
Buckheister took the lead vocal mic on the wistful and emotional "Cherry Tree," a slow burner that climaxed in ringing guitars and Clarke's jazzy, wailing sax. The loping ska of "Suffer" suggested an adrenalized cousin to the Police's "King of Pain," before slip-sliding into Timmons' coiling, crying psych-blues guitar lead.
Yet it was the heartland-on-sleeve anthem "Miss Ohio" that stood out in Sol Driven Train's lengthy set. Starting with the goth-tinged southern haze of early REM, the tune jumped on the New Jersey turnpike to become the finest working class ballad Bruce Springsteen never wrote. On the song's coda, Clarke's E Street sax veered off the highway and set the controls for the heart of the sun, spiraling into a Pink Floyd-styled nebula of spacy sound.
A brassy True Blood conga that Timmons claimed was about "some spooky beautiful beings we met in West Virginia," "Vampire" represented the outer limits of Sol Driven Train's genre bending mishmash of both the serious and escapist, boasting Buckheister's woozy trombone, Clarke's klezmer sax and Timmons' goofy melodramatic vocals.
Another unclassifiable stand-out, "Intravenous Peace" documented Timmons' brush with death in a New Delhi hospital. Anchored by drummer Wes Powers' jittery Bo Diddley beat and bassist Rusty Cole's fluid runs, Timmons' twangy gun-slinging guitar circled punchy cinematic horns, before Buckheister's trombone led a doomed cavalry charge down a dusty arroyo.
This is not to say that Sol Driven Train's set was a portentous, heavy-handed affair. Indeed, a party atmosphere imbued the Visulite, with the band inviting a fan celebrating her birthday onstage to lend tambourine to the shimmying shout-along "Cake." The dance-floor crowd boogied, jitterbugged and swayed as Buckheister launched Brewing Festival t-shirts into the crowd like a southpaw on the pitching mound. By the tune's conclusion, Clarke sported a cupcake wrapper-as-party-hat before trading licks with Buckheister in an old-style jazz cutting session.
Yet for all the fun, onstage and off, Sol Driven train proved to be an elemental crew on Saturday night, as much at home digging in the dirt of daily life as they were wafting in a tropic breeze or drifting in sun dappled currents. Even on their airiest flights of fancy, Sol Driven Train were propelled by slick yet inspired instrumental interplay, and grounded in empathy, humanity and a whole lotta soul.