This weekend kicks off what I like to call seasonal holiday boosters. In other words, these festive events are entertaining reminders that Christmastime is just around the corner and we'd better damn well get in the spirit. Check out this list for some of my top picks of merry fare. Also, be sure to check back next week when we'll be posting our big ol' NYE party list.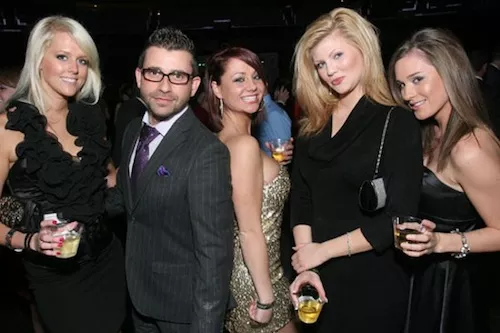 Second String Santa
This holiday shindig was established in 1989 with the purpose of raising money and gifts for less fortunate children. There's a lot more to it than toys, though. Guests who attend will partake in a celebration of sorts, complete with drinks, food, music (Black & Blue Experience and DJ Breez) and mingling. Dress in your dazzling best. $20 with an unwrapped toy; $40 with no toy; $100 for VIP. Dec. 6, 8 p.m. to 12 a.m. Silver Hammer Studios, 817 Hamilton St.
www.secondstringsanta.org
.
Christmas in Davidson Annual holiday event in cutesy Davidson. Plenty of holiday shopping, decorations, entertainment, a live nativity, trolley rides and more. Dec. 6-7, 6 p.m. to 9 p.m. Held along Main Street in Davidson. www.christmasindavidson.com.
ChristmasVille 2013 Rock Hill's annual holiday celebration kicks off with a parade. Festivities to follow include: horse drawn carriage rides, historic tours, carolers, entertainment, a gingerbread house contest, an ice skating rink, and more. Free to attend. Dec. 6-8. Held along Main Street in Rock Hill. www.christmasvillerockhill.com.
Charlotte Symphony: Magic of Christmas Holiday concert conducted by Albert-George Schram. $26.50-$82.50. Dec. 6, 8 p.m.; Dec. 7, 2:30 p.m. and 8 p.m.; Dec. 8, 2:30 p.m. Belk Theater, 130 N. Tryon St. 704-372-1000. www.blumenthalarts.org.
A Tuna Christmas Corny as it is, the folks at Carolina Actors Studio Theatre are bringing back A Tuna Christmas, its favorite (or so we're guessing, based on numerous past runs - last year was an exception) holiday hell-raiser. Set in the "third smallest town in Texas," a rambunctious Christmas Eve simmers with the vandalism of Christmas lawn displays, a production of A Christmas Carol that's threatened by unpaid bills and the arrival of aliens from outer space. Actors Tom Ollis and Jack Utrata portray more than 20 characters (yep - that's a lot of costume changes), including a duo of radio personalities, snowed in at the station, who report on the town's chaotic current affairs over the airwaves. $18-$28. Dec. 6-7, 8 p.m.; Dec. 11-12, 7:30 p.m.; Dec. 13-14, 8 p.m.; Dec. 15, 2:30 p.m.; Dec. 18-19, 7:30 p.m.; Dec. 20-21, 8 p.m.; Dec. 22, 2:30 p.m. Carolina Actors Studio Theatre, 2424 N. Davidson St. 704-455-8542. www.nccast.com.
A Christmas Carol Theatre Charlotte presents the classic tale adapted by John Jakes from the original novel by Charles Dickens for the seventh consecutive year. Dec. 6, 7:30 p.m.; Dec. 7-8, 2:30 and 7:30 p.m.; Dec. 11-13, 7:30 p.m.; Dec. 14, 2:30 and 7:30 p.m.; Dec. 15, 2:30 p.m. Theatre Charlotte, 501 Queens Road. 704-376-3777. www.theatrecharlotte.org.
Winter Dreams Members of CPCC Dance Theatre present this performance that spotlights Christmas joy, snow, and Frederick Ashton's "Les Patineurs." $10. Dec. 6-7, 8 p.m.; Dec. 8, 2:30 p.m. CPCC's Pease Auditorium, 1201 Elizabeth Ave. 704-330-6534. arts.cpcc.edu/.
Holiday Central Plaza Midwood kicks off the season with a tree-lighting ceremony and performances by the folks at Behailu Academy, Open Door Studios and Plaza Family Band. Other family-friendly activities. Free. Dec. 7, 4:30 p.m. to 6:30 p.m. Held on Commonwealth Avenue, between Pecan Street and Thomas Street. (If rainy, the festivities will move to Green Memorial Baptist Church, 1324 The Plaza). www.plazamidwood.com.
Jingle Bell Bash Another annual holiday party that's both entertaining and beneficial. The Jingle Bell Bash, featuring dinner, an open bar, a silent auction and live music (Soul Play), raises money for Safe Alliance - an organization providing assistance for victims of sexual assault and domestic violence. Dress is cocktail attire. $70-$100. Dec. 7, 7:30 p.m. to 11 p.m. Wells Fargo Atrium, 301 S. Tryon St. 704-332-9034. www.safealliance.org/jingle-bell-bash.
OTC Holiday Improv The troupe's final show of the year pokes fun at the holidays and other annual events. This includes Christmas, Hanukkah, Kwanzaa and ... Canadian Boxing Day. Uh, ok. $10-$12. Dec. 7, 8 p.m. Actor's Theatre of Charlotte, 650 E. Stonewall St. www.otcimprov.com.
Black Nativity This all-youth cast production of Langston Hughes' Black Nativity combines the Gospel of St. Luke with Hughes' poetry to tell the story of the birth of Jesus Christ. $10-$20, "Pay What You Can" Night on Dec. 12. Dec. 13, 11 a.m.; Dec. 14, 3 and 7 p.m.; Dec. 15, 3 and 7 p.m. Booth Playhouse, 130 N. Tryon St. 704-372-1000. www.blumenthalarts.org.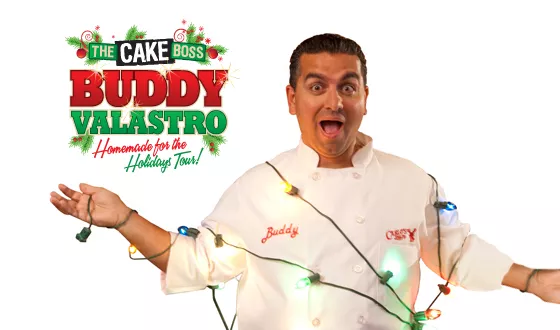 Buddy Valastro
The star of TLC's
Cake Boss
, brings a special holiday show with demonstrations, behind-the-scene stories from his hit TV show, a Q&A session, and cupcake/cake decorating. $35.75-$45.75. Dec. 12, 7:30 to 10:30 p.m. Ovens Auditorium, 2700 E. Independence Blvd. 704-372-3600.
www.ovensauditorium.com
.
Toys For Tots Holiday Party A holiday party and a benefit for Toys for Tots. Includes music by DJ Breez and drink specials ($3 domestic beers, $5 holiday drinks, $5 Tito's drinks, $5 wines. Dinner reservations are available). Free. Dec. 13, 7 p.m. to 12 a.m. Village Tavern, 4201 Congress St. 704-906-2929. www.paschalpromotions.com/events/toys-for-tots-holiday-party.
A Soulful Noel Leave it up to the folks of On Q Productions to put some extra flavor in a program that spotlights the usual holiday suspects. A Soulful Noel is a one-night-only performance that features music, dance and spoken word by the ensemble of creatives. Alternative tweaks have been made to incorporate holiday fare like "The Night Before Christmas," "The Little Drummer Boy" and "Go Tell it on The Mountain," all of which are soulfully represented. $15. Dec. 14, 8 p.m. McGlohon Theater, 345 N. College St. 704-372-1000. www.blumenthalarts.org.
Nutcracker
North Carolina Dance Theatre's annual performance with choreography by Jean-Pierre Bonnefoux and music from the Charlotte Symphony. Dec. 13, 7:30 p.m.; Dec. 14, 2 and 7 p.m.; Dec. 15, 2 p.m.; Dec. 20, 7:30 p.m.; Dec. 21-22, 2 and 7 p.m. Belk Theater, 130 N. Tryon St. 704-372-1000.
www.blumenthalarts.org
.
14th Annual Santa Bar Crawl Gals and guys dress in their bearded best for this holiday-themed bar crawl. Stops include Bar Charlotte, Tilt On Trade, SIP, Hooter's, Ri Ra, BlackFinn Saloon, Fitzgerald's, Howl At The Moon, Prohibition, Strike City, Tin Roof, Wild Wing Cafe, Suite, Whisky River, Roxbury and Bubble. Drink specials include $3 beers, $4 shots and $5 cocktails. Ho, ho, ho! $20. Dec. 14, 3 p.m. to 2 a.m. Registration, 3 p.m. to 5 p.m. at Bar Charlotte, 300 N. College St. www.santabarcrawl.com.
"It's a Pirate's Christmas" Lighted Boat Parade The 17th annual Lake Norman parade features boats decked out in lights and holiday decor. Dec. 14. Concessions open at 6 p.m.; Parade at 6:15 p.m. Peninsula Yacht Club, 18501 Harbor Light Blvd., Cornelius. www.peninsulayacht.com.
Just Be Claus Not everyone wants to be fat and happy like Santa Claus, but nonetheless you'll find folks dressed in his signature red suit at U.S. National Whitewater Center for its Just Be Claus Festival. The event kicks off with Santa 5K Trail Run and is slated to feature live music and a bonfire throughout the day. Free admission ($5 parking). Dec. 14, 12 p.m. U.S. National Whitewater Center, 5000 Whitewater Center Parkway. 704-391-3900. www.usnwc.org.
Singing Christmas Tree In its 59th year, Carolina Voices' MainStage Choir presents this holiday shebang of carolers, who sit in a tree-like construction, and sing holiday favorites. Aerial dance from Carolina Calouche Co., too. For more information, visit www.carolinavoices.org. Dec. 14, 7:30 p.m.; Dec. 15, 3 p.m. Ovens Auditorium, 2700 E. Independence Blvd. 704-372-3600. www.ovensauditorium.com.
Charlotte Symphony: Messiah Scott Allen Jarrett conducts the chorus and orchestra for this seasonal performance. $19.50-$69.50. Dec. 18, 7:30 p.m. Belk Theater, 130 N. Tryon St. 704-372-1000. www.blumenthalarts.org.
Clara's Trip A twisted version of the Nutcracker story, as produced by Caroline Calouche & Co. Dec. 20, 7 p.m. Booth Playhouse, 130 N. Tryon St. 704-372-1000. www.blumenthalarts.org.
Saturday Night Cine Club Charlotte Film Society screens Home for Christmas. $5-$8. Dec. 21, 7:30 p.m. Theatre Charlotte, 501 Queens Road.
7th Annual Jingle Bell Jam The party includes a cash bar, food, music from Buff Dillard, Unique Blend, DJ 06 and more. $30-$35. Dec. 21, 8:30 p.m. to 1:30 a.m. Hilton (University Place), 8629 JM Keynes Drive. www.eventbrite.com/e/7th-annual-jingle-bell-jam-tickets-8705210519.
The Chuckleheads The troupe presents its "The What'd Santa Bring Ya Comedy Improv Musical Variety Extravaganza." Includes holiday-themed improv games (similar to Whose Line Is It Anyway?, Improv-a-ganza, and Second City) and audience participation. Family-friendly show at 6 p.m.; Adult show at 8 p.m. For more information or to purchase advanced tickets, call 704-301-1564 or visit www.planetimprov.com. Dec. 28. $10 in advance; $15 at the door. Warehouse Performing Arts Center, 9216 Westmoreland Road, Suite A, Cornelius.
Holidays at the Garden Daniel Stowe Botanical Garden celebrates the season with its annual holiday display of Christmas trees, lights and more. Through Dec. 31. Daniel Stowe Botanical Garden, 6500 S. New Hope Road. www.dsbg.org.
Mcadenville Christmas Lights: Christmas Town U.S.A. Holiday light show and decorated homes. Avoid if you hate long lines of traffic. Beginning at Legacy Park in downtown Mcadenville. Through Dec. 26. McAdenville, Between Interstate 85 and U.S. 29-74. www.mcadenville-christmastown.com.
Speedway Christmas Charlotte Motor Speedway has decorated the track with lights and visitors get to drive around the course to view. $20 per car. Through Dec. 30. Charlotte Motor Speedway, 5555 Concord Parkway S., Concord. www.charlottemotorspeedway.com.