Now must we weep greatly, for the colorful clown-faced Jesus of Godspell is no more. The original hippie Savior, conceived and originally directed by John-Michael Tebelak, was banished when the 1971 musical was revived on Broadway in 2011. He was replaced by a New Millennium edition who first appears in his underwear. Given a choice of colorful outfits hanging on a clothing rack, he now disdains the iconic Superman tee, choosing instead a humdrum white baseball uniform with the number one on its back.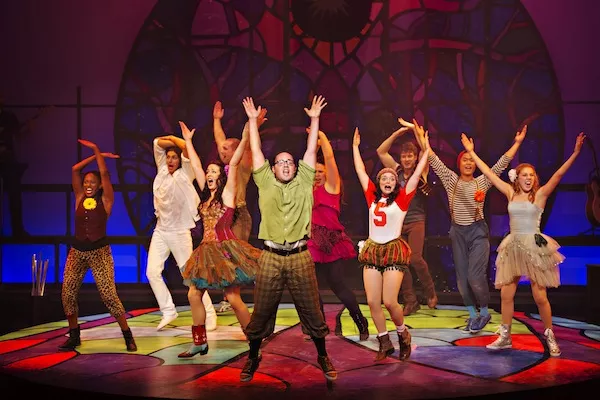 Apparently, that option was too bold and daring for the road, so in the touring production at Knight Theater through Sunday, Jesus now chooses a blander white sport jacket with matching slacks - the very essence of colorless. You might think that this thorough bleaching might have also washed away the vaudeville style and assorted monkeyshines that so adorably (or disgustingly, depending on your viewpoint and state of sobriety) altered the teaching of Jesus' famed parables.
Yes, the look and the manner of the hippie Godspell are gone, but costume designer Miranda Hoffman hasn't resorted to choir robes for the apostolic ensemble. Their quirkiness is updated for today and their variety is enhanced, so that one follower might wear a gauzy ballet outfit, another a blinding explosion of Vegas glitter, and another a bowling shirt. Their energy, as if to compensate for the dim-out of our Jesus, is more hyper than ever, blending uncomfortably with fiercer orchestral arrangements that Michael Holland wrote for the Broadway revival but no longer claims.
The spirit of the original Stephen Schwartz score, with its impish Pippin genes and rousing simplicities, occasionally peeps through in Act 1, where all the parables are delivered. But unless you still know the original lyrics by heart, the message arrives garbled and freshly trivialized. We now encounter a joyously splashy baptism dance that I rather liked at the beginning, followed by a new hip-hop segment, two audience-participation episodes, and a double-barreled cannonade of confetti that I didn't care for so much. Some of the parables rope in contemporary figures like Donald Trump, and the ensemble seems dimly aware in a handful of their quips that they're in Charlotte. Thus we traipse across 70 minutes, no real plot in sight, before intermission comes to our rescue.
Not very gradually, we shift from romper room to the Last Supper and its grim aftermath in Act 2, a fine story that held up rather well in Charlotte Symphony's recent performance of Bach's St. Matthew Passion. Shrunk from 165 minutes to less than 46, this is a comparatively shorthand version of the prophecies, the betrayal, and the Crucifixion. See Jesus Christ Superstar if you're looking for Caiaphas or Pilate. We fast-forward to the denouement, which may shock you with its effectiveness as it makes striking use of David Rogers' modernistic stained-glass set design and Jeff Johnston-Collins' lighting.
With all their energy and talent, this cast would likely shine in edgier shows like Avenue Q or 25th Annual Putnam County Spelling Bee. Here they often strain to impart individuality to characters who have less personality than their clothes. Lisa Michelle Cornelius, who leads us off in "Tower of Babble" and returns with "By My Side," can be electrifying, and Janelle Murray reaches stratospheric vocal heights undreamed of by the original off-Broadway cast at the climax of "Learn Your Lessons Well."
Donning the bowling shirt, Michael De Rose likely has comedic talents that his solo on "Light the World" only begin to reveal, and Michael Hogeveen manages to steal the sheep-and-goats scene with floorwork I cannot adequately describe before fronting a "We Beseech Thee" with some serious soul. Less pleasing is the brash and brassy Stacey Kay, who never deigns to even attempt intelligibility when she sings, a phenomenon cruelly exposed when she reprises "Learn Your Lessons Well" with Graham Parkhurst and Ivan Lo, both of whom traffic in American English.
Parkhurst presented difficulties of his own as John and Judas. Bursting onstage for the baptism business in "Prepare Ye," Parkhurst required the documentation of the playbill to remind me that this super-ebullient rocker was John the Baptist - plus a few further headshakes for that revelation to stick. Then after overplaying John's geniality, Parkhurst buried himself so thoroughly in Judas that his black vest and T-shirt were more vile and threatening.

Amid his hyper admirers, Jake Stern as Jesus had the suave demeanor of a newly degreed teaching assistant left in charge of his middle-school classroom for the first time. Neither diffident nor spellbinding, long-haired in his pure white clothes, Stern bides his time until he sees his opening to calmly take command. Occasionally, he schmoozes the audience and even sits among us, a likable, low-key Jesus who has his best moments near the poignant ending, sketching his vision of the "Beautiful City."