Shaun Cassidy's latest, modestly sized exhibition finds the artist at his best, exploring texture and form through powder-coated steel. Saturate, which is ending its run this week at New Gallery of Modern Art, contains geometric sculptures adorning walls and pedestals in iridescent jewel tones. The bold pieces reference art-world egos like Kapoor and Koons, but Cassidy graciously infuses his work with humanity in textures eliciting thoughts of mountain ranges, rough seas and salt flats.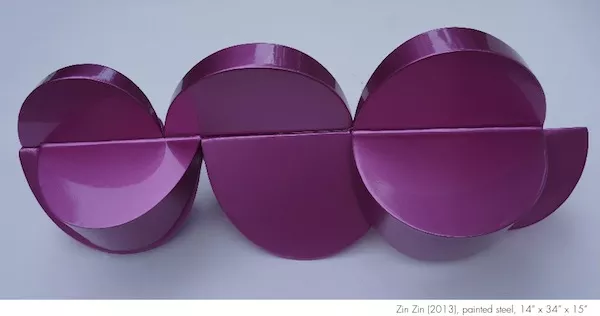 The forms exist in the shape of diamonds, comic book "WHAMS!," perfect circles and more, paying homage to the spectrum of arcs, points, curves and straight edges that define form. The indulgent monochrome colors are hardly repeated and lean heavily toward shades of blue, always a crowd-pleaser. The surface textures are asking for someone to touch them in both their industry smooth perfection and wrinkled tin foil forms.
Cassidy was born in Surrey, England, and studied sculpture both there and in Canada before taking permanent residence in Rock Hill as an art professor at Winthrop. His works have been permeating our cityscape for years, but those bear no resemblance to the pieces on view. Examples include the fabric of the seats and ceiling and the 40-leaf sculptures in the railings of the CATS Blue Line, and the three vegetal, silvery sculptures at the Ritz Carlton. He will also design the art components of the McCullough Station for the new Blue Line Extension.
This is all to say that Cassidy isn't afraid of anything when it comes to exploring all facets of the sculptural process. In a statement on the gallery's website, he says this body of work will "evoke feelings and a contemplative state one often associates with being immersed in a natural environment of astounding beauty." He is correct. No one could argue this beauty.
(Shaun Cassidy's exhibit Saturate runs through Nov. 12 at the New Gallery of Modern Art, 435 S. Tryon St., Ste. 110. More info here.)